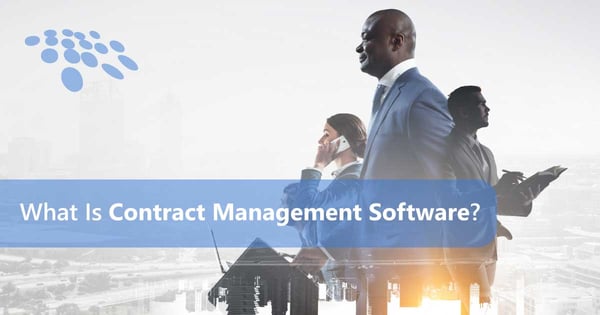 As your organization grows, so do contract complexity and contract volume. This growth requires an improvement in contract processes. No matter which industry your organization inhabits, your team will need to invest in a user-friendly contract management software solution. But first: what is contract management software? Read on to find out!
What Is Contract Management Software?
Contract management software is a legal technology solution used to streamline and automate contract management, contract lifecycle management, document management, counterparty collaboration, risk management, reporting and analytics, and more.
The goal of user-friendly contract management software is to simplify and centralize the contract lifecycle from contract requests to contract renewals - all while providing a one-stop-shop for financials tracking, searching and reporting, employee management, task management, line-item management, and more for organizations in a variety of industries in both the public and private sectors. The best contract management software solutions offer seamless integrations for other relevant processes as well.
What To Look For in Contract Management Software
Given that your organization's bottom line and reputation are at stake, it is important that your organization chooses the best solution in the contract management software market. Some key contract management software tools to look out for are:
full contract lifecycle management - including automated contract requests, robust contract authoring with the ability to merge contract clause data with templates from your organization's pre-approved library, contract negotiations with online contract collaboration tools and clause ownership, straightforward and rapid contract approval processes, proprietary speedy electronic signatures, obligations management, the simplification of regulatory and other compliance standards, and painless contract renewals.
a proprietary artificial intelligence engine with machine learning to uncomplicate data identification (such as field data, PII, and PCI), data extraction, data mapping, document collaboration, risk assessment, risk mitigation, and more.
a one-stop solution for integrated contract management, vendor management, eProcurement, and eSourcing.
document management and collaboration with version tracking and full audit trail history.
email, task, and calendar alerts.
key date and milestone tracking and notifications.
virtually unlimited user-defined and system fields depending on your organization's needs.
custom report design and report generation.
and an essentially limitless library of dynamic contract templates and clauses.
What Is the Best Contract Management Software?
Now that you know what contract management software is - along with the top customizable contract management software tools to look out for - it is time to embrace the future of contract management with the solution that offers all the tools mentioned above and more: CobbleStone Contract Insight®.
CobbleStone Software's trusted and acclaimed enterprise contract management software suite - CobbleStone Contract Insight - offers user-friendly features of contract management software that can equip your business to efficiently unite and secure contracts, easily collaborate, oversee compliance, keep track of costs, receive alerts and notifications, take processes into the future with VISDOM® AI and machine learning, efficiently and effectively sign with IntelliSign® electronic signature software, increase productivity, and reduce expenses. Forrester names CobbleStone a Leader in CLM software - and it's easy to see why!
CobbleStone's long-acclaimed contract management software has been trusted for over 20 years by organizations from around the world looking to automate contracts. Get started today by booking your free contract management software demo.
To stay up to date on best practices, industry news, and CobbleStone Software updates, be sure to subscribe to our blog and YouTube Channel.