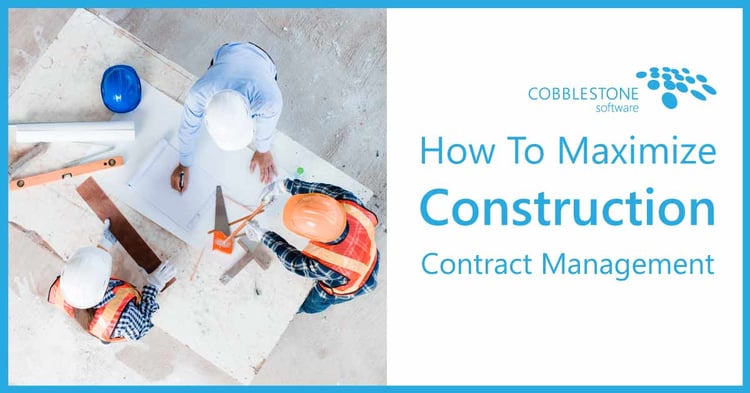 Managing various construction contracts can be a challenging process to coordinate and streamline – especially when dealing with multiple stakeholders and ranging construction project timelines. Relying on disparate contract management methods - such as postal mail, wet-signatures, filing cabinets, emails, shared drives, and paper-based negotiations – can waste precious time and energy. With the help of a streamlined construction contract management software, you can centralize and streamline your processes and capture full contract lifecycle management oversight from contract requests to renewals, especially with the help of integrated eSourcing software that streamlines construction project bidding. Read on to learn how construction contract managers can maximize contract management with the help of key contract lifecycle management software features.
Executive Summary
Construction contract managers can receive tremendous pressure from stakeholders to manage contracts efficiently and effectively. Without the right systems in place, construction contract managers can experience many contract management bottlenecks. Discover how construction contract managers can leverage leading CLM tools to
centralize contract management.

streamline sub-contract bidding.

quicken pre-award contract management.

maximize post-award contract management.
Centralized & Web-Enabled Contract Management
Construction contract managers, in both the public and private sectors, hold a tremendous responsibility in coordinating the agreed-upon expectation of ranging stakeholders – including landowners, construction managers, engineers, electricians, architects, and construction foremen. Considering the high expectations from construction project landowners and tight deadlines, construction contract managers who rely on antiquated contract management methods can fall behind and be blindsided by undue risk.
Fortunately, a leading contract management platform can electronically centralize contracts with the integration of highly configurable reporting features, graphical dashboards, and milestone notifications – yielding unparalleled visibility from contract requests to renewals. Additionally, a centralized contract lifecycle management platform can seamlessly integrate with MS Outlook and MS Word to help streamline the contract processes – especially when managing various sub-contracts.
Managing contracts with stakeholders from ranging locations and time-zones can be a breeze with the help of a web-enabled contract management suite that grants necessary stakeholders fast access from anywhere in the world with suitable internet access. This can be especially beneficial when coordinating international construction contracts prior to project start-dates. Construction contract managers can retain optimal pre-award and post-award contract management oversight with trackable contract status changes – including contract negotiations, eSignatures, and compliance (including OFAC).
Streamlined Sub-Contract Bidding
Construction contract managers and construction procurement managers - especially when seeking sub-contract candidates for unanticipated and short-term construction solutions – can waste valuable time corresponding with prospective construction sub-contract candidates with asynchronous processes, such as email and phone calls. A user-friendly and configurable electronic solicitation and procurement management platform can enable intelligent workflows for RFP management with real-time visibility. An integrated procurement management system includes:
purchase requisitions.

order management.

budget approvals.

RFx templates.

clause libraries.

bid advertisements.

online vendor Q&A.

electronic bid submissions.

bid evaluation tools.

line-item bidding.

vendor response ratings and scorecards

and vendor awards.

document version controls.

searching and reporting.

notifications and alerts.

& more!
The abovementioned features enable construction contract managers to seamlessly source a suitable sub-contractor for construction services, construction materials, and more. Construction contract managers can easily communicate and negotiate addendums and seamlessly usher sub-contract vendors into the pre-award contract management process.
Quick Pre-Award Contract Management
Construction contract managers can face constant pre-award contract delays – including miscommunication in contract requests, contract requests, contract writing challenges posed by outdated contract templates and clauses, slowed negotiations and approvals caused by paper-based processes and disparate communications, and delayed wet-signatures.
Thankfully, a centralized contract management suite can streamline the pre-award contract process electronically by allowing construction contract managers to request contracts directly from their contract lifecycle management tool, draft new contracts with pre-approved templates and clauses, engage in negotiations and approvals with timestamped changes and tracked statuses, and quickly gather highly-secure signatures with the use of eSignatures.
Learn more about eSignatures in the video below.
Effective Post-Award Contract Management
Construction contract management can prove challenging when tracking the milestones and key dates of hundreds of contracts with a non-centralized contract repository - including spreadsheets, filing cabinets, and emails. As abovementioned, optimal visibility in the pre-award contract lifecycle saves tremendous time, energy, and resources. When dealing with ranging contracts - such as unit price contracts, lump sum contracts, cost plus contracts, and guaranteed maximum price contracts - with differing milestones and renewal dates, construction organizations can incur unnecessary financial loss stemming from disparate and manual contract management processes. Unclear post-award contract lifecycle visibility can cause construction contract management professionals to waste resources and miss value-driven opportunities in contract renewals.
With the vast array of key dates and obligations within the construction industry, contract management professionals can leverage artificial intelligence to pre-configure metrics and milestones for accurate contract performance assessing and tracking – yielding optimal visibility and alerting contract managers of contract non-compliance. This workflow automation tool can virtually ensure maximum contract compliance. With such oversight, construction contract managers can spend less time tracking and more time managing.
Learn more about VISDOM® AI, CobbleStone's proprietary artificial intelligence engine, in the video below.
Capitalize on Contract Insight® for Construction Contract Management
Streamline your construction contract management processes with a leading-edge contract management software platform. End-to-end construction contract management begins with CobbleStone Software's Contract Insight.
CobbleStone's trusted, award-winning, fully integrated construction contract management software streamlines the contract management process with optimal governance, reduced friction, and high flexibility from contract requests to renewals. CobbleStone Software has been a visionary leader in construction CLM software since the mid-1990s. CobbleStone's user-friendly, robust, and scalable solution seamlessly integrates with mission-critical applications for unified and seamless construction contract management.
Discover why thousands of contract managers trust CobbleStone Software with their contract management needs. To learn more about CobbleStone's unparalleled construction contract management software, book a free demo with a Contract Insight expert today!
To stay up to date on best practices, industry news, and CobbleStone Software updates, be sure to subscribe to our blog and YouTube Channel.
Are you interested in future-minded contract management software tools? In our blog - 6 Critical Contract Management Tools for 2021 – learn how to leverage industry-leading CLM software tools for streamlined, user-friendly, and low-friction contract lifecycle management success!