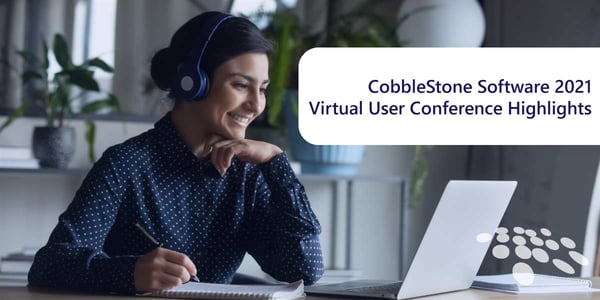 While safety measures posed by in-person gathering restrictions moved CobbleStone's User Conference completely virtual, it proved highly successful as the CobbleStone team received high engagement from its many attendees on January 20th and 21st, 2021. Considering how attendees at traditional in-person events may need to choose between breakout sessions, CobbleStone's 2021 Virtual User Conference allows for CobbleStone user attendees to view all its contents for up to 90 days post-event. While CobbleStone's 2021 Virtual User Conference engaged attendees live, the conference's content on-demand post-event streaming feature allows registrants to view content at their own leisure - including those users who registered for – but could not attend - the conference. Read on to learn about key highlights from CobbleStone's 2021 Virtual User Conference.
The virtual two-day event provided an exciting and interactive experience for contract management, procurement, sourcing, and legal professionals from wide-ranging industries. CobbleStone's 2021 virtual user conference included breakout sessions, engaging speakers, demonstrations, CobbleStone contract management software exclusive updates, and much more. Contract Insight® users had the invaluable opportunity to learn from CobbleStone Software experts and gain new insight about contract lifecycle management best practices across ranging industries. Prospective users also received an engaging learning experience about CobbleStone Software's functionalities and how to streamline contract lifecycle management with leading-edge technology.
The Virtual User Conference Attendee Experience
CobbleStone's 2021 Virtual User Conference attendees received unparalleled value from CobbleStone Software experts and guest speakers who showcased industry-leading contract lifecycle management software best practices and answered a variety of practical questions from Contract Insight® users. The conference offered dynamic breakout sessions and advanced training with engaging Q&As.
CobbleStone users and prospective users attended breakout sessions geared toward their varying experience levels and interests of CobbleStone's Contract Insight. The breakout sessions allowed attendees the opportunity to deepen their understanding of the software's highly configurable and user-friendly features with insightful help from CobbleStone's Contract Insight experts. Below are some highlights from CobbleStone's 2021 Virtual User Conference.
Featured Breakout Session Topics
Reporting & Searching in Contract Insight
Contract Insight experts demonstrated how CobbleStone users can find necessary information quickly. CobbleStone users learned how to leverage Contract Insight's Quick Search feature, which offers AI-powered search recommendations to easily search for specific records, contracts, requests, and related documents by rapidly scrubbing for phrases or keywords. Attendees learned about new ways to create ad-hoc reports that can streamline their processes and save them valuable time. By leveraging rules-based dashboards coupled with graphical analytics, attendees discovered how to better equip themselves to streamline their everyday contract lifecycle management processes post-conference.
Quick Contract Authoring
Attendees gained a deeper understanding of how to leverage pre-approved and up-to-date templates and clauses, rather than writing new contracts manually. Contract Insight experts showcased time-saving tools to automate and streamline the contract authoring process.
Intelligent Workflow & Approvals
Contract Insight experts demonstrated the key processes to achieving efficient contract management workflow automation with the help of timely notifications and alerts to remind users of contract reviews, approvals, and modifications. Attendees discovered how to better maximize these functionalities to avoid missed steps and process bottlenecks.
Contract Intelligence & Machine Learning
Cobblestone's 2021 Virtual User Conference attendees gained a deeper understanding of how to leverage machine learning and AI to automate a myriad of contract management processes and streamline contract workflow. Contract Insight experts showcased how contract intelligence can simplify contract creation, expedite data extraction, help with risk mitigation, enhance clause management, and increase accountability. Attendees were able to walk away with industry-leading best practices that can increase their ROI with CobbleStone Software.
Featured Speakers
CobbleStone hosted relevant, engaging, and industry-savvy speakers that inspired and encouraged attendees in their contract management, legal, procurement, and sourcing processes. Tammy Rimes, MPA shared an exciting keynote presentation titled, Paradigm Shifts: Who Moved My Office? along with a breakout session titled, Contract Management: Maximize Contract Value. Ralph R. Smith, 3rd conducted a niche breakout session titled, Medical Marijuana and the Drug-Free Workplace.
About Tammy Rimes, MPA
Tammy Rimes is the Executive Director of the National Cooperative Procurement Partners (NCPP), the premier Association for educational content, legislative advocacy, and support for cooperative procurement. She also formally served as Purchasing Agent for the City of San Diego, the 9th largest city in the nation, and Emergency Logistics Chief during the 2007 Witch Creek Fires that raged for 17 days and destroyed over 2000 homes. Under her leadership, the city consolidated its warehouse operations, centralized all purchasing and contracting operations, and moved to a more customer focused approach. With past sales and marking experience in the airline, retail, electrical utility, and wine industries, she has the unique perspective of working in three different worlds – corporate, government and entrepreneurial.
About Ralph R. Smith, 3rd
Ralph R. Smith, 3rd - Shareholder, Co-Chair, Labor & Employment Department, Capehart Scatchard Attorneys at Law - practices in employment litigation and preventative employment practices, including counseling employers on the creation of employment policies, non-compete and trade secret agreements, and training employers to avoid employment-related litigation. He represents both companies and individuals in related complex commercial litigation before federal and state courts and administrative agencies in labor and employment cases - including those involving race, gender, age, national origin, disability and workplace harassment and discrimination matters, wage-and-hour disputes, restrictive covenants, grievances, arbitration, drug testing, and employment-related contract issues. Mr. Smith also counsels healthcare clients in reviewing employment contracts, negotiating restrictive covenants, and handling actions related to the enforcement of noncompete provisions against physicians and other health care professionals. Prior to joining Capehart Scatchard, Ralph served as a Judicial Clerk to The Honorable Jerome B. Simandle, Chief Judge, United States District Court, District of New Jersey, Camden.
Will We "See" You at Our Next Event?
To gain the latest information about future events, industry-leading news, and contract management best practices, follow us on social media, subscribe to our YouTube channel, and subscribe to CobbleStone's blog.
Looking to evaluate leading contract management software solutions for the future of contract management? Read our blog – 6 Critical Contract Management Tools for 2021 – to discover the best contemporary tools for future-minded, automated, low-friction, and user-friendly contract management.
CobbleStone Software has been a contract lifecycle management and sourcing software leader since the mid-1990s. CobbleStone's flexible, scalable, and user-friendly solution seamlessly integrates with mission-critical applications by centralizing and streamlining contract lifecycle management, supply chain contract management, purchasing, vendor management, electronic bidding, and more. CobbleStone - as a software provider - is also SOC 1 and SOC 2 compliant to support highly secure contract management, eSourcing, and eProcurement processes.
Discover why thousands of contract management professionals trust CobbleStone Software with their contract management, sourcing, and procurement needs. Book a free demo with a Contract Insight expert to learn more about CobbleStone's acclaimed contract management, eProcurement, and eSourcing software!