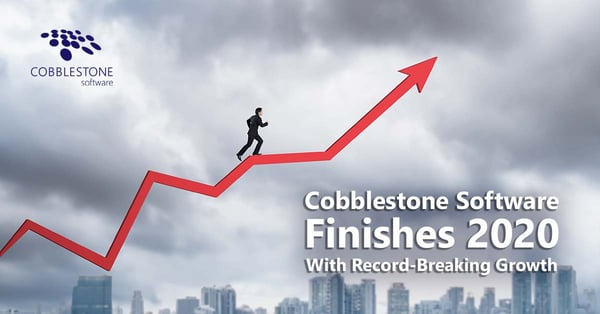 CobbleStone Software is proud to announce that we have finished 2020 with record-breaking growth. From expanding our client base to bringing new innovations to the forefront of contract management software and more, here are some noteworthy CobbleStone Software achievements from 2020.
We Have Helped Organizations To Maintain Contract Management Success
CobbleStone far surpassed goals in 2020 - exponentially expanding our client base. This means that when organizations were most in need of a fully web-enabled solution to maintain contract management processes for remote work, we at CobbleStone delivered.
CobbleStone's award-winning contract management software platform - Contract Insight® - is available as a SaaS (Software as a Service) or on-premise (deployed) solution. Because of this, our client base has maintained access to the most robust, user-friendly, and low-friction contract management software tools whether they are in or out of the office. Furthermore, the events of 2020 left many leading organizations with the need to reassess the terms of their contracts. Searching tools in Contract Insight have streamlined the process of users finding force majeure clauses and other relevant clauses quickly.
With Contract Insight, you can easily uphold and vastly improve contract management, vendor management, eProcurement, and eSoucing processes - even in the face of various unforeseeable circumstances.
We Hosted Our 2021 Virtual User Conference
CobbleStone originally planned and prepared for hosting this year's user conference in Austin, Texas back in October. We do not need to explain why we had a change of plans.
However, here at CobbleStone, the theme of 2020 was adaptation. As such, we adapted. We hosted #CobbleStoneVirtualConference2021. CobbleStone Software's 2021 Virtual User Conference took place from January 20th - January 21st from 1 pm to 5 pm ET on each day.
The fully digital two-day event offered an exciting experience for contract management, procurement, sourcing, legal, and other professionals from a wide array of industries. CobbleStone's 2021 virtual user conference featured engaging keynote speakers, CobbleStone-exclusive product and feature updates, interactive breakout sessions, expert-led demonstrations, and much more.
This momentous event proved an invaluable occasion for Contract Insight users to learn from CobbleStone experts and gain the inspiration to execute future-minded contract lifecycle management software best practices. It offered an exciting learning experience for prospective CobbleStone users as well.
Registered participants have access to a stream of their registered virtual conference sessions up to 90 days post-event!
We Released New Contract Management Software Features & Innovations
Ever since we launched the first commercial, web-enabled contract tracking software system in the mid-1990s, we at CobbleStone have prided ourselves on continuous innovations to our leading-edge source-to-contract management software suite. This continued throughout 2020, as we brought our users a plethora of tools and functionality to streamline, strengthen, and centralize their contract lifecycle management processes.
The enhancements made to our trusted solution seem to be too numerous to exhaustively examine, so for now we will provide some highlights.
With the release of Contract Insight Enterprise Version 17.5.0 in 2020 came a host of contract intelligence innovations, simplified electronic signature options, an enhanced system dashboard experience, enriched Vendor Gateway functionality, contract writing improvements, and more to equip users with the right tools to succeed. Some key features included:
users being afforded simple, AI-powered, drag-and-drop contract record creation with the help of CobbleStone's proprietary artificial intelligent engine - VISDOM AI®.
diversified IntelliSign® eSignature options, including the ability for users to sign PDFs and MS Word attachments directly in their systems.
executive graphical dashboards for a visually-engaging, organized, and centralized user experience.
fast and easy contract writing with increasingly low-friction document and template merging.
easy data entry and pricing on the Vendor Gateway.
seamless

integration with

ProBids.com for a more competitive bid process.

and much more.
The 2020 release of Contract Insight Enterprise Version 17.6.0 also brought many exciting new features and innovations, including (but not limited to):
workflow-initiated document template merging.

intelligent quick search recommendations.

CobbleStone PC Helper Apps for both MS Word and MS Outlook to streamline and integrate contract management with these mission-critical applications.
simple, intelligent OFAC search integration for improved risk management and federal compliance.

more streamlined and centralized workflow task management.

even more enhancements to the aforementioned drag-and-drop record creation functionality.

and much more.
The final full Contract Insight new release of 2020 - Contract Insight Enterprise Version 17.7.0 - brought us future-minded innovations such as:
further AI and machine learning innovations with robust clause management.

even more low-friction contract record creation featuring an intuitive record creation wizard.

eSourcing bid tabulation reports for improved vendor oversight.

simplified contract type administration.

enriched spend analytics.

easier file/attachment management.

more robust reporting oversight.

and much more.
For years now at CobbleStone, we have been perfecting and releasing key features to meet the evolving needs of our clients. This naturally continued in 2020 despite potential challenges, and our mission is to further refine our state-of-the-art contract management software solution throughout 2021 and beyond.
We Have Gained CobbleStone Partnerships & Memberships
Although we could not meet in person with other organizations throughout several months of 2020 due to the state of things, that did not stop us from forging invaluable new bonds this past year.
CobbleStone commenced several notable partnerships and memberships this year. They include (but are not limited to):
a partnership with both Unified Patents and LOT Network to protect against patent trolls and patent assertion entities (PAEs).
a recognition from Digital.com to help organizations find the best software tools for their processes.
a partnership with Logixal to support IT security and data management in the banking industry.
a partnership with Paralegals Connect to help paralegals stay aware of the best tools, resources, and functionality for their processes.
and so many more relationships for which we are immensely grateful
Thank You for Helping CobbleStone Finish 2020 Strong!
We are honored and humbled by the opportunity to have served so many leading organizations from such a wide variety of industries this past year and in the many years prior. We look forward to continuing upon the success of 2020 as we navigate 2021 and beyond!
To that effect, read our short and simple blog post to learn about 6 critical tools for contract management in 2021!
To learn more about CobbleStone Software's Contract Insight, book a free demo today!