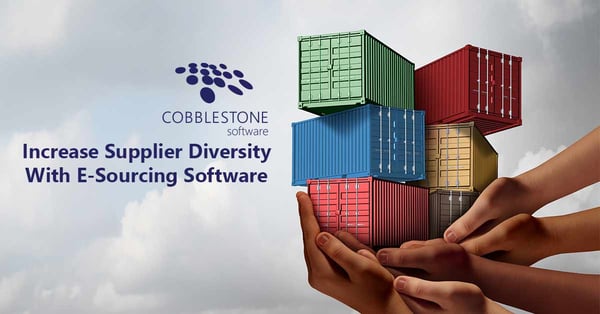 As a sourcing professional, attracting diverse suppliers who meet your necessary RFx requirements can be challenging when leveraging primarily manual processes such as organizing paper-based RFPs, tracking disparate emails, filing scattered documents, and individually reviewing bids for diversity qualifications. While you might find a suitably diverse supplier base, they may lack in other crucial requirements. Without a suitable eSourcing software solution, sourcing a product or service that meets your diversity and functionality requirements can prove difficult. Read on to learn how leading-edge eSourcing tools can help you optimize supplier diversity.
Executive Summary
Sourcing professionals can find it difficult to acquire and maintain supplier diversity without the proper digital processes in place. Fortunately, leading eSourcing software can help you maintain a supplier base that meets your diversity and functionality requirements by:
Assessing prospective suppliers with preconfigured rules and diversity evaluations.
Tracking awarded suppliers' diversity certifications in the post-award contract management stage.
Centralizing suppliers' information in custom vendor records.
Allowing for correspondence with vendors via a centralized and secure collaboration portal.
Enabling sourcing professionals to report on supplier diversity with real-time data.
And more.
Supplier Diversity & Post-Award Contract Tracking
When advertising an RFP for a product or service, gathering prospective quality bids can prove challenging – especially with the added element of supplier diversity. Moreover, tracking diverse suppliers' diversity certification expirations can prove challenging – especially when individually configuring calendar notifications in a decentralized workflow system.
Thankfully, leading eSourcing software users can preconfigure evaluation factors for prospective vendors. For instance, if you need to purchase new desks for your office from a vendor who holds a DBE (Disadvantaged Business Enterprise) certification and whose products are made in the USA, you could pre-calibrate 50% of your vendor rating to the DBE certification and 30% to a USA-made product on a 100% scale. This scoring can automatically populate your most suitable supplier candidates to the top of your list of prospective vendors.
Once a bid is awarded to a vendor and contracts are signed, the DBE certification may subsequently be tracked to ensure the vendor retains their certification for optimal post-award contract management compliance. Should the DBE certification expire prior to the contract renewal date, a notification can be sent to all necessary stakeholders involved for timely renewal of the DBE certification for continued vendor contract management compliance.
Centralized Vendor Collaboration
Organizing bids from prospective vendors, tracking current vendors, and communicating with suppliers across ranging media and storage locations can cause you to lose control of your supplier management processes. When needing to ensure a vendor's diversity certification status or other crucial information - relying on disparate files in shared drives, email correspondence, phone calls, and paper-based RFPs can make finding pertinent information under time constraints quite difficult.
Fortunately, leading-edge E-Sourcing Software can centralize vendor communications with the ability to track a vendors from the initial registration through post-award contract details. With the help of a highly secure vendor collaboration portal, you can interact with prospective vendors in a safe and centralized location where you can answer questions, review prospective vendors, rate vendors based on pre-established scoring details, set deadlines for final question submissions, award vendors directly, notify awarded vendors via email through an integrated MS Outlook plugin, and seamlessly begin a new contract workflow within a centralized vendor record.
Supplier Diversity Reporting
In addition to the wholesome motive of advancing the values of diversity, equity, and inclusion - you may also need to meet specific supplier diversity goals to receive grants, attract budget increases, maximize tax incentives, and receive additional funding. When stakeholders require specific supplier diversity data - including the percentage of your current diverse suppliers and their different types of supplier diversity certifications - disparate data locations can slow response times and, unfortunately, lead to missed opportunities.
Luckily, sourcing professionals can leverage an eSourcing Software solution to create reports on virtually any field within a vendor record. Supplier diversity data can be displayed in a visually engaging executive graphical dashboard that can showcase supplier diversity data in real-time - leaving you thoroughly equipped to present data effectively to stakeholders at essentially the drop of a hat. Should an unexpected opportunity arise, you can leverage readily available data that can be shared with stakeholders virtually within seconds - especially with the ability to speedily export data into easily accessible spreadsheets.
Diversify Your Supplier Portfolio With Contract Insight®
CobbleStone Software's award-winning, trusted, fully integrated eSourcing software solution - Contract Insight - streamlines sourcing and solicitation processes with reduced friction, optimal governance, and heightened transparency from sourcing to post-award contract management. CobbleStone Software has been a contract management and sourcing software leader since the mid-1990s. CobbleStone's flexible, scalable, and user-friendly solution seamlessly integrates with mission-critical applications by centralizing and streamlining vendor management, contract lifecycle management, supply chain contract management, purchasing, electronic bid management, and more. CobbleStone is also SOC 1 and SOC 2 compliant to support highly secure eSourcing processes.
Discover why thousands of professionals from a variety of industries trust CobbleStone Software with their sourcing needs. Book a free demo with us to learn more about CobbleStone's acclaimed eSourcing software!
To stay up to date on best practices, industry news, and CobbleStone Software updates, be sure to subscribe to our blog and YouTube Channel.