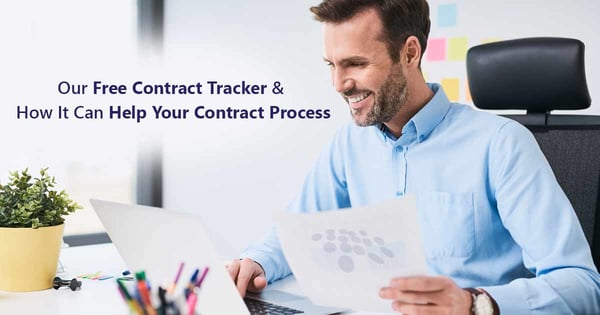 Keeping track of contracts can prove challenging, especially without a centralized system. While contract management software provides a robust solution for contract lifecycle management, a basic contract tracking spreadsheet can help you retain some oversight. Read on to learn how you can leverage CobbleStone Software's free contract tracker to help streamline your contract process.
Contract Tracker
A contract tracker is a centralized location whereby you can input contract information along each stage of the contract lifecycle – including requests, counterparties, signing dates, obligations, and renewal dates – and track contract management stages, such as with a manual spreadsheet or via an automated CLM software suite. Contract tracking can either make or break your contract management process.
CobbleStone's Free Contract Tracker
While a leading-edge contract lifecycle management software suite can provide you with ideal tools to centralize and streamline your contract tracking processes, CobbleStone's free contract management spreadsheet can help you organize your contract management processes manually within a centralized location until you are ready to automate your processes with CobbleStone Contract Insight® CLM software.
Contract Tracking Spreadsheet Pros
A contract tracking spreadsheet can help you manually organize and view contract information such as:
Counterparties.

Key Dates.

Stakeholder Details.

Departments.

Agreement Types.

Renewal Notes.
Contract Tracking Spreadsheet Cons
A contract tracking spreadsheet can delay your contract management processes by requiring consistent updates, routine maintenance, and manual data entry. Some spreadsheet deficiencies include the following.
Learn how VISDOM® AI can streamline your contract tracking processes in the video below.
Automated Contract Tracking with CobbleStone Contract Insight
When you are ready to let go of manual contract tracking and embrace automated contract tracking within a leading-edge CLM software suite, CobbleStone Contract Insight can receive you with open arms to help empower your end-to-end contract lifecycle management processes from contract requests through renewals.
CobbleStone's trusted, award-winning, fully integrated contract management software streamlines the contract management process with optimal governance, reduced friction, and high flexibility from contract requests to renewals. CobbleStone Contract Insight has been a visionary leader in CLM software for over twenty years. CobbleStone's user-friendly, robust, and scalable solution seamlessly integrates with mission-critical applications, including MS Word and MS Outlook, for unified and seamless contract management. It's no wonder why Forrester names CobbleStone a Leader in CLM software!
Discover why thousands of contract managers trust CobbleStone Software with their contract management needs. To learn more about CobbleStone's unparalleled contract management software, book a free demo with a Contract Insight expert today!
Are you interested in future-minded contract management software tools? Watch the 6 Critical Contract Management Tools for 2021 video below to learn how to leverage industry-leading CLM software tools for streamlined, user-friendly, and low-friction contract lifecycle management success!
To stay up to date on best practices, industry news, and CobbleStone Software updates, be sure to subscribe to our blog and YouTube Channel.