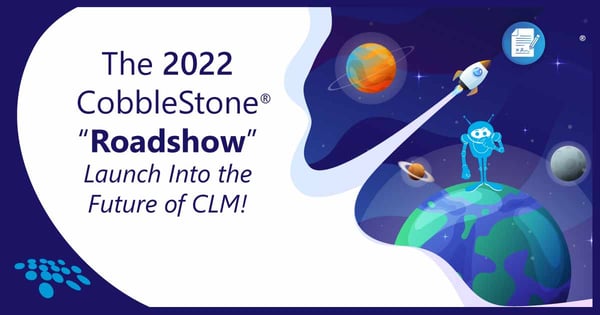 The CobbleStone "Roadshow"* is coming to a computer near you this year! These masterclass and CobbleStone Contract Insight training events - Launch Into The Future Of Contract Management - are offered to help CobbleStone users optimize their contract management software and eProcurement procedures while offering non-CobbleStone users an immersive, preliminary venture into CobbleStone Contract Insight®. Read on to discover what attendees can anticipate at The 2022 CobbleStone Contract Management "Roadshow."
CobbleStone Software users can attend a CobbleStone Contract Insight Training virtual event led by CobbleStone Contract Insight experts. Users can heighten their knowledge of CobbleStone Contract Insight's functionalities – including VISDOM® AI and workflow automation - to simplify and expedite contract lifecycle management and eProcurement processes. Non-CobbleStone users can attend a virtual CobbleStone Contract Insight Masterclass to acquire a more full-bodied understanding of contract lifecycle management best practices while receiving an introductory education of how CobbleStone Contract Insight's powerful CLM and eProcurement features can help generate contract lifecycle management success.
The 2022 CobbleStone "Roadshow" Schedule
Both the CobbleStone Contract Insight Training Tour and CobbleStone Contract Insight Masterclass Tour shall be held in the eastern time zone (USA) during the following dates and times:
February 25th, 2022
April 29th, 2022
June 24th, 2022
August 26th, 2022
December 16th, 2022
CobbleStone Contract Insight Training "Roadshow"
The CobbleStone Contract Insight Training Tour provides users with engrossing and dynamic training sessions with CobbleStone Contract Insight specialists that can steer you along your course to contract management, eProcurement, eSourcing, and vendor management success. For only $199 per registrant per day, CobbleStone users can acquire a more robust understanding of how to leverage:
From beginners to advanced users of CobbleStone Contract Insight alike, all can uncover value from attending. At the closing of each training day, attendees can obtain a certificate of completion as proof of their new CobbleStone Contract Insight expertise.

Complimentary Contract Management Masterclass "Roadshow"
Contact Management Masterclasses, geared toward prospective CobbleStone Contract Insight users, offer attendees an introductory experience with CobbleStone Contract Insight's robust CLM, eProcurement, eSourcing, and vendor management platform while showcasing powerful contract lifecycle management best practices. Attendees can learn how to:
Attendees will have the chance to engage in a question-and-answer time with a CobbleStone Contract Insight expert following the main agenda.
Joining the 2022 CobbleStone "Roadshow" Is Just a Click Away
Considering this year's roadshow is entirely virtual, you can join from a location of your preference while garnering immense content value. With an assortment of masterclass and CobbleStone Contract Insight training dates to choose from, you can schedule a convenient time to hone your contract lifecycle management, eProcurement, eSourcing, and vendor management practices from virtually anywhere with proper WiFi at the click of a button.
For inquiries about The 2022 CobbleStone "Roadshow," you can email training@CobbleStoneSoftware.com or call 866-330-0056.
CobbleStone Software continues to be a leader in contract lifecycle management software for over 20 years and counting. CobbleStone's user-friendly, vigorous, and scalable solution seamlessly integrates with mission-critical applications for unified and seamless contract management. CobbleStone Software, as a software provider, also remains SOC 1, SOC 2, and Privacy Shield compliant to encourage the utmost security.
Discover why thousands of contract managers depend on CobbleStone Software with their contract management requirements. To learn more about CobbleStone's exceptional contract management software, book a free demo with a Contract Insight expert today!
To stay up to date on best practices, industry news, and CobbleStone Software updates, be sure to subscribe to our blog and YouTube Channel.
*The 2022 CobbleStone "Roadshow" dates, times, agenda, and pricing are subject to change.