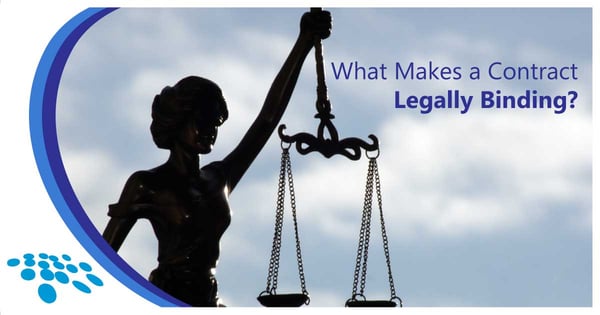 Contracts and agreements power every industry. We would even venture to guess that virtually every business utilizes contracts in some form or another. As such, organizations must ensure that their contracts are properly prepared and legally enforceable.
Let's review what makes a contract legally binding, and how to manage legal contracts to ensure that they are virtually airtight from contract execution to contract renewal.
What Makes a Contract Legally Binding?
A contract that is legally binding needs to reflect the six elements of a contract. These elements are:
Contract Offer
Contract Acceptance
Acknowledgement of Obligations & Mutuality of a Contract
Contractual Consideration
Legal Capacity of Parties Involved
Legality of Contract
Clarifying the Elements of a Contract
Offer: Something of value is presented from one party to another (counterparty). What is being exchanged is clearly understood. The party receiving can accept the offer, decline the offer, or make a counteroffer.
Acceptance: Offer and acceptance go hand in hand. With acceptance, there is an acknowledgment of contract terms and conditions. Both parties acknowledge this understanding by signing the contract after negotiations.
Obligations & Mutuality: Parties acknowledge that they are entering a binding agreement. Additionally, it is made known that this binding contract is legally enforceable under do law. As such, parties must perform the obligations of the contract to avoid breach of contract.
Consideration: Parties acknowledge that something of value is being exchanged for something of value. In other words, there is a "quid pro quo" whether the exchange involves money, action, or inaction. This exchange needs to be lawful and comprehensible.
Legal Capacity of Parties: It is confirmed that parties are legally competent to enter into a contract. Parties must be of sound mind, qualified, and legally of age.
Legality: The agreement and exchange must reside within the confines of the law. Any contract supplementing an illegal enterprise makes it null and void.
What Makes a Contract Non-Binding?
A contract that is non-binding fails to check one or more of the boxes of the elements of a contract mentioned above.
For example, a real estate contract may be deemed invalid and non-binding if one or both parties misrepresented facets of the contract, if there is a mistake in the contract, or if the contract serves unlawful practices.
Lease agreements can prove non-enforceable if one party signed under duress, or if something physical about the rental unit is illegal in the jurisdiction.
Given that there are many variables that can make a contract non-binding, some organizations ought to consider enlisting the aid of legal services or a law firm to confirm that they are entering a valid contract correctly per contract law.
Managing Legally Binding Contracts
Now we know how to determine whether a contract is legally binding or not. However, the contract process does not end there.
An organization entering into any type of contract needs to make sure to observe the contract lifecycle management process. This process takes a written contract or draft through:
Requests
Authoring
Negotiations
Approvals
Signatures
Obligations
Compliance
Renewal
Modern organizations leverage contract management software to centrally oversee the lives of their contracts. The contract lifecycle management solution they often choose is CobbleStone Contract Insight®.
CobbleStone® is an acclaimed, highly configurable contract lifecycle management solution that supports business process automation throughout the life of legally binding agreements. CobbleStone's features have been praised by users and third-party analysts alike.
CobbleStone has received numerous awards and recognitions. Just recently, CobbleStone was deemed the CLM Leader in the SPARK Matrix™ 2022 Report.
But don't take our word for it.
Book a free demo with a CobbleStone expert to see how to easily oversee thousands of legally enforceable contracts on a centralized system.
*Legal Disclaimer: This article is not legal advice. The content of this article is for educational purposes only. The information on this website may not present the most up-to-date legal information. Readers should contact their attorneys for legal advice regarding any particular legal matter.