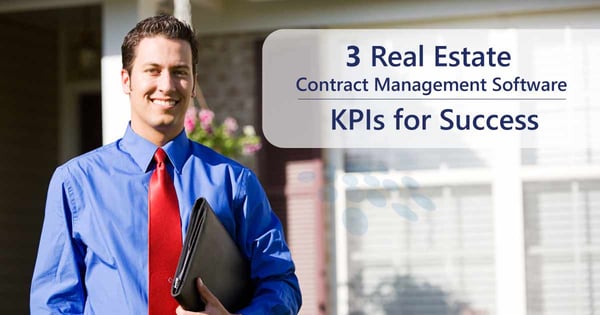 Managing various real estate contracts can be challenging, especially when relying on disparate methods such as wet-signatures, paper contracts, shared drives, filing cabinets, and paper-based negotiations. Whether you're a real estate broker, real estate agent, property manager, or other real estate contract management professional, a centralized contract management software platform with specific, value-driven KPIs can significantly streamline your contract lifecycle management processes – reducing contract mismanagement and saving you valuable time. Read on to learn about three real estate contract management software KPIs for success.
Executive Summary
Real estate contract management can be challenging without a streamlined and low-friction contract lifecycle management (CLM) software system. Discover how the following real estate CLM software KPIs can yield real estate contract management success.
Availability of Integrated Real Estate Transaction Management Features
Availability of Centralized & Secure Contract Repository
Integrated Contract Intelligence Engine
#1 - Availability of Integrated Real Estate Transaction Management Features
Managing multiple documents and tasks from varying stakeholders for numerous real estate transactions can be cumbersome and overwhelming. Relying on email, shared drives, phone calls, and other non-centralized methods can leave your real estate transactions in a state of disarray – wasting your precious time and resources.
Fortunately, leading CLM (contract lifecycle management) software can centralize your real estate transaction management processes – helping to keep stakeholders - including real estate agents and brokers - on task with unparalleled trackable oversight. Multiple contracts, state forms, and other ancillary documents can be centralized within a contract record. Real estate transaction tasks, including eSignatures and digital signatures requests, can be assigned to stakeholders with real-time status updates – helping to alleviate the need for manual follow-up.
To learn more about IntelliSign® eSignature software, watch the video below.
If a particular task is not fulfilled by a specific key date and can be fulfilled by a supplemental stakeholder, preconfigured and automated task alerts can reroute the task to another stakeholder for completion (task escalation). Real estate contract management software can be configured to send out task alerts to stakeholders within the platform and via email with an integrated MS Outlook plugin.
#2 - Availability of a Centralized & Secure Contract Repository
Relying on disparate contract storage locations and communications – such as shared drives and emails – can increase miscommunication, security breaches, and contract management workflow bottlenecks. Without a centralized and secure contract repository, you can find yourself scrambling to find vital information quickly and impose unwarranted risk to your real estate organization's and stakeholders' security standards.
Thankfully, leading-edge real estate contract management software can centralize your contracts in one location with advanced features such as highly configurable reporting, milestone notifications, and executive graphical dashboards – creating unparalleled visibility from contract requests to renewals. Rather than run the risk of security breaches, a SOC 1 and SOC 2 compliant real estate contract management software provider upholds utmost contract management and information security standards.
If you are audited, you can confidently find necessary documentation within your centralized contract management system – making it easy to find various real estate transaction contracts and other pertinent documents, especially with integrated QuickSearch and Simple Search features. A web-enabled real estate contract management software can make remote contract management a breeze, making it easy for stakeholders to complete tasks from essentially anywhere with suitable WiFi – streamlining your processes, especially in the wake of present global challenges posed by COVID-19.
#3 - Integrated Contract Artificial Intelligence
Real estate contract management professionals can face pre-signature and post-signature contract management bottlenecks – including miscommunicated contract requests, unorganized contract writing due to outdated contract clauses and templates, delayed negotiations and approvals resulting from obsolete communication processes, delayed wet-signatures, disorganized milestone records, untracked compliance standards, and non-centralized renewal dates. Such inefficiencies can decrease your organization's bottom line, decrease trust with stakeholders, and mar your reputation as a real estate contract management professional.
Luckily, a centralized real estate contract lifecycle management suite with integrated contract intelligence can streamline your processes electronically by allowing you to:
request contracts directly from your contract lifecycle management software.
draft new contracts with current templates and clauses within your organization's pre-approved library.
negotiate and approve pre-award contracts with real-time tracked status updates and timestamped changes.
gather electronic signatures quickly.
and more.
After smoothly propelling the contract into its post-execution lifecycle with speedy eSignatures, integrated artificial intelligence can help track your contract's compliance status with preconfigured milestones and metrics. Contract management workflow automation can optimize contract compliance and support contract renewal improvement areas for increased ROI.
To learn more about VISDOM® AI, CobbleStone's proprietary artificial intelligence engine, watch the video below.
Elevate Real Estate Contract Management with Contract Insight®
Streamline your real estate contract management processes with a leading-edge contract management software platform. End-to-end real estate contract management begins with CobbleStone Software's Contract Insight.
CobbleStone's trusted, award-winning, fully integrated real estate contract management software streamlines the contract management process with optimal governance, reduced friction, and high flexibility from contract requests to renewals. CobbleStone Software has been a visionary leader in real estate CLM software since the mid-1990s. CobbleStone's user-friendly, robust, and scalable solution seamlessly integrates with mission-critical applications for unified and seamless real estate contract management - including MS Word.
Discover why thousands of contract managers trust CobbleStone Software with their contract management needs. To learn more about CobbleStone's unparalleled real estate contract management software, book a free demo with a Contract Insight expert today!
To stay up to date on best practices, industry news, and CobbleStone Software updates, be sure to subscribe to our blog and YouTube Channel.
Are you interested in future-minded contract management software tools? In our blog - 6 Critical Contract Management Tools for 2021 – learn how to leverage industry-leading CLM software tools for streamlined, user-friendly, and low-friction contract lifecycle management success!