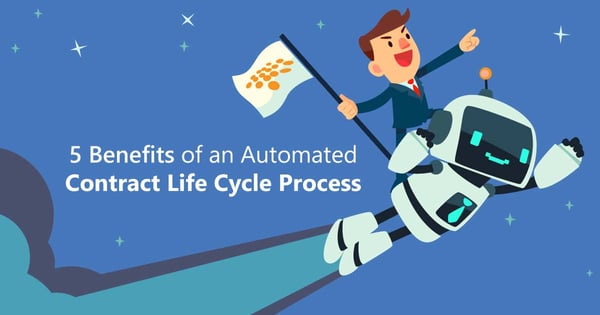 The contract lifecycle is a great way to categorize the steps of contract administration, from requests to renewals. But how can you embrace legal operations digital transformation to automate the contract life cycle process? Read this blog to find out.
Contract Life Cycle Process
The contract life cycle process is the paradigm you can use to classify the core steps involved in a contract. It begins with contract requests and ends with contract renewals. Leveraging contract management software can boost your contract lifecycle management ROI, decrease risk, reduce contract lifecycle bottlenecks, and increase revenue. Below is a graphic of the contract lifecycle.
Below are some benefits of automating your contract lifecycle management process.
#1 – Accelerate CLM From Requests to Renewals
Automating your contract life cycle process with leading CLM software equips you with robust CLM tools – including but not limited to:
#2 – Enjoy a Tight-Knit, Accurate Contract Clause Experience
Clause management can be automated and accelerated with contract lifecycle management software. Your contract management team can virtually effortlessly draft contract documents based on your organization's pre-approved templates and contract clauses' terms and conditions. Some CLM features for contract clauses include:
#3 - Meet Contract Compliance & Other Requirements Easier
Contract lifecycle automation can significantly strengthen your contract compliance strategy. Some perks of leveraging contract management software to automate compliance include:
Automating contract lifecycle management with CLM software also allows you to streamline specific types of contract compliance, such as:
#4 – Integrate Mission-Critical Applications for Better CLM
Your contract management team should look to automate your contract life cycle process with seamless integration with mission-critical CLM applications, such as:
#5 – Automate Contract Tracking
Your organization can automate contract life cycle tracking with contract tracking tools such as:
Get Started With an Automated Contract Life Cycle Process
Now that you are aware of which tools you can use to automate the contract life cycle process, it is time to get started with the only contract lifecycle management solution with all of the advanced features mentioned above. That solution is CobbleStone Contract Insight®.
CobbleStone's award-winning contract life cycle management software solution can automate contract management, vendor management, procurement, and sourcing processes from start to finish with the foremost legal operations technology. Given how user-friendly, robust, and seamlessly integrated CLM solution is, it's no wonder Forrester names CobbleStone a Leader in CLM software!
Learn why thousands of contract managers across the globe trust CobbleStone with their contract management needs. To learn more about CobbleStone's unparalleled contract software, book a free demo with a CobbleStone Contract Insight expert today!
To stay up to date on best practices, industry news, and CobbleStone Software updates, be sure to subscribe to our blog and YouTube Channel.