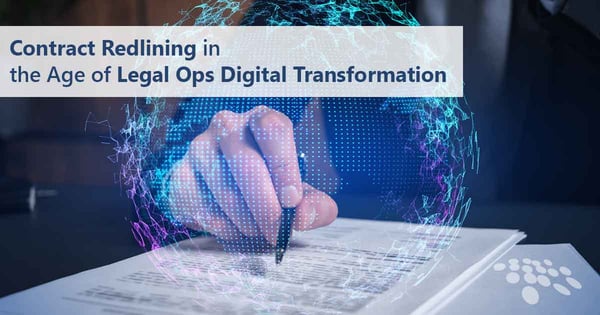 Contract redlining can prove to be a tedious process during negotiations. Coordinating with stakeholders during the contract redlining process using siloed processes such as MS Word documents with tracked changes, email communications, and shared drives can further delay contract negotiations. Read on to learn how you can leverage future-minded contract redlining tools that centralize people, processes, and technology in a robust contract management software suite to help automate legal operations for contract lifecycle management success.
Contract Redlining
Contract redlining is the process of editing contracts between counterparties during the contract negotiation process before approvals and signatures. Contract redlining requires counterparties on all sides of the negotiation to add and review modifications, including redactions and additions, to the contract language in order to reach a suitable consensus – which requires strong communication and a transparent process.
Contract Redlining Software
Contract redlining software centralizes the contract negotiation process of edits and communications in a secure, web-enabled location. Robust contract redlining software within a leading CLM software suite offers advanced artificial intelligence with machine learning to support contract language updates – particularly clauses, natural language processing, concurrent editing, commenting tools, rules-based editing permissions, alerts, email notifications, configurable workflows, and more.
The Benefits of Contract Redlining Software
Contract redlining software within a robust CLM software suite centralizes the contract negotiation process with holistic oversight. Rather than communicate with disjointed platforms, source updated contract language manually, play email ping-pong with attached documents, and leverage other divorced processes – contract redlining software can streamline what usually takes the longest time of the contract lifecycle in a centralized system.
Contract Redlining Workflows & Centralized Communications
Future-minded contract redlining software allows for workflow configurations – including clause ownership assignments, task escalations, and approval routing. To ensure the right stakeholders remain abreast of language changes for review, they can receive notifications of language modifications of contract areas for which they are responsible. Such changes can trigger notifications to clause owners for review.
Rather than work with disparate contract versions, stakeholders can work concurrently within a centralized, web-enabled location – including MS Office 365 and Google Workspace integrations. Stakeholders can receive configured email notifications of comments and applied changes to review within the centralized contract redlining location. A highly secure contract redlining tool offered by a CLM software provider – that is SOC 1, SOC 2, and HITRUST compliant – excludes external or extraneous counterparties from other areas of your contract software, virtually ensuring data protection.
Artificial Intelligence With Machine Learning
Remaining current with the latest contract language, especially as laws and regulations change, can prove challenging. You can encounter setbacks when redlining a contract by manually sourcing the latest contract language, particularly in clauses. Fortunately, robust artificial intelligence can empower you in contract redlining and negotiations. Integrated artificial intelligence with machine learning can be configured to recognize particular language - including clauses and phrases - and offer insightful language recommendations. Such recommendations arise from a configured language library. Such robust contract intelligence encourages automated contract revision and assembly.
Moreover, contract AI can help extract metadata that can be leveraged to support legal routing, contract abstraction, auto-amendment recommendations, approvals, and more. Machine learning can feed CLM software the necessary data to agilely evolve with changing environmental variables and algorithms. While artificial intelligence does not replace the counsel of a licensed legal resource, AI can reduce some of the tedium and offer intelligent possibilities to choose from. Rather than waste time unnecessarily, contract AI with machine learning can help streamline your contract redlining process with robust insight and unparalleled confidence.
Discover how VISOM® AI can support your CLM process in the video below.
Expedite Contract Redlining with CobbleStone Contract Insight®
Don't let your legal operations fall behind with contract redlining inefficiencies. Embrace CobbleStone Contract Insight CLM software that can help streamline your contract redlining processes within a leading, comprehensive contract lifecycle management software suite.
CobbleStone's trusted, award-winning, fully integrated contract management software streamlines the contract management process with optimal governance, reduced friction, and high flexibility from contract requests to renewals. CobbleStone Contract Insight has been a visionary leader in CLM software for over twenty years. CobbleStone's user-friendly, robust, and scalable solution seamlessly integrates with mission-critical applications, including MS Word and MS Outlook, for unified and seamless contract management. It's no wonder why Forrester names CobbleStone a Leader in CLM software!
Discover why thousands of contract managers trust CobbleStone Software with their contract management needs. To learn more about CobbleStone's unparalleled contract management software, book a free demo with a Contract Insight expert today!
Are you interested in future-minded contract management software tools? Watch the 6 Critical Contract Management Tools for 2021 video below to learn how to leverage industry-leading CLM software tools for streamlined, user-friendly, and low-friction contract lifecycle management success!
To stay up to date on best practices, industry news, and CobbleStone Software updates, be sure to subscribe to our blog and YouTube Channel.