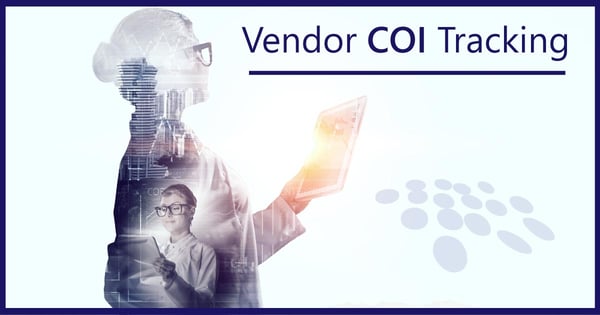 Is your current vendor COI tracking (certificate of insurance tracking) process time-consuming? Ununified? Tedious? Error-prone? Well, you can leave tiresome and detrimental COI tracking methods in the past by leveraging leading vendor management software to easily track and manage vendor data and vendor contract data on a centralized, user-friendly, and organized platform. Read on to learn how.
The Problem With Manual Vendor COI Tracking
Manual COI tracking procedures that rely on spreadsheets, paper printouts, and filing cabinets can prevent your organization from staying on top of COI key dates, insurance limits, certificate types, vendor contract data, and other essential aspects of the COI tracking process. This lack of COI tracking oversight can lead to missed deadlines, failed compliance, and more – leaving your organization at reputational and financial risk.
Luckily, with trusted vendor management software, your organization can take the management of certificates of insurance into the future by equipping your team with the most robust tools to import, store, and track the expiration of vendor contracts, manage vendor data, and run reports on certificates of insurance and other critical vendor-related documents.
Enhancing Vendor COI Tracking: How It's Done
Now, you may be thinking:

"That all sounds awesome…but how do I get started?"
Well, you can start with seamless software integration. Your organization can use integrated vendor management and contract management software to configure data fields and automated alerts for vendor records and contract records. These configuration features are great for the management of important metadata for COI documents – such as certificate types, insurance limits, certificate expiration dates, and more. As such, your organization can cohesively manage, track, and edit vendor and vendor contract data in one unified location. Third-party integration with mission-critical applications may also be available for importing up-to-date vendor and vendor contract data if changes are made within an ERP software system or another relevant system.
Furthermore, your organization can employ future-minded contract management software with vendor management integration to link virtually unlimited electronic documents to contract records and vendor records. This functionality can prove very useful (for your purposes) for electronic COI documents sent by your counterparties.
Reporting & Analytics Tools for Vendor Data
With advanced, intelligent reporting and analytics for extracted vendor and vendor contract data, your organization can generate valuable and comprehensive reports so that important vendor and vendor contract information can be shared with the right people at the right time. Ad hoc reports – such as those for COI expiration dates, COI renewal dates, vendor contract amounts, expiring vendor contracts, and milestones – can streamline data aggregation and promote sharing and collaboration with a reduced need for IT department support.
A vendor collaboration gateway module can enhance the way your organization interacts with vendors. With the help of self-serve vendor registration, your organization can grant vendors a secure place to access published contracts, requests, relevant documents, and more. In addition, vendors you are working with can submit key data, documents, and other important information – including COI documents.
It's Time To Transform Vendor Management
Vastly expediting and modernizing your COI tracking process is just a scratch at the surface of all of the revolutionary things your organization can do with leading-edge vendor management software. So, stop wasting time, money, and valuable opportunities with an outdated and obsolete vendor management process. Efficiently oversee and manage vendors with Contract Insight® - CobbleStone Software's celebrated, robust enterprise contract management software with integrated vendor management.
Contract Insight has come to the aid of thousands of vendor management, contract management, procurement, and sourcing professionals from many leading organizations from a variety of industries.
Take control of your processes with full vendor lifecycle management that features:
helpful vendor selection tools.
self-serve vendor registration.
comprehensive COI tracking tools.
terms and negotiations tracking.
future-minded vendor tracking and reporting.
improved vendor performance tracking.
and rapid, straightforward online collaboration.
Book a free demo of CobbleStone's award-winning, robust, low-friction, and scalable vendor management, contract management, eSourcing, and eProcurement software suite today!