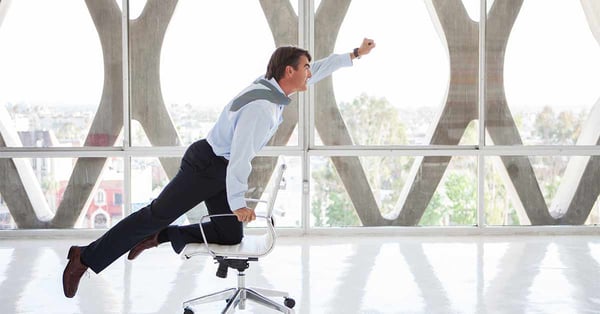 Antiquated procurement processes can prove cumbersome, and may, unfortunately, reduce the value, efficiency, and innovation of procurement. In addition to being ineffectual, the manual management of vendors, bids, contracts, and purchase orders may prove challenging and damaging. It's time to change the perception of procurement from a tedious function to a beneficial process that is reimagined, value-adding, and streamlined. Here's how to leverage eProcurement software for a winning procurement process!
Manage Requests & Procurement Workflow Automation
Innovative contract management software equips organizations with a diverse array of options for streamlining requests. No longer do organizations need to laboriously acquire request data and draft request documents manually.
Organizations can configure a standard request form that triggers a review process to ascertain if the request requires a full bid process or can apply an existing contract within an organization's contract repository, thus reducing the headache of wasted time. Credible source-to-contract management software can also offer an intelligent request wizard. In using this convenient tool, software users can quickly answer a series of dynamic questions that aid in determining the type of RFx that will be created, and whether or not they can instead leverage an existing contract – again, significantly expediting the request process.
Once a request record is created, it can be edited or reviewed as needed throughout the completion of workflow tasks. From there, the budget record can be reviewed once the user assigned to budget review is alerted, additional bid requirements can be gathered, and organizations are prepared to formalize bids. Thus, requests and procurement workflow helps to keep employees engaged, reduces time wasted, and centralizes request data.
Simplify Request Authorship & Online Bid Advertisement
Organizations need not painstakingly gather request data for the creation of request documents and the posting of a bid. A scalable and user-friendly procurement management software platform can help with the production of formal, timely, comprehensive, and accurate request documents.
With the capability to merge request record data with pre-approved clauses from an organization's clause library, procurement professionals can manage virtually unlimited versions and templates for the fast creation of documents and expedient exportation into standard file formats.
After a request document has been formalized, organizations can configure whether bids are advertised publicly or as invite-only – straight from their procurement software solution.
Organizations can avoid a static request authorship process with dynamic request document data merging with a pre-approved library. Furthermore, future-minded online bid advertisement keeps the vendor selection process exciting, streamlined, and consolidated.
Innovate Communication with Vendors
Why rely on email or written communication when modern technology offers something much fresher, efficient, and more engaging? With helpful question and answer functionality proffered by leading eProcurement software, organizations can remain on the same page with prospective vendors.
Organizations can assign due dates for questions and answers, so that prospective vendors are only allowed to present questions within a time frame that best suits the organization advertising a bid. When that established due date has passed, the advertising organization's system ceases to accept responses.
Further enhancing the process is the fact that eProcurement software users can receive system notifications when a question is submitted by a vendor, as well as when due dates for questions and answers loom. The innovation continues with features that allow organizations to choose how they answer bidders. They can answer questions one-by-one or via a spreadsheet that can be made public for vendor prospects.
Easily Rate & Score Vendors
Manually taking notes on vendor prospects is a tedious process that should be left in the past. Vendor response ratings and scorecards provided by advanced eProcurement software solutions can help organizations to feel confident that the vendor that is most aligned with their needs is selected. With bid rating weight control, organizations can configure the weight of specific vendor criteria over others when scoring bids. User-friendly bid tabulation reports can be utilized to include scoring and pricing line items for a rapid and easy-to-understand overview of bids.
Improve Vendor Awards
Cutting-edge procurement software can transform the way organizations award vendors. Advanced line item auctioning functionality helps organizations to recruit vendors for individual items. This feature is quite helpful for bid processes that permit organizations to award several vendors for different aspects of a single bid.
Organizations can parse out bids. This means that they can highlight specific items, offer an area for vendors to select items and provide expected unit prices, and have specifics sent back to their procurement system for vendor respondent comparison.
When the process is complete, organizations are finally ready to award a vendor! An email can be sent to the chosen vendor straight from the organization's sourcing record page within their system. This email informs the vendor that they have been awarded. A pre-approved email template can expedite this award notification process. Emails can also be delivered to the remaining participating vendors thanking them for their participation while informing them that another vendor has been awarded.
Thus, instead of sending disparate emails separately and manually tracking line items, organizations can leverage a process that allows for centralized vendor awards, vendor participant notification, and line item auctioning.
Create Vendor Contracts Fast
Rather than needing to regroup after a vendor is awarded, gather details, and manually draft a contract, organizations can embrace procurement innovation.
Once a vendor has been selected, organizations can quickly and seamlessly commence the contract lifecycle. A new vendor contract record can be created within the system – or the sourcing record page can be linked to an existing contract – straight from the eSourcing record page with which the organization has already been working.
Contract management AI built into eProcurement and contract management software solutions allows organizations to import contracts into the system for the creation of a new contract record. Users no longer need to manually and cumbersomely enter data fields. They can instead utilize easy-to-use data extraction tools that intelligently categorize and map data.
As such, the importation of contract clauses, data, and key dates is hastened and optimized – giving organizations the visibility to classify, search, report, and compare contracts, risk, and risk exposure.
Once the contract record and sourcing record are linked, organizations can then follow their standard contract lifecycle management process.
It's Time to Embrace Procurement Innovation
Now that you know how to evolve a stale, tedious, and inefficient procurement process into a streamlined, centralized, and cost-effective procurement strategy, it's time to enjoy a forward-thinking purchasing and contract management software platform. The solution that your organization needs is CobbleStone's Contract Insight®!
CobbleStone's acclaimed eProcurement, eSourcing, and contract management software suite can be used to solve common procurement challenges, such as:
Daily task management involving vendor performance management, negotiation, and vendor administration.
Spend analysis involving contract amounts, budgets, vendor invoicing, payment processing, fiscal year spend tracking, and purchase control.
Expediting operations pertaining to intelligent workflow automation, supplier and vendor relationship management, and general procurement analysis.
Surpassing expectations regarding vendor value improvement, supplier obligation fulfillment, contract benefits realization, timely and data-driven contract management decisions, and appropriate contract workflow escalation for matters such as disagreements or disputes.
Contract Insight is CobbleStone's acclaimed, web-based contract management, purchase requisition, procurement, and sourcing platform that has been hailed as the leading solution for over 25 years by organizations in a variety of industries.
Learn more about CobbleStone Software's enterprise contract management, eSourcing, and eProcurement software with a free demo today!