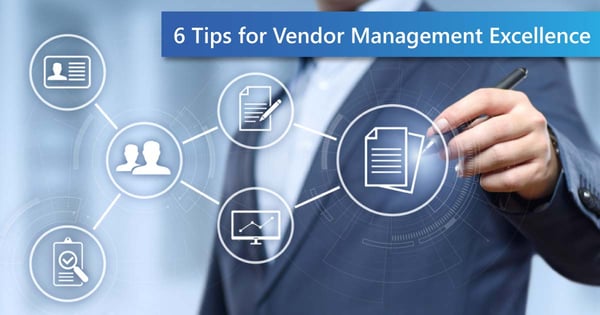 Process, unity, and efficiency are essential for proper vendor management. A vendor management process that relies upon disorganized documents, emails, and spreadsheets for vendor key data, contract data, certificates of insurance, and vendor performance data may not be enough. These methods may lead to failed compliance, missed deadlines, agreement breaches, overlooked volume discounts, insufficient payments, and poor vendor selection. These manual and time-consuming processes should be replaced in favor of an organized and streamlined one. Thus, here are six tips for better vendor oversight with vendor management software.
1. Use a Vendor Q&A
During the bid process, organizations using leading vendor management software can give prospective vendors the chance to ask questions.
Organizations can leverage questionnaires with specific due dates, so that vendors are only permitted to submit questions or answers within the period established, based on the buying organization's needs. After that set date has passed, the organization's system no longer accepts feedback. Thus, organizations are afforded higher governance over the timing of their bid process, as well as an expedited and more efficient way to communicate with potential vendors.
Vendor management software system administrators can configure their system to send notifications to users when a vendor response is submitted or when due dates are approaching. Organizations also have options for how they respond to prospective vendors. System users can respond to vendors one-by-one or instead provide feedback on a spreadsheet or MS Word document and make it public for vendors.
2. Rate & Score Vendors
Vendor response ratings and scorecards help organizations to award the most appropriate vendors for their needs. Bid rating weight control lets organizations control the weight of specific criteria over other criteria when scoring vendor bids. This level of control helps organizations to choose the proper vendors, reduce compliance issues, and leverage their budgets effectively. Easy-to-adopt bid tabulation reports can be used to include scoring and pricing line items for a rapid overview of bid results.
3. Quickly Create Requests & Advertise Bids
Organizations utilizing trusted vendor management software can create and manage document versions and templates with a pre-approved clause library that allows for the merging of pre-approved clauses and templates with request record data fields. Thus, organizations can expeditiously request documents and easily export them into standard file formats. Once a request has been created, organizations can rapidly advertise bids publicly or set bids to invite-only, streamlining the process of awarding a vendor.
4. Integrate Source-to-Contract Management
Leading-edge contract management software offers the integration of contract management, vendor management, contract writing, and eSourcing processes. This integration gives organizations a one-stop solution for vendor management and source-to-contract needs. Organizations can integrate vendor management and contract management, rules-based approvals, eSourcing, the aforementioned automated bid advertising, electronic signatures, item management, searching, reporting, inventory fulfillment tracking, and more for centralized vendor management, sourcing, and contract management.
5. Track Key Dates with Intelligent Automated Workflow
Timeliness and punctuality regarding important dates are critical when it comes to vendor management, sourcing, and the delivery of goods or services. For most organizations, observance of strict timelines is paramount for the preservation of a healthy vendor management process. Even minor bottlenecks and delays can potentially have enormous consequences, so maintaining awareness of key dates and milestones while demanding timely vendor performance is essential.
A great way to manage vendor key dates and milestones is with the help of automated workflow alerts. Cutting-edge contract management software can help organizations to configure email notifications and oversee who receives those reminders so that required tasks are completed promptly.
Furthermore, task escalation reduces bottlenecks even if an employee contract management software user fails to perform their task on time because multiple fail-safes can be put in place to help to move the task towards completion. When organizations leverage integrated vendor management software and contract lifecycle management software that helps promote a culture of key date and milestone awareness, timely task completion, and accountability, they can shorten vendor contract lifecycles and optimize vendor management processes from requests to renewal opportunities.
6. Track Vendor COI & Other Vendor Data
Vendor management software can enhance COI management (or, certificate of insurance management) and the management of other documents by equipping organizations with the tools to import, store, and manage the expiration of vendor contracts, track vendor data, and run reports on COI and other vendor-related documents.
Contract management software users can configure data fields and alerts for contract records and vendor records, including those for crucial metadata for COI documents (insurance limits, certificate types, certificate expiration dates, and more). Thus, organizations can easily track, edit, and manage vendor and vendor contract data in one centralized location. Third-party integration may also be available for the importation of up-to-date vendor data if changes are made in an ERP or another system.
Additionally, organizations employing advanced contract management software integrated with vendor management functionality can import nearly unlimited electronic documents to vendor records and contract records, including, for example, electronic COI documents sent by counterparties.
With intelligent reporting and analytics on extracted vendor and contract data, organizations can generate valuable reports so that important contract information can be shared among the right people at the right time. Ad-hoc reports, such as those for contract amounts, key dates, milestones, expiring contracts, and more expedite data aggregation and encourage collaboration and sharing with a reduced reliance on IT support.
A vendor collaboration gateway module can help improve the way organizations interact with vendors. With self-serve vendor registration, organizations can grant vendors secure access to published contracts, documents, requests, and more. Additionally, vendors can submit documents, key data, and other important information – including COI documents.
It's Time to Transform Vendor Management
Stop wasting money, time, and opportunities with an outdated vendor management process. Efficiently, quickly, and strategically manage and oversee vendors with Contract Insight®, CobbleStone Software's acclaimed, user-friendly, and robust enterprise contract management software with vendor management.
Contract Insight has helped thousands of vendor management, procurement, and sourcing professionals from a variety of leading organizations and from a myriad of industries.
Take control of your process with full vendor lifecycle management featuring self-serve vendor registration, helpful vendor selection tools, future-minded vendor tracking and reporting, terms and negotiations tracking, enhanced vendor performance tracking, and swift online collaboration.
Book a free demo of CobbleStone Software's award-winning and scalable contract management, vendor management, sourcing, and procurement software suite today!