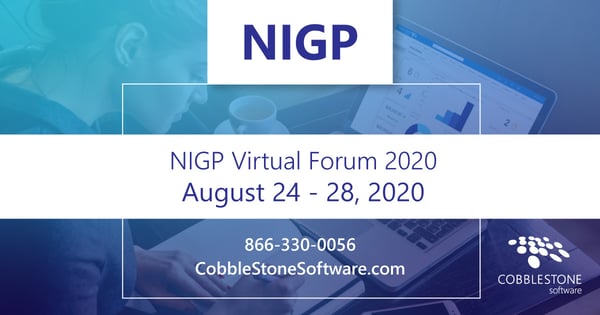 NIGP (The Institute for Public Procurement) will be hosting its annual forum virtually August 24th – 28th, 2020. CobbleStone will be exhibiting its leading-edge government contract management, sourcing, bid management, and procurement software in NIGP's virtual exhibit hall. CobbleStone's software experts will answer questions from attendees and demonstrate how contract management software can help solve government purchasing challenges. NIGP's celebratory 75th Annual Forum will feature procurement-focused sessions, a virtual exhibit hall, breakout sessions, networking opportunities, inspirational keynote speakers, a virtual happy hour, and other engagements.
Four Days of Industry-Leading Purchasing Practices
Industry-leading topics covered in the 2020 NIGP forum sessions include improving the procurement process and implementing strategic procurement best practices. Daily breakout sessions will feature various topics to help with remedying procurement challenges. The session titled, "Practical Steps to Move Procurement From a Back-Office Function to a Strategic Business Partner with Internal Departments," will demonstrate how strategic procurement should be reimagined as a valuable business opportunity. The session called, "How to Manage Teams and Achieve Group Success Remotely," will shed light on a flexible and efficient approach to the remote workflow process of procurement departments. These examples are simply a taste of the myriad of valuable sessions offered at NIGP's 75th Annual Forum.
Read articles on government and procurement best practices and trends on our blog.
CobbleStone's virtual booth will offer invaluable resources to government contract managers and procurement professionals. Virtual booth visitors can receive whitepapers, articles, videos, opportunities for a demo, and a chance to win a free tech-savvy CobbleStone backpack!
CobbleStone's contract management software experts look forward to the opportunity to chat with NIGP attendees and offer valuable insight into CobbleStone Software's user-friendly and scalable functionalities. CobbleStone Software's Contract Insight® offers full contract lifecycle management, a secure contract repository with unlimited contract storage, bid and contract authoring, intelligent contract workflow, online negotiations and electronic signatures, integrated eSourcing and eProcurement, simplified purchase order management, and other features that can help government purchasing professionals and their teams effectively maximize remote workflow.
The 2020 NIGP Forum details are subject to change. CobbleStone Software does not guarantee conference dates, locations, agendas, etc. This article is not an NIGP endorsement.
Government Contract Management Software for Public Purchasing Professionals
While attendees may visit CobbleStone's virtual booth in the virtual exhibit hall at any time during the forum to learn more about leading-edge government contracting, procurement, and sourcing software, the following times (listed in Eastern Time) are scheduled exclusively for virtual exhibitors.
Monday, August 24th, 3:30 PM – 6:00 PM
Tuesday, August 25th, 3:00 PM – 5:00 PM
Wednesday, August 26th, 3:45 PM – 5:00 PM
You can discover more details about this year's session schedule here.
Purchasing professionals, especially those working in government agencies, can gain a deeper understanding of how leading-edge government contract management software that leverages future-minded AI with full contract lifecycle management can efficiently help maximize their procurement process and streamline their workflow. To learn how to make a virtually undeniable case for government contract management software, download your free guide today!