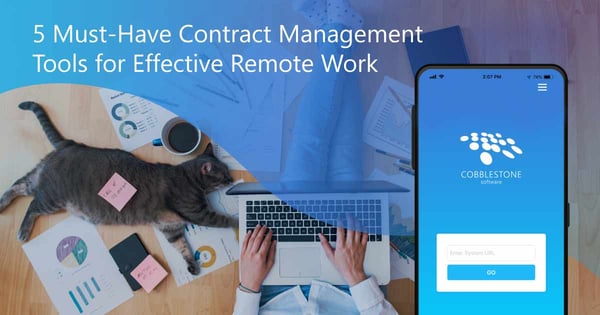 In the face of unforeseen circumstances, many organizations allow employees to work from home. Professionals in a variety of industries must be supported with adequate tools to maintain contract management, procurement, and sourcing operations. CobbleStone Software's Contract Insight® can help your organization to continue with - and further enhance - effective source-to-contract practices. This article will show you how.
#1 Secure Contract Repository
Organizations handling contract management processes remotely need a centralized contract repository for the storage of contracts. Contract Insight offers a secure cloud-based repository. Contract Insight's document repository helps contract management professionals store and organize contracts, retain document version control, quickly locate important legacy contracts, track approval statuses, collaborate, and much more – whether users are in the office or working remotely.
The storage of contracts isn't merely defined by where an organization safeguards its contract documents. Rather, storage provides organizations with an opportunity to make contracts work for them. When organizations take full advantage of CobbleStone's secure contract repository to centralize document version control, promote accountability, and improve productivity, they equip themselves with a powerful tool to transcend during turbulent times.
#2 Intelligent Contract Workflow
Organizations that leverage Contract Insight for workflow automation can decrease contract lifecycle bottlenecks by prompting the right people with nearly unlimited contract notifications, automated alerts, and task reminders. Intelligent automated workflow can transform contract management processes in or out of the office with features such as contract process management, audit trails, user-defined fields, reporting and analytics tools, and much more.
Automated workflow that helps organizations track every stage of the contract lifecycle enhances negotiations and approval oversight. Organizations can meet key dates and milestones, up to and including contract renewals, thanks to automated alerts. Additionally, audit trail history logged in Contract Insight provides organizations with an up-to-date chronicle of changes made to a contract.
With an intelligent, automated workflow solution that is designed to be supportive and intuitive for a remote work environment, you can be confident that your processes will not suffer when you are working away from the office.
#3 CobbleStone Mobile App
Thanks to the CobbleStone Mobile App for iOS and Android devices*, tasks such as managing contracts, communicating effectively, approving amendments, and e-signing contracts are streamlined and simplified.
CobbleStone's mobile app provides users with the features that they need for successful contract lifecycle management on the go, allowing users to track key dates and milestones, automate their workflow tasks, search and report, send documents for signature, and much more.
The app is user-friendly and presents a modern interface while upholding the availability and integrity of Contract Insight's core features and functionality, including CobbleStone's proprietary artificial intelligence and machine learning tool, VIDSOM® AI. Experienced users and new users can expect to navigate the application with ease.
With the CobbleStone mobile app, you have contracts, key dates, tasks, attachments, reports, and more in the palm of your hand – and can access them from virtually anywhere!
* CobbleStone's mobile app for iOS and Android devices is a companion app for Contract Insight Enterprise edition. You need an existing Contract Insight Enterprise license to use this application with your Contract Insight web address.
#4 Integrated eSourcing
CobbleStone's eSourcing software helps organizations to create a simplified bid management process in-office or remotely. The enterprise-grade eSourcing and bid management solution promotes compliance and transparency from sourcing to post-award contract management.
Contract Insight's flexible and user-friendly RFP management and solicitation interface integrates seamlessly with other mission-critical applications by centralizing and streamlining electronic bidding, vendor management, purchasing, agreements, contracts, leases, obligation records, and much more.
Expedite & automate the entire source-to-contract lifecycle with:
bids that post on a branded portal.
bid & contract authoring.
notifications to appropriate vendors.
online vendor Q&A.
electronic bid response acceptance.
rating & scoring of responses.
bid award management.
integrated contract lifecycle management.
automated email alerts & calendar notifications.
easy searching & reporting.
proven and fast implementation.
and more!
See for yourself why CobbleStone Software's fully electronic sourcing platform is trusted by many contract managers, sourcing, and acquisition professionals.
#5 IntelliSign Electronic Signatures
IntelliSign℠ – CobbleStone's configurable, streamlined, and user-friendly document collaboration and electronic signing tool - helps keep the approval and signing processes moving whether you are in the office or working remotely. Contract management, legal, procurement, and sourcing professionals can utilize IntelliSign to keep collaboration and electronic signing processes running smoothly thanks to:
faster signing.
easy one-off signatures.
a rules-based electronic signing process.
and more!
Enjoy a streamlined, user-friendly, and configurable signing and document collaboration process in or out of the office with IntelliSign.
Master Working Remotely with CobbleStone Software
When organizations transition to a work from home culture and are expected to maintain high productivity, you must be equipped with a solution that will allow you to perform effectual source-to-contract processes. That solution is CobbleStone Software.
CobbleStone's Contract Insight has a wealth of user-friendly features that empower organizations to manage contracts more efficiently, secure and unite contracts and documents, oversee compliance, track costs, receive notifications and alerts, sign easily with electronic signatures, and reduce squandered productivity and high costs that stem from out-of-date contract management practices.
CobbleStone's acclaimed platform is trusted by thousands of professionals from a variety of industries worldwide. Request a free demo of CobbleStone's award-winning contract management, sourcing, and procurement platform today!