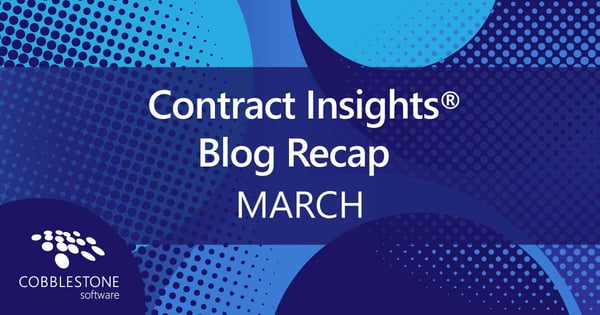 Did you miss any of our blog posts from March? Don't worry; we have outlined each of them for you. Stay up-to-date with industry topics, real-world case studies, and contract management software and procurement best practices in April by reading the latest CobbleStone® content.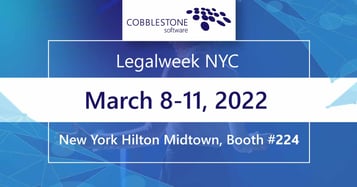 CobbleStone Software exhibited its industry-leading and AI-backed CLM software, CobbleStone Contract Insight®, during the Legalweek conference from March 8th – 11th, 2022, at the New York Hilton Midtown in Manhattan – offering Legalweek attendees the opportunity to see AI-powered legal contract management software in action.

Vendor management efficiency is critical for organizations to reap the highest ROI from vendor relations. Unfortunately, many organizations still rely on vendor management methods. Luckily, you can automate these processes and more with vendor management software. But what exactly is vendor management software? Let's improve your processes with integrated vendor management and contract management software.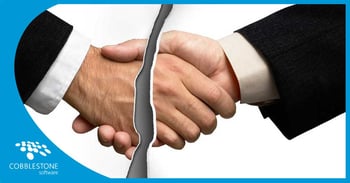 Contract termination should involve rigorous financial analysis, contract performance data analytics, and the creation of a notice of termination. With tight deadlines and specific terms required to terminate a contract, organizations need a strategy to identify contracts not meeting contract KPIs, write notices of contract termination, and secure proper contract closeout. This article will show you how to implement this strategy readily with the help of contract management software.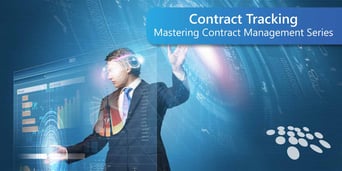 Contract tracking can be a significant challenge for legal teams, contract managers, and other industry professionals. Manual contract management processes may suffice for organizations with low contract volume and contract complexity. However, when the number of contracts increases to hundreds, thousands, and beyond, contract failure rates increase exponentially. Read on to learn how to master contract tracking with leading contract management software.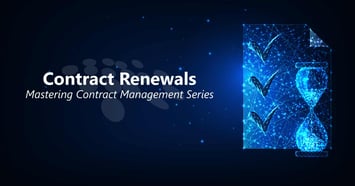 Manual contract management processes may suffice for organizations with low contract volume and contract complexity. Unfortunately, when organizations manage thousands of different contracts of ranging contract types, challenges can arise due to a time-consuming, error-prone, and inefficient manual contract renewal process. It's time to take control of contract renewals. Read on to learn how to leverage contract renewal process best practices for increased ROI, decreased risk, increased revenue, and better opportunity oversight with contract management software.

Considering the nearly innumerable times that CobbleStone EVP and Founder Mark Nastasi has been asked this question, he resolved to write a thorough and thoughtful response as a blog that aligns with CobbleStone users and prospective CLM users as well. Discover 5 steps to determine if you need to hire a full-time legal reviewer or paralegal.
CobbleStone Software's latest version – CobbleStone Contract Insight® Enterprise 17.11.0 – has come, introducing next-level CLM features and enhancements for you to master to bring your contract management software platform to the next level! Read this blog to discover the specifics of this new release.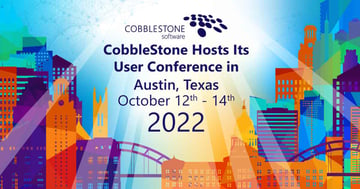 We are pleased to announce that CobbleStone Software's in-person user conference will be hosted in Austin, Texas, from Wednesday, October 12th, through Friday, October 14th, 2022. The 2022 CobbleStone User Conference will include engaging breakout sessions and dynamic speakers to enhance your contract management software e
xperience.
Read on to see a preview of the value you can expect to gain from the 2022 CobbleStone User Conference, so you can save the dates and start talking to attendance decision-makers!
Contract creation is a multi-faceted process. Without the proper procedures, your organization can suffer from increased risk, drawn-out contract lifecycle times, and missed opportunities - among other deleterious consequences. Fortunately, you can leverage contract management software to avoid sending your contract creation process into a tailspin. To that end, here are six ways contract creation software can improve your contracting process.
Awarding a contract is a complex, multi-faceted process. There is room for error and missed opportunities without the right strategy. This blog will delve into the five critical stages in awarding a contract and how to seamlessly navigate these stages with leading contract management software tools.
We are pleased to announce that CobbleStone Contract Insight® Enterprise is recognized as a High Performer for Contract Lifecycle Management and Vendor Management in the G2 Spring 2022 Reports. Such acknowledgment further establishes CobbleStone Software as a world-class contract management software provider. Read on to learn more about CobbleStone Contract Insight Enterprise's robust features and high user satisfaction that support its standing as a High Performer in the G2 Spring 2022 Reports.
Now that you are caught up with our March articles, be sure to keep an eye out for our April content. Never miss a blog post again, and let us notify you when new articles are published by subscribing to our blog! No time to read? Then check out CobbleStone's YouTube channel for exciting video content. Be sure to like and subscribe!
CobbleStone's user-friendly, robust, and scalable solution seamlessly integrates with mission-critical applications, including MS Word and MS Outlook, for unified and seamless contract management.
Discover why thousands of contract management professionals trust CobbleStone Software for their contract management, sourcing, and procurement needs. Book a free demo with a CobbleStone Contract Insight expert to learn more about CobbleStone's acclaimed contract management, eProcurement, and eSourcing software!