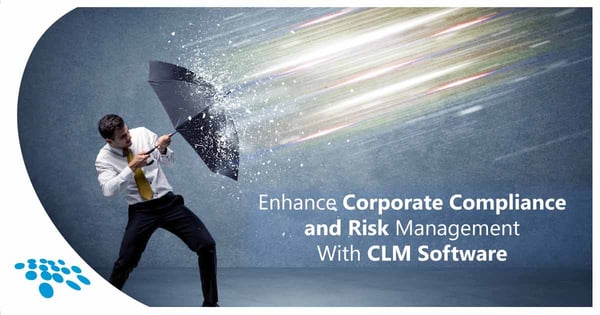 Corporate compliance and risk management are critical for the success of a contract. Organizations need to be aware of potential exposure to financial risk, legal penalties, breaches of contract, and other risks while adhering to industry laws, government regulations, internal policies, and other compliance rules. Failure to do so can result in a lack of corporate compliance, contract failure, lawsuits, a compromised reputation, data leakage, and worse. Luckily, organizations can leverage leading contract management software to enhance corporate compliance and risk management. Here's how.
Corporate Compliance and Risk Management
Corporate compliance and risk management in contract management involve preparing for potential risks while adhering to compliance, government regulations, business rules, and internal rules. Organizations must have the right tools for the task. Functionality within contract lifecycle management software can help organizations efficiently oversee corporate compliance and risk management.
Easy Contract Compliance Reporting & Auditing
Spreadsheet-based compliance reporting and auditing can be tedious and inefficient. Thankfully, contract lifecycle management software supports advanced reporting and auditing functionality to help organizations maintain optimal compliance oversight within their organizations and with external stakeholders. Leading-edge CLM solutions also offer DBE tracking to retain supplier diversity. With comprehensive audit trails and milestone tracking, organizations can stay ahead of upcoming obligations.
Robust CLM compliance features include:
configurable and visually engaging executive graphical dashboards for high-priority areas of contract compliance.
ad-hoc reports that are exportable to file formats such as MS Word, MS Excel, and PDF.
an online report designer for configuring compliance report layouts - exportable to multiple file formats.
OFAC Search Compliance
OFAC is a government sanction enforcement and financial intelligence agency under the United States Department of the Treasury. It enforces trade measures and economic sanctions based upon national security goals and foreign policies against targeted organizations and individuals. OFAC is authorized to levy substantial penalties against organizations that violate its mandates - including giving fines, freezing assets, and prohibiting organizations from operating in the US. Organizations must take adequate measures to avoid business association with flagged OFAC entities.
Luckily, leading-edge contract lifecycle management software can equip organizations with an OFAC compliance graphical risk tool to identify if any contracts, vendors, employees, and other entities they are working with comply with OFAC's national sanctions lists. Organizations can:
establish which available areas within their CLM software system they want to be run against the OFAC database.
determine if they wish to include checks for Also Known As (AKA) records that search for aliases or other names for entities within OFAC's lists.
decide what is flagged as a "match" between CLM system data and OFAC data based on a chosen percentage (for example, a match is set as a similarity percentage of 75 percent or more).
Organizations can also schedule ongoing OFAC searches. As a result, they can remain continuously aware of national compliance status with consistent OFAC compliance audits!
Furthermore, a link on CLM system record pages can present organizations with a visually engaging graphic that displays the percentage of data matched between CLM system data and OFAC data. This system link can indicate a more detailed view of matching details - complete with color-coated statuses.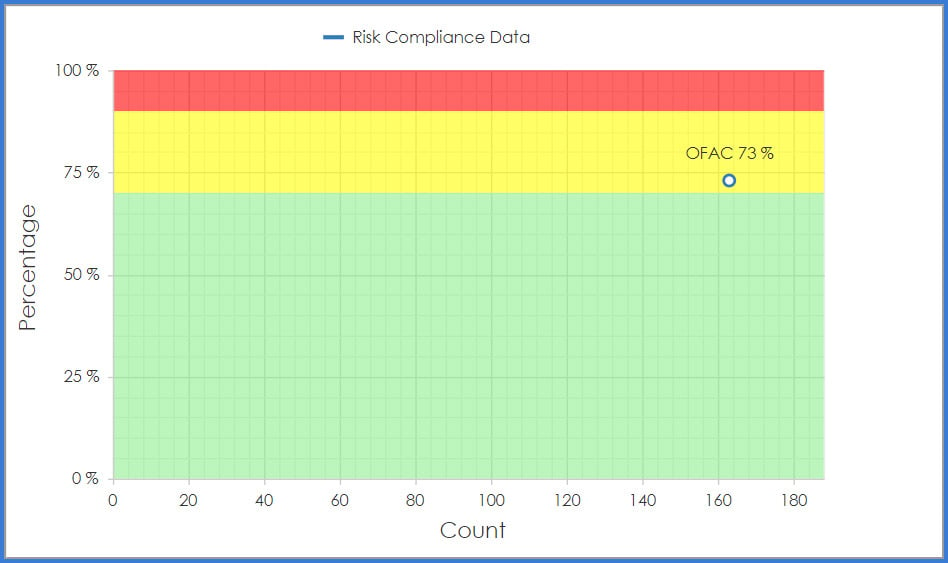 COI Tracking & HITRUST Compliance
Organizations must maintain HITRUST compliance and keep track of COI (certificate of insurance) compliance. HITRUST CSF (HITRUST Common Security Framework) compliance necessitates organizational adherence to regulations and standards for generating, exchanging, and storing sensitive data – including in healthcare and IT industries. HITRUST compliance can involve proper compliance with COI tracking for vendors. Highly-configurable contract management software tools can help organizations track data points harmoniously in virtually real-time. This can help organizations avoid falling into noncompliance and wasting time tediously coordinating disparate compliance tasks.
Improve Risk Management With Automated Data Mining & Identification
Robust CLM software supports automated data mining to help organizations identify critical data fields, including:
PCI (payment card information).
PII (personally identifiable information).
emails.
monetary values.
bank information.
and phone numbers.


This data mining can help organizations decrease the damaging risk of data entry errors.
Leading contract lifecycle management software also offers drag and drop contract generation. Complete with natural language processing (NLP), this feature can allow document data fields to quickly populate corresponding fields within a contract record page via seamless data field mapping - also virtually eliminating risky data entry errors.
Clause detection rules can be configured so that organizations can compare newly-imported clauses against those in their language library. Organizations can easily manage search algorithm preferences and how contract artificial intelligence is utilized within their CLM system. Organizations can configure data mining to properly assess contracts, both existing and newly introduced, to identify risky language and clauses.
Risk analysis rules can be configured in AI-based CLM software to assess system data and render risk scores. This automated risk analysis can help organizations identify contract risk factors before executing a contract with eSignatures - highlighting caution and risk areas of older active contracts in their post-award contract lifecycle. Furthermore, working within an Ai-based contract lifecycle software that boasts SOC 1 and SOC 2 compliance virtually ensures the digital security of sensitive or confidential data.
Intelligent Contract Risk Assessment Tool
Instead of manually digging through records for risk variables, organizations can leverage a visualized graph system to plot data based on an identified risk score. As such, they can prioritize contract risk factors for better decision-making. Organizations can quickly analyze how a contract will perform with hypothetical risk variables and risk exposure within a risk assessment matrix.


Organizations can maximize a risk assessment matrix and statistical data analysis to pinpoint negative, neutral, or positive aspects of contracts within their contract lifecycle software system to help improve contract strategy.
Get Started With Better Corporate Compliance & Risk Management
It is clear to see that your organization needs a CLM software solution that offers robust corporate compliance and risk management so that you can avoid violations of compliance and regulations, breaking the law, violating internal policies, data leakage, association with sanctioned entities, missed obligations, and other damaging consequences of contract mismanagement.
There is only one solution that offers all of the compliance, risk management, and contract lifecycle management tools mentioned above. That solution is CobbleStone Contract Insight®.
CobbleStone® is an award-winning contract lifecycle management software provider that has garnered widespread acclaim from third-party analysts and - of course - almost countless organizations from a vast array of industries. Organizations can not only tackle corporate compliance and risk management with confidence, but they can also centrally oversee the contract lifecycle. Practically countless client success stories attest to the robust, user-friendly, and scalable platform that CobbleStone offers.
Discover why thousands of contract management teams worldwide trust CobbleStone to address problems faced in contract management. Book your free demo today!