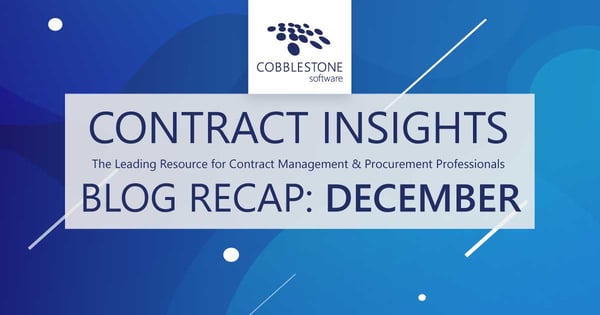 Did you miss any of our blog posts from December? Don't worry; we have outlined each of them for you. Stay up-to-date with industry topics, real-world case studies, and contract management and procurement best practices in 2022 by reading the latest CobbleStone® content.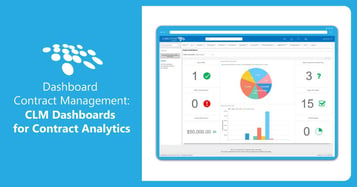 Contract management software can help organizations increase revenue, decrease bottlenecks, and enhance efficiency. However, many contract management software platforms lack a means of viewing key data at a glance. Read on to discover the benefits of dashboard contract management and how leading contract lifecycle management software that offers various dashboard options can drastically improve contract analytics.

Managing the contract lifecycle with manual processes can create contract management bottlenecks that waste time and energy. Fortunately, you can automate contract lifecycle management with contract management software tools that can streamline the stages of the contract lifecycle. Read on to discover how you can leverage the next best practice within our series by automating contract lifecycle management.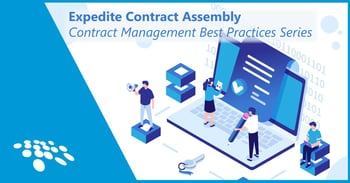 Contract assembly (or contract document assembly) is essential in contract lifecycle management. Contract stakeholders and document assembly resources gather to assemble a cohesive and accurate contract document. However, inefficient contract document assembly processes can leave your organization open to increased risk. Read on to learn how you can avoid contract risk, maximize ROI from your contracts, and expedite contract assembly.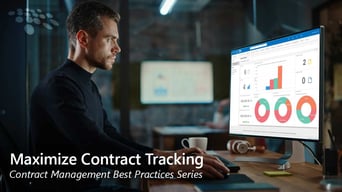 Contract tracking can be complicated for contract management professionals in various industries. Manual contract tracking can cut it for a while – until contract complexity and contract volume grow. Leave manual contract tracking methods in the past in favor of something better. Learn how with this blog from our Contract Management Best Practices Series.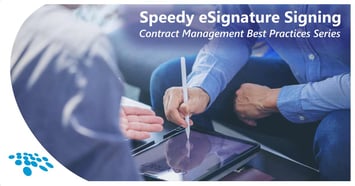 Gathering required signatures for contracts can prove challenging. Considering signatures finalize contracts and propel their post-award execution, this highly anticipated step can be delayed with manual wet signatures and disparate signing processes. Read on to learn how eSignatures offered by contract management software can make online contract signing quick and easy.

Managing contract risk is crucial in ensuring the health of a contract. Overlooking unchecked contract risk variables can have catastrophic consequences for contracts and your organization as a whole. In order to avoid wasted time, wasted revenue, a damaged organizational reputation, lawsuits, and more – read on to learn how to embrace contract risk management best practices.
Managing contracts from requests to renewals can prove difficult when relying on primarily local processes. Without effective remote contract management tools, you can find yourself running into inefficient contract management processes that limit workplace flexibility and create contract workflow bottlenecks. Read on to learn how leading contract management software can support remote contract management success.
CobbleStone Software's Executive VP and Founder, Mark Nastasi, narrows down his top eight items of recommendation to help you lead your legal digital transformation in 2022.
As contract management continuously evolves amidst constant digital transformation, you can find various ways to improve your processes. Rather implement manual contract management processes that require disparate tools, read on to see how you can improve your contract management processes in three simple steps.
Now that you are caught up with our December articles, be sure to keep an eye out for our January content. Never miss a blog post again, and let us notify you when new articles are published, by subscribing to our blog! No time to read? Then check out CobbleStone's YouTube channel for exciting video content. Be sure to like and subscribe!
CobbleStone's user-friendly, robust, and scalable solution seamlessly integrates with mission-critical applications, including MS Word and MS Outlook, for unified and seamless contract management. It's no wonder why Forrester names CobbleStone a Leader in CLM software!
Discover why thousands of contract management professionals trust CobbleStone Software with their contract management, sourcing, and procurement needs. Book a free demo with a CobbleStone Contract Insight expert to learn more about CobbleStone's acclaimed contract management, eProcurement, and eSourcing software!