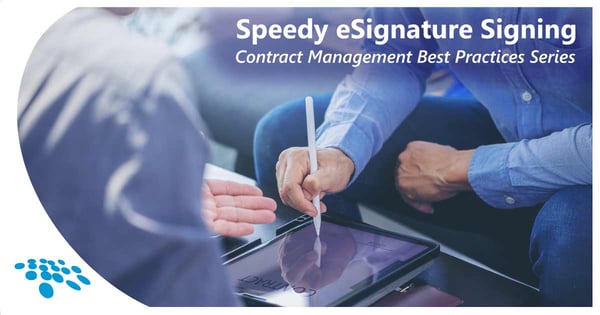 Gathering required signatures for contracts can prove challenging, especially when working with multiple signatories in various locations. Considering signatures finalize contracts and propel their post-award execution, this highly anticipated step can be delayed with manual wet signatures and disparate signing processes. Contract management best practices require leveraging speedy eSignatures for CLM process-flow success. Read on to learn how eSignatures offered by contract management software can make online contract signing quick and easy.
What Is an Electronic Signature?
An electronic signature is a signature that is signed electronically by an acknowledged counterparty that can be legally binding. E-signature software is a vital contract lifecycle management tool that can make signing contracts a breeze by empowering you to sign in the office or on the go - with the proper electronic device and adequate internet access.
What Makes an E-signature Legal?
An e-signature is legal since the Electronic Signatures in Global and National Commerce Act – AKA the E-Sign Act - was signed into USA law in 2020. E-signatures constitute a legally enforceable form of signing that represents signer intent. Advanced eSignature software provides digital signing functionality that seals signatures with their dates and times of signing for increased security.
Electronic Signature Best Practices
Electronic signature best practices require creating a contract signing workflow system for efficient signing procedures, automating signing notifications via email and CLM software dashboard notifications, leveraging a secure eSignature software tool that offers digital signature integration that time-stamps signatures upon signing, and implementing flexibility for signing devices and locations where there is suitable internet access.
Implement eSignature Best Practices with Contract Signing Software
E-signature software can allow you the option to request stakeholders of electronic signatures or digital signatures from virtually anywhere and on any suitable device with internet service – further empowering remote contract management efficacy. Leading web-enabled CLM software with a robust eSignature tool can empower you to gather signatures in record time. After completing negotiations and gathering approvals, you are finally ready for your stakeholders to get contracts signed online. Robust CLM software can enable you to digitally invite stakeholders, including via email, to sign necessary documents within a secure eSignature portal – all while restricting invited signatories' access to other non-pertinent information within your centralized contract lifecycle management system.
Advanced Electronic Signature Software
Advanced electronic signature software offers digital signing functionality. While a standard electronic signature allows a signee to sign electronically, an advanced electronic signature allows a signee to sign digitally by sealing the signature with its exact date and time of signing. Digital signature certificates virtually ensure that signatures are untampered with thereafter – reducing the need for a licensed notary.
IntelliSign® eSignature Software - Your Web-Enabled Signing Solution
From highly complex contracts to simple purchase orders, you can gather signatures efficiently. With IntelliSign, you can cut send-to-sign time by as much as twenty percent. You can request bulk e-signatures from many stakeholders with a few clicks. With the ability to request third-party signatures via email, stakeholders can quickly access requested documents to sign - without needing to download a specific program. Within a highly secure online signing portal, you can track the status of fully executed and partially executed signed documents – all while retaining your signatory records in a centralized location.
To learn more about IntelliSign, watch the video below.
CobbleStone Contract Insight® for Contract eSigning Success
As seen above, IntelliSign within CobbleStone Contract Insight offers you the industry-leading online contract signing tool of the future today. CobbleStone Contract Insight can also integrate third-party eSignature tools - such as DocuSign or Adobe Sign - to further streamline and centralize your holistic contract lifecycle management, procurement, vendor management, and purchase order management processes.
CobbleStone Contract Insight has remained a visionary leader in CLM software for over twenty years. CobbleStone's award-winning and fully-integrated contract management software streamlines the contract management process with optimal governance, reduced friction, and high flexibility from contract requests to renewals. Thousands of contract managers trust CobbleStone Contract Insight as their go-to CLM software solution. Moreover, CobbleStone Software - as a CLM software provider - is SOC 1, SOC 2, and HITRUST compliant. CobbleStone's user-friendly, robust, and scalable solution seamlessly integrates with mission-critical applications, including MS Word and MS Outlook, for unified and seamless contract management. It's no wonder why Forrester names CobbleStone a Leader in CLM software!
To stay up to date on best practices, industry news, and CobbleStone Software updates, be sure to subscribe to our blog and YouTube Channel.