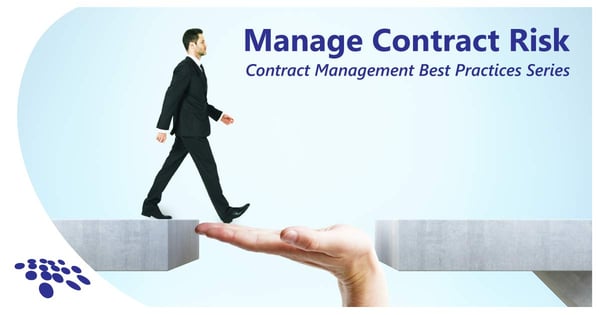 Managing contract risk is crucial in ensuring the health of a contract. Overlooking unchecked contract risk variables can have catastrophic consequences for not only contracts – but for your organization as a whole. In order to avoid wasted time, wasted revenue, a damaged organizational reputation, lawsuits, and more – embrace contract risk management best practices. Learn how with this blog from our Contract Management Best Practices Series.
What Is Contract Risk Management?
Contract risk management is the process of preventing, identifying, and mitigating risk within the contract lifecycle. Organizations engaging in risk management can increase opportunities while decreasing threats to the success of a contract. Measures such as the proactive use of risk mitigation and risk mapping tools can foster healthy contract risk management and risk response plans.
Contract Risk Management Best Practices
Here are some contract risk management best practices to keep your organization out of hot water and increase revenue, efficiency, and reputation with the help of leading contract management software.
Establish a Risk Response Plan
Your organization's risk response plan should leave your organization prepared for evolving contract risk variables. As such, your organization should be supported by risk management tools within contract management software. These tools can include a searching and reporting interface for risk-prone contract language and contract and vendor data, a risk and opportunity assessment matrix, intelligent, automated workflow to promote task awareness, and compliance oversight tools.
Manage Contract Risk With Searching
Search functionality within trusted contract management software can help your organization quickly search for documents, data, files, clauses, and other variables related to risk.
Say your organization is struggling to fulfill contractual obligations due to a situation out of your organization's control. An example would be the broadly applicable COVID-19 pandemic.
As such, your organization may find itself needing to locate force majeure clauses to determine whether the suspension of obligations is legally justifiable.
Thankfully, you can utilize contract risk management tools found within contract software.
Robust contract lifecycle management software allows you to search for a word, a set of words, or a phrase that may appear in the contract document that you are looking for – with the help of a user-friendly quick search bar.
In this case, you would search for the key term "force majeure." After this search, you can see sets of results that include your key term, including its appears within contracts, requests, and other areas within your system with convenient links to record pages or contracts. Leading-edge contract management software platforms - such as CobbleStone Contract Insight® - can let you export your search results into MS Excel format. CobbleStone Contract Insight also allows you to narrow the scope of search results with sort and filter tools to more quickly access the information you need.
Contract Risk Assessment
Contract risk assessment for a variety of contracts can prove challenging without the right tools for risk visualization and prioritization. Sifting through innumerable words and other data variables within pages upon pages of documents can prove tedious and error-prone.
Thankfully, leading CLM software provides risk assessment tools for graphically presenting risk variables within your contract documents for comprehensive risk analysis. Rather than exhaustingly sifting through your documents and contract records for risk variables, you can enjoy a visually engaging assessment tool that can plot contracts based upon their "risk score" – offering categorized risk oversight of active contracts that can help you effectively prioritize contract risk and decision-making.
Furthermore, you can see how a contract would hypothetically perform in certain risky situations with predicted risk variables and exposure within a risk and opportunity assessment matrix - helping you boost your risk response plan and prepare for the unpredictable.

With this risk assessment matrix, you can identify positive, negative, or neutral variables in your contracts to help enhance contract strategy and risk response. You can also configure message notifications to notify you and your team if a contract holds a value of "X%" higher than the average contract within your contract software system.
OFAC Search
For analyzing risk as it applies to various entities per the US Department of the Treasury, your team can use an OFAC search utility to identify if your contracts, vendors, employees, and more fall in compliance with the US Office of Foreign Asset Control's national sanctions list.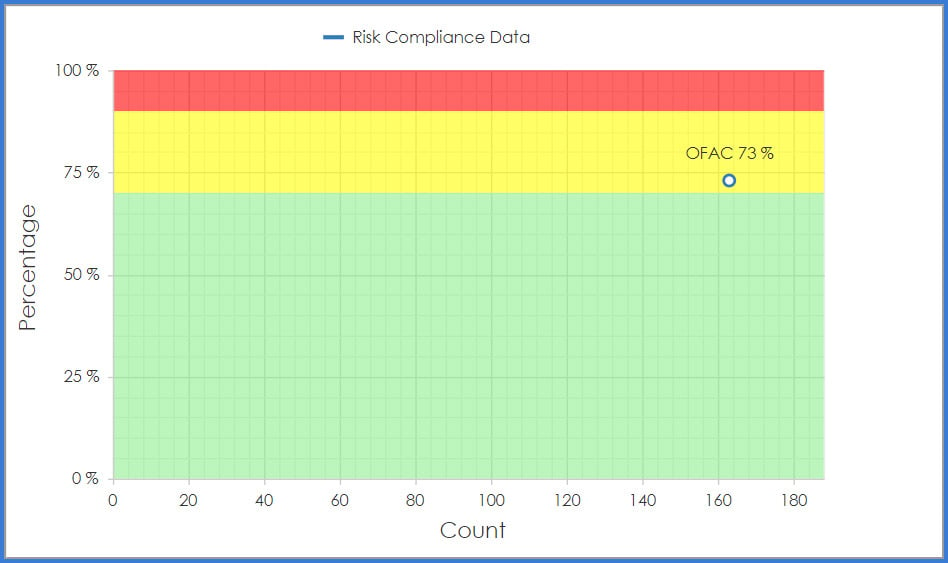 This engaging risk visualization graphic can supercharge contract risk management - allowing your contract management team to identify OFAC compliance status in pre-award and post-award contract management. Your organization can configure rules to alert your team in real-time if a contract, vendor, counterparty, supplier, or employee meets or exceeds a specified OFAC Search percentage to allow for swift risk mitigation before it becomes untenable.
Get Started With Contract Risk Management Best Practices
Now that you are aware of how to optimize contract risk management with contract management best practices, it is time to implement a user-friendly solution that offers all of the contract risk management tools mentioned above. That solution is CobbleStone Contract Insight.
CobbleStone's award-winning, seamlessly integrated, scalable, and internationally agile contract management software platform positively transforms contract risk management and other contract lifecycle tasks for significant improvements in comprehensive contract lifecycle management processes. Your organization can confidently navigate a low-friction and user-friendly contract and risk management software platform with the most robust risk management and CLM tools. CobbleStone Contract Insight has been a leader in CLM software for over twenty years and counting - and is trusted by thousands of contract managers. It's no wonder why Forrester names CobbleStone a Leader in CLM software!
If you are looking to positively transform contract risk management and contract lifecycle management, book your free demo to see CobbleStone Contract Insight in action!
To stay up to date on contract management best practices, industry news, and CobbleStone Software updates, be sure to subscribe to our blog and YouTube Channel.