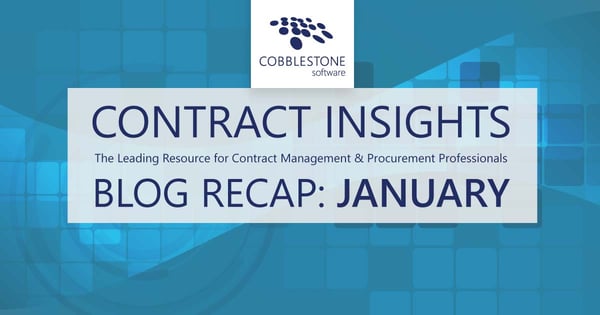 Did you miss any of our blog posts from January? Don't worry; we have outlined each of them for you. Stay up-to-date with industry topics, real-world case studies, and contract management and procurement best practices by reading CobbleStone's latest content.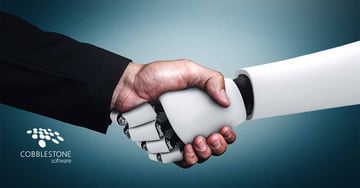 The health of the contract lifecycle relies upon efficient contract task management. Manual methods for completing contract tasks relating to pre-award and post-award contract lifecycle management can be error-prone, inefficient, and tedious - potentially decreasing your organization's ROI. Read this blog to learn how your organization can embrace streamlined and future-minded contract task management with AI-powered contract management software.

As General Counsel, you hold a tremendous responsibility within your organization – especially with managing internal stakeholders and maintaining efficient processes with external stakeholders. Relying on disparate and manual contract management processes such as spreadsheets, filing cabinets, emails, and shared storage drives can create an inefficient contract management process that can waste time, decrease revenue, and increase risk. Read on to learn why CobbleStone Software's acclaimed contract management software platform – Contract Insight® - is the top choice for your processes.
Proper CLM software with built-in employee policy management tools can streamline mass acknowledgments initiated by human resources professionals for greater organization-wide awareness of crucial information. Learn how your organization's HR personnel can efficiently send out mass acknowledgments and help employees stay aware of pertinent information with CobbleStone Software's celebrated contract management software solution. Read this helpful blog – written by CobbleStone Software's very own HR Administrator, Elicia Neumann.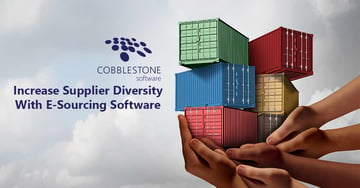 As a sourcing professional, attracting diverse suppliers who meet your necessary RFx requirements can be challenging when leveraging primarily manual processes such as organizing paper-based RFPs, tracking disparate emails, filing scattered documents, and individually reviewing bids for diversity qualifications. While you might find a suitably diverse supplier base, they may lack in other crucial requirements. Without a proper eSourcing software solution, sourcing a product or service that meets your diversity and functionality requirements can prove difficult. Read on to learn how leading-edge eSourcing tools can help you optimize supplier diversity.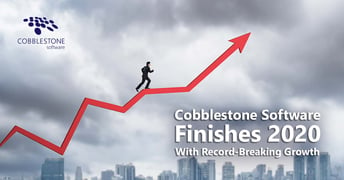 CobbleStone Software is proud to announce that we have finished 2020 with record-breaking growth. From expanding our client base to bringing new innovations to the forefront of contract management software and more, here are some noteworthy CobbleStone Software achievements from 2020.

While safety measures against in-person gathering restrictions moved CobbleStone's User Conference completely virtual, it proved highly successful as the CobbleStone team received high engagement from its many attendees on January 20th and 21st, 2021. Considering how attendees at traditional in-person events may need to choose between breakout sessions, CobbleStone's 2021 Virtual User Conference allows for CobbleStone registered user attendees to view its contents for up to 90 days post-event. Read on to learn about key highlights from CobbleStone's 2021 Virtual User Conference.
Read this blog for a rapid, high-level, general overview of CobbleStone Software's contract management software suite - Contract Insight®, its purpose, and some of its key features. Let's get started with your Contract Insight crash course. Ready. Set. GO!
Now that you are caught up with our January articles, be sure to keep an eye out for our February content. Never miss a blog post again, and let us notify you when new articles are published, by subscribing to our blog! No time to read? Then check out CobbleStone's YouTube channel for exciting video content. Be sure to like and subscribe!
Are you looking to evaluate leading contract management software solutions for the future of contract management? Read our blog – 6 Critical Contract Management Tools for 2021 – to discover the best contemporary tools for future-minded, automated, low-friction, and user-friendly contract management.
Discover why thousands of contract management professionals trust CobbleStone Software with their contract management, sourcing, and procurement needs. Book a free demo with a Contract Insight expert to learn more about CobbleStone's acclaimed contract management, eProcurement, and eSourcing software!