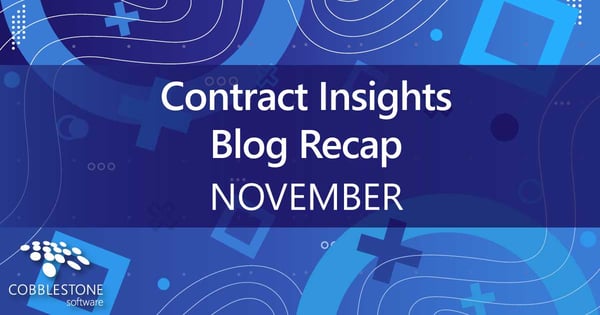 Did you miss any of our blog posts from November? Don't worry; we have outlined each of them for you. Stay up-to-date with industry topics, real-world case studies, and source-to-contract management software best practices in December by reading the latest CobbleStone® content.

We hear about contracts all the time. They power business relationships across sectors, industries, and nations. Individuals, businesses, and societies at large use contracts to fulfill wishes and needs. Contracts keep our world moving. But what is a contract really?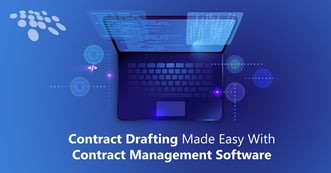 Contract drafting is a multi-faceted and complex process. Document collaboration, contract authoring, negotiation, terms and conditions, and other relevant steps can be challenging. They are all the more challenging if you are relying on manual tools - such as shared drives and emails. Leave tedious, manual contract drafting methods in the past by embracing robust contract management software.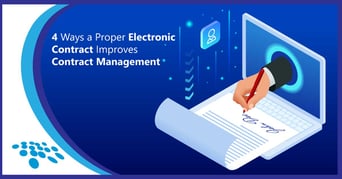 Traditional paper contracts were replaced long ago by better contract processes. The paper document has been foregone in favor of digital contracts. However, not all computer-based contract management processes are created equal.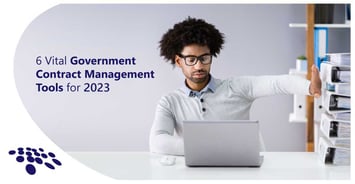 As a government contract manager, it's helpful to stay up-to-date with the latest government contract management, purchasing, and sourcing tools - especially as the industry keeps evolving through 2023 and beyond. Read on to discover six user-friendly government contract management software tools you can leverage to streamline your public contracting processes.

Contract execution is a critical stage in contract lifecycle management. By this point, the terms of the contract have been negotiated. Parties have ensured that everything is understood and all necessary resources have approved the written agreement. From there, contract parties sign the contract to propel its execution. Given the importance of this stage of contract management, you should know what an executed contract is and its meaning. As such, here is a brief overview of an executed contract.
Managing contracts can be challenging - especially when primarily relying on outdated tools such as spreadsheets, emails, and shared drives. Without accountability, visibility, and actionable insights, you can find yourself confronting contracting workflow bottlenecks. Enterprise contract lifecycle management (CLM) requires careful planning, the right technology, and a well-planned contract strategy. To gain the most out of enterprise contract management, take advantage of seven best practices.

The process of redlining contracts for contract negotiation can be challenging if done improperly. Organizations that edit documents manually in Microsoft Word can increase the chances of human errors. Thankfully, your legal team can start saving time on the contract negotiation process with CobbleStone's user-friendly auto-redlining tool - powered by VISDOM® artificial intelligence. Here's how to leverage auto-redlining within CobbleStone Contract Insight® contract management software.
Contract negotiation can create the difference between a strong or weak contract, which can directly impact the bottom line of an organization. As contract negotiation processes evolve at the speed of technological innovations, discover how leading-edge legal technology can empower your negotiation processes - including the use of robust version control, document collaboration, rules-based clause ownership, redlining software, and more. While contract negotiations can take their necessary time, automating contract negotiation steps where possible allows you to focus more on contract negotiation strategy.
Now that you are caught up with our November articles, be sure to keep an eye out for our December content. Never miss a blog post again, and let us notify you when new articles are published by subscribing to our blog!
No time to read? Then check out CobbleStone's YouTube channel for exciting video content. Be sure to like and subscribe!
CobbleStone's user-friendly, robust, and scalable solution seamlessly integrates with mission-critical applications, including MS Word and MS Outlook, for unified and seamless contract management.
Discover why thousands of contract management professionals trust CobbleStone Software for their contract management, sourcing, and procurement needs. Book your free demo with a CobbleStone Contract Insight expert to learn more about CobbleStone's acclaimed contract management, eProcurement, and eSourcing software!