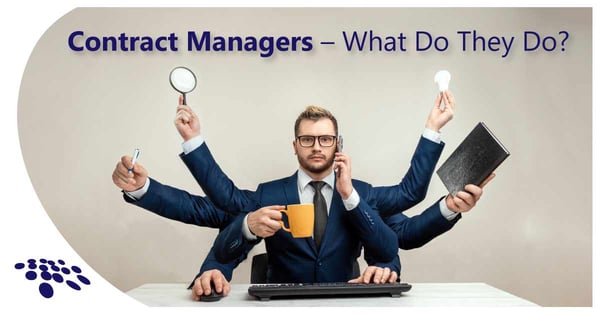 Contracts are essential in supplementing business transactions, business relationships, and business growth; naturally, so are those who manage those contracts. But what does a contract manager really do – and what makes a good contract manager? Read on to find out.
What Is a Contract Manager?
A contract manager is someone who oversees the stages of contract lifecycle management. A contract manager should be able to oversee contracts and supplier agreements from creation to completion. They should be abreast of legal terms and risk prevention strategies.
A Good Contract Manager
A good contract manager typically excels in administration over a high volume of complex contracts. The following qualities can lead to success in a contract manager role.
Great Communication Skills: Successfully articulate areas of concern and process improvement for the contract lifecycle.
A Collaborative Spirit: Work with legal experts, legal teams, business administrators, vendors, suppliers, and many others. Maximize contract management tools to foster efficient and effective contract administration with internal and external stakeholders.
Subject Matter Expert: A contract manager and a project manager differ – in that contract managers focus on contracts specifically. Contract managers should be experts on the contract process, obligations fulfillment, and key dates and milestones (just to name a few).
Legal Operations Specialist: Stay up to date with regulations, laws, and industry standards that can impact contract management.
Organizational Skills: Track the status of up to thousands of contracts. Have the organization skills to store and retrieve many contracts at disparate stages of the contract lifecycle.
Can Help Increase Revenue, Decrease Risk: Be involved in drafting and negotiating terms and conditions to promote decreased risk and favorable outcomes and pricing.
Process Improvement Specialist: Contract management does not end with one fully executed contract or one up for contract renewal. Rather, someone managing contracts should keep abreast of broader trends, contract management ROI, contract analytics, best practices, and training. These aspects can help contract managers to exponentially improve processes.
The Tools a Good Contract Manager Needs
Now that we have discussed the characteristics of a good contract manager, let's discuss the tools needed for the job.
Contract Workflow Automation
Intelligent contract workflow automation can positively transform contract processes.
Workflow automation allows contract management professionals to maximize task alerts, email notifications, and calendars from requests to renewal. Workflow automation can streamline the contract lifecycle while reducing costs. In addition, errors in contract management are reduced, and – in turn – so are instances of contract lifecycle process failure.
Contract workflow automation tools are available with robust contract management software platforms.
Contract Repository
A secure contract repository can help centralize, store, and easily search for contract metadata, documents, clauses, and legal terms.
Contract repositories used to be physical filing cabinets back in the contract management days of old. Now, web-enabled contract repositories make contract management much easier.
Contract repositories backed by contract AI allow organizations to seamlessly extract contract metadata, clauses, and sections. From there, these data can be populated onto tidy contract record pages. This contract data can be searched within a vast contract repository down to the following levels.
Contract Metadata Field
Search Phrase
Search Word
Clause or Section
Document, File, or Attachment
Detail-oriented contract management personnel can increase security by establishing rules to safeguard the organization, location, protection, searching, and sharing of contracts.
Contract Redlining
Contract redlining is an important aspect of the contracts process. Anyone managing contracts knows that this process requires transparency and strong communication skills.
Additionally, contract management software featuring auto-redlining functionality can supercharge redlining. Contract redlines can take place in a secure, web-based location.
Auto-redline functionality can locate and redline clauses within MS Word .docx files uploaded to contract software. From there, it can redline clauses within the document and replace them with an organization's preferred contract clause versions. This feature appeals to the contract administrator's attention to detail.
Furthermore, teams can choose between running auto-redline functionality on demand OR configuring auto-redline each time a .docx file is uploaded. Contract managers typically choose the former.
Once a contract is auto-redlined, contract software users can open the file in-system or via MS Word. There, they can see clauses, sections, and terms and conditions redlined in favor of preferred language.
Contract AI
Contract management personnel and legal teams would be remiss to forgo contract artificial intelligence in the age of digital transformation.
Contract AI can analyze contract documents and transform them into building blocks for:
better contract oversight.
proactive opportunity realization.
and risk mitigation.
With contract AI that is backed by machine learning, contracts processes can exponentially improve as they occur.
Automated data entry can reduce the time a legal process manager works to enter new contracts into contract software. Contracting teams can quickly identify key data, such as:
locations.
monetary values.
dates.
phone numbers.
emails.
counterparties.
Contract AI pinpoints prospective risk by analyzing contract document text. Subsequently, contract software can identify both "good" and "bad" language and clauses on a rules-based sentiment.
Contract intelligence can identify legal terms and clauses using natural language processing (NLP). This process also includes fuzzy logic matching of terms and conditions and structured data recognition.
With AI-based contract management, contract administrators can determine positive, negative, or neutral facts about a contract. This awareness can help promote better strategizing and visibility. If a contract passes its preferred value limit – a message alert can be triggered along with updated workflow automation.
AI-powered workflows can provide contract management professionals with on-screen recommendations and reports. These recommendations, notifications, and reports can improve overall contracts process visibility.
Sensitive data can be redacted, eliminated, or have rules set around them. These data include:
PII (personally identifiable information).
employment data.
credit card numbers.
routing numbers.
social security numbers.
Electronic Contract Signatures & Digital Contract Signatures
Contract management and legal teams have embraced electronic contract processes. This digitization has applied to contract signatures as well.
Electronic signatures help save time – as resources don't need to worry about travel or mailing times. Electronic signing helps save time wasted on:
sending contract documents for signing via email.
tracking contracts and signing with a disorganized filing process.
storing contracts of disparate signing statuses on shared drives and other messy locations.
and following up on contracts for signing via email.
Electronic signatures save money wasted on:
ink printer maintenance and costs.
paper expenses.
travel fees.
and mailing and shipping rates.
Electronic signing is also legally binding by law. This legality is thanks to The Electronic Signatures in Global & International Commerce Act (ESIGN Act) and the Uniform Electronic Transactions Act (UETA).
Signing with digital signatures verifies:
contract signatures are authentic and come from a verified source.
signed contracts have been untampered with since parties signed them.
the identities of signing parties are verified by a trusted organization. These organizations include a trust service provider (TSP) or a CA (certificate authority).
Get Started With Contract Management Software
Now you know what makes a good contract manager – as well as what tools they need for the job. As such, it is time to choose a contract software solution that offers the tools above and more. The solution that contract managers need is CobbleStone Contract Insight®.
CobbleStone® is acclaimed contract lifecycle management software. Its features for contract automation have been praised by contract managers and third-party analysts alike.
CobbleStone has received numerous awards. Just recently, CobbleStone was named the CLM Leader in the SPARK Matrix™ 2022 Report.
But don't take our word for it.
Book a free demo with a CobbleStone expert to see robust contract software in action.
Ready to try CobbleStone for yourself? Enjoy a free trial to get hands-on with CobbleStone contract management.
*Legal Disclaimer: This article is not legal advice. The content of this article is for educational purposes only. The information on this website may not present the most up-to-date legal information. Readers should contact their attorneys for legal advice regarding any particular legal matter.