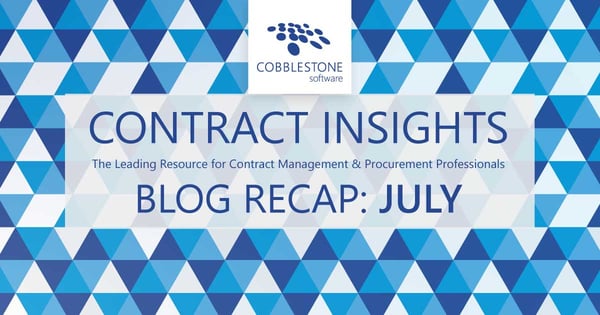 Did you miss any of our blog posts from July? Don't worry; we have outlined each of them for you. Stay up-to-date with industry topics, real-world case studies, and contract management and procurement best practices by reading CobbleStone's latest content.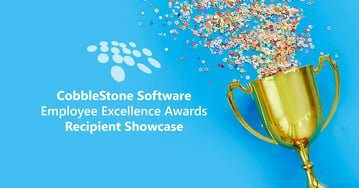 CobbleStone Software employees work diligently to offer clients industry-leading contract management software, vendor management, eProcurement, and eSourcing solutions with unparalleled service. Considering our employees directly affect our clients' experience with our software as a service, we continue to find new methods in rewarding outstanding team members. Read the following interviews with each CobbleStone Software Employee Excellence Award recipient to understand what sets them apart as an exceptional asset to our corporate success.

An inefficient contract authoring process often relies on decentralized clauses, lackluster compliance management and version tracking, inadequate line item management, and a lack of unification of contracts and subcontracts. These contract management pitfalls can hinder organizations and result in error-prone contracts with missing or misplaced clauses, overlooked key dates and milestones, and a disorganized process that stalls the contract lifecycle. Luckily, leading contract management software can provide intelligent contract authoring. Read on to learn how to simplify and modernize the contract authoring process.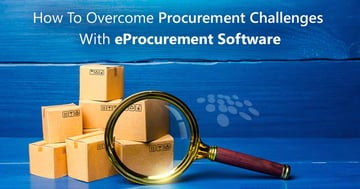 Procurement teams should not have to be bogged down by wasted time, missed opportunities, and misallocated procurement resources due to disorganized and lackluster procurement planning and execution. They can instead streamline and simplify the procurement process with procurement software as a service integrated with contract management software. Here's how to overcome procurement challenges by reaping the benefits of leading procurement software.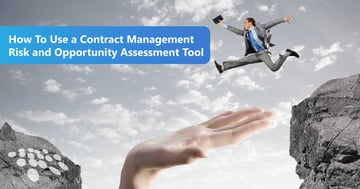 Manual contract risk assessment can cost organizations money and time and lead to costly and potentially disastrous instances of contract mismanagement. Contract risk management can prove overwhelming when dealing with multiple deadlines and stakeholders. But all is not lost; there is a solution: contract management software. Read on to learn how to use a contract management risk and opportunity assessment tool to decrease risk and increase your bottom line.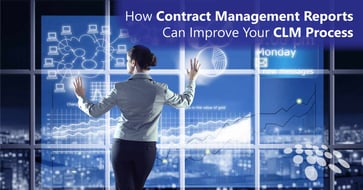 Searching and reporting on contract lifecycle management, financial data, budget information, contract workflow processes, contract management KPIs, and more with a manual process is virtually impossible - especially as contract complexity and contract volume grow. Luckily, organizations can leverage contract management reports by using contract management software to make these processes a breeze.

Contract administration can bring forth a host of challenges. Between establishing a contract administration plan, following through with that plan within a set timeline, tracking contract financials, overseeing the contract lifecycle, and planning for risk variables, contract administrators have a lot on their plate - and a lot of room for deleterious errors, contract risks, and bottlenecks. Fortunately, contract management software can help. Here's how.
The 2021 CobbleStone "Roadshow"* will be coming to a computer near you this August through December. This year's free seminars and group training events in The "Road" To Contract Management & Procurement Success are structured to help CobbleStone users maximize their contract management software and eProcurement processes while offering non-CobbleStone users an immersive, introductory experience of CobbleStone Contract Insight®.
Manual and outdated document editing methods often require lots of moving parts - including various emailed communications about numerous document edits, frantic scrambling for relevant clauses, and convoluted procedures for document version tracking. Leave these damaging and antiquated document editing methods in the past in favor of user-friendly online document editing with CobbleStone Software.
Now that you are caught up with our July articles, be sure to keep an eye out for our August content. Never miss a blog post again, and let us notify you when new articles are published, by subscribing to our blog! No time to read? Then check out CobbleStone's YouTube channel for exciting video content. Be sure to like and subscribe!
Are you looking to evaluate leading contract management software solutions for the future of contract management? Read our blog – 6 Critical Contract Management Tools for 2021 – to discover the best contemporary tools for future-minded, automated, low-friction, and user-friendly contract management.
Discover why thousands of contract management professionals trust CobbleStone Software with their contract management, sourcing, and procurement needs. Book a free demo with a CobbleStone Contract Insight expert to learn more about CobbleStone's acclaimed contract management, eProcurement, and eSourcing software!