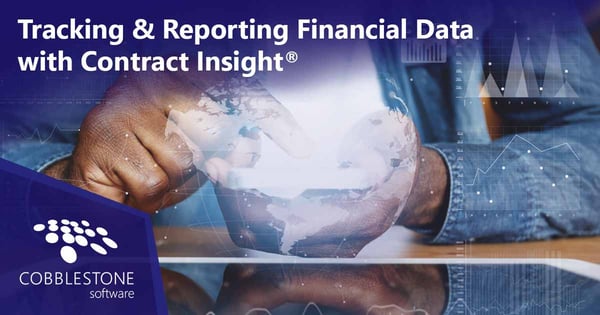 The comprehensive, organized tracking and reporting of financials are vital aspects of proper contract lifecycle management. Organizations need a contract management software solution that allows them to track transactions, establish reports on key financials, set alerts for thresholds, and analyze financial statistics pertaining to contracts. In this article you will learn how CobbleStone Software's source-to-contract suite, Contract Insight, can help your organization with the careful management of contract financials in one centralized platform.
Getting Started with Tracking Financials
Upon entering the record page of the contract that you want to work with, you can leverage the Budget Amount field. This field allows you to set a budget for a given contract. If the budget will be incremental, authorized users can leverage the budget sub table to track the contributing components of the overall contract budget. Once that amount is set, you can use the Financials page to track transactions related to your contract (such as payments, income, etc.).

The primary fields on the Financials page are configurable, so you can establish fields for specific information pertinent to your organization's needs, such as GL Codes, Entity assignments, and more. Furthermore, Contract Insight allows for integration with various financial and ERP platforms so that users within your organization can expedite data input by feeding it into your system straight from the financial tool your organization is utilizing. Bulk importing transactions from spreadsheets is also available.
Entering a financial record is easy with CobbleStone. Say, for example, your organization has entered into a consulting agreement, and you would like to keep track of expenses related to the procured consulting services. The budget amount for your consulting agreement is $100k, and the payment for services is $25k. In this case, you would simply add an expense of $25k. You can also log credit/income for refunds, rebates, or other similar transactions.
Additionally, you can provide other important information about the transaction for your organization's records. When finished, you can save your record.

Once a financial record is saved, it will be listed at the bottom of your financials screen with other contract transactions – providing your team with an easily-navigable overview of transactions related to a particular contract. Furthermore, you can filter your display so you can quickly sort to access only the transaction data you need – saving you valuable time and streamlining your organization's process!
CobbleStone Software Financial Reports
The Financials page also provides users with a financial summary report for a contract. The report provides basic details regarding a given contract as well as key information at a glance, such as:
the sum of income transactions.
the sum of expenses.
the total budget amount.
the budget amount remaining.
and the percentage of your budget that has been used.

You can leverage the Budget Used field to establish thresholds for your contracts. For example, you configure an alert so that the contract owner will be notified once the budget amount used has surpassed 80%.
In addition to the reported data regarding a specific contract record, you can also run reports around the financial summary of contracts within the system. These reports can be configured to run by category such as by contract department, by contract type, by counterparty, and more.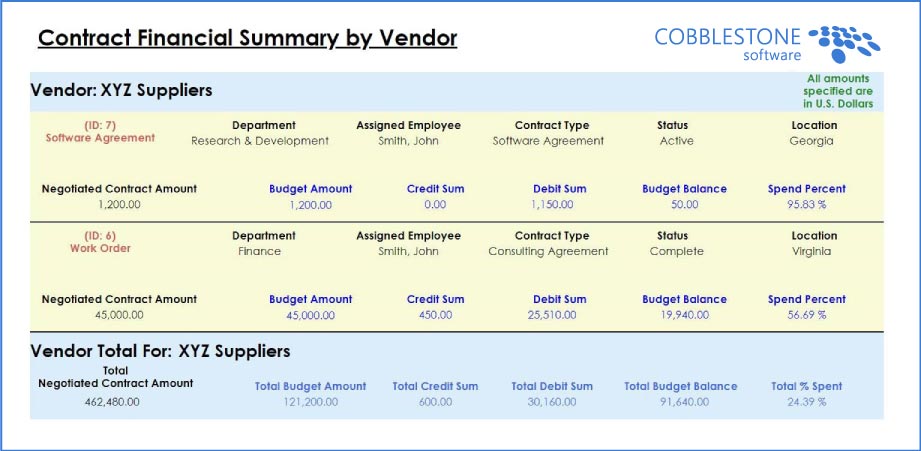 These reports provide your organization with a holistic view of contract finances.
Contract Insight Financial Dashboards
There are several ways to leverage Contract Insight's dashboards for successful tracking of financials.
Dashboards are available by contract status, and different dashboards can be assigned to different user groups. For example, you can configure your system so users from your organization's accounting or finance departments see request alerts and reports relevant only to the accounting department upon logging in. Conversely, a user from the human resources department would only see request alerts and reports associated with the human resources department.
Furthermore, your organization can configure emailed reports to be sent out to your employees by email automation – even if those employees are not licensed users.
For instance, your organization may establish a recurrent email alert that prompts your CFO to view an executive graphical dashboard displaying contracts by budget, and this alert is set to send every Monday morning. This alert process is just an example, as these reports can be scheduled for sending at a recurring time of your organization's choice.
If your organization uses legacy dashboards, your users can view ad-hoc reports. These reports link to financial areas related to a contract in the form of summary tiles that pull information from the financial screens.
Users are also encouraged to take advantage of Contract Insight's executive graphical dashboards. The Year Analysis Dashboard (shown below) gives an overview of contract, budget, and spend data. The dashboard prominently indicates the total number of contracts over the years so that organizations can determine whether or not they've improved business. Additionally, the total contract amount within a given system is displayed. The dashboard also presents contract amount, budget amount, and spend amount in graph form so that organizations can track a given year's financials.
Users can further specify the display of analytics for their own needs, such as only seeing the contract amounts of certain departments. Furthermore, dashboards are configurable – so you can create new graphical dashboards as needed, depending on your organization's needs.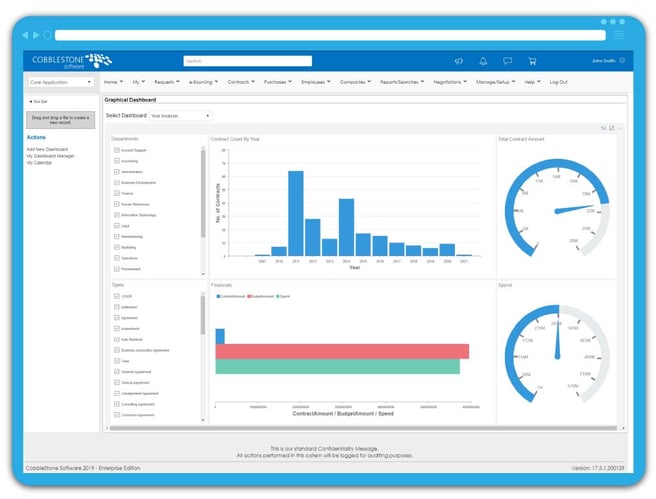 Robust Financial Management with CobbleStone
Now that you know how you can leverage CobbleStone Software's source-to-contract suite with the tracking and reporting of financials in one centralized interface, it's time to explore what Contract Insight offers.
Contract Insight is a cloud-hosted (SaaS) or deployed (on-premise) source-to-contract solution. The acclaimed platform is trusted by thousands of professionals for their contract management, legal document management, procurement, and sourcing needs. Founded in 1995, CobbleStone was among the first and most experienced companies to offer a contract management software product. We continue to be a leader with full contract lifecycle management software.
Request a demo of CobbleStone's Contract Management Software and data extraction services today!