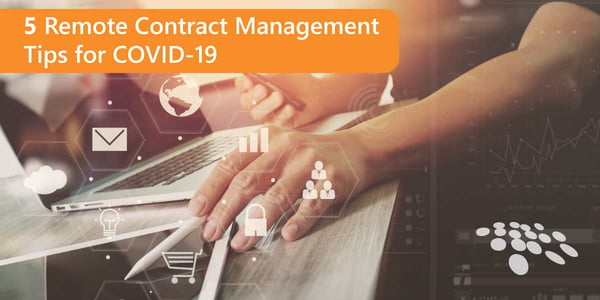 In the wake of unpredictable circumstances such as the ongoing COVID-19 pandemic, your organization is more than likely allowing employees to work remotely. No matter which relevant industry you are working in, you must be supported with a sufficient system in place for contract management, sourcing, and procurement operations. To that end, we've assembled a list of five tips for maintaining remote contract management software process efficacy during the COVID crisis.
Tip #1 - Store & Safeguard Contracts Virtually
The pandemic has obviously made it impossible for you to continue storing contracts with methods such as filing cabinets and, honestly, such material methods have been obsolete for a long time now. However, not all digital contract management methods are created equal; procedures that involve emails and digital storage have also proven antiquated and ununified - making it difficult for your organization to maintain version control, secure and safeguard contracts, stay abreast of key dates and milestones, and enforce contract archiving and retention rules.
To avoid the issues mentioned above, we recommend that you utilize a secure, web-enabled document repository with leading contract management software. This tool will help your organization to store and organize contracts, maintain document version control, quickly find crucial legacy contracts, easily track approval statuses, quickly collaborate, and much more – and the secure online repository maintains its high level of efficiency when you are working remotely.
With cutting-edge contract management software, you don't have to let the pandemic stop you from making your contracts work for you, promoting accountability, improving productivity, and positively transforming your document management processes during turbulent times.
Tip #2 - Reap the Benefits of Intelligent Contract Workflow
The COVID pandemic need not bring your contract workflow to a screeching halt.
We recommend that you utilize contract management software that supports intelligent contract workflow automation offers a fully digital experience. Intelligent contract workflows can reduce contract lifecycle bottlenecks by alerting the right people at the right time with virtually limitless contract notifications, automated contract alerts, and contract task reminders. You can continue to revolutionize contract management processes out of the office with tools such as contract process management, user-defined fields, reporting and analytics tools, full audit trails, and much more.
You can enhance negotiations and approvals oversight with intelligence, automated workflow that helps your organization to track every stage of the contract lifecycle. Your organization can meet key dates and milestones for all stages of the contract lifecycle thanks to automated alerts. Furthermore, full audit trail history can provide a comprehensive chronicle of changes made to contracts.
All-in-all, you can be confident that your contract workflow process will not suffer while you are physically away from the office.
Tip #3 - Embrace Mobile Contract Management
You can streamline and simplify tasks such as managing contracts, approving amendments, and signing contracts by relying on a contract management software platform that provides mobile-compatible contract management. At CobbleStone Software - for example - we allow you to utilize our contract management software suite - Contract Insight® - on Mobile Apps for Android and iOS devices.
The mobile apps provide you with the future-minded features that you need for better contract management on the go. As such, you can automate contract workflow tasks, track key dates and milestones, send documents for signatures, search and report, and more on mobile devices.
CobbleStone's apps are easy-to-use and provide a modern mobile interface while upholding the integrity and availability of core Contract Insight features and functionality - including CobbleStone Software's proprietary contract intelligence and machine learning engine, VISDOM AI®. Whether you are a new or experienced user, you can expect to traverse the apps with ease. Access and manage contracts, tasks, attachments, key dates, reports, and much more in the palm of your hand - from virtually anywhere at any time!
* CobbleStone's mobile app for Android and iOS devices is a companion app for Contract Insight Enterprise edition. You need an existing Contract Insight Enterprise license to use this application with your Contract Insight web address.
Tip #4 - Integrate eSourcing with Contract Management
Integrating eSourcing software with contract management software can promote a streamlined bid management process for remote work. As such, we recommend that you leverage an enterprise-grade bid management and eSourcing software solution that promotes transparency and compliance from sourcing to post-award contract management.
A user-friendly and flexible solicitation and RFP management solution can seamlessly integrate with mission-critical applications that you use to expedite vendor management, electronic bidding, contracts, agreements, purchasing, obligation records, leasing, and more.
You can automate and hasten the full contract lifecycle with:
bid & bid contract authoring.
bids that can post on a branded portal.
notifications & alerts to appropriate vendors.
an online vendor Q&A portal.
easy acceptance of electronic bid responses.
response rating & scoring.
full bid award management.
seamless contract lifecycle management.
automated calendar notifications & email alerts.
user-friendly searching & reporting.
fast & proven implementation.
and much more!


No matter how long the COVID-19 situation prevents you from going back to your in-office desk, you can continue your eSourcing processes like you never even left - improving them along the way.
Tip #5 - Leverage Electronic Signatures
For successful signing while working remotely, we recommend that you use a user-friendly, configurable, and speedy document collaboration and electronic signing utility. Integrated contract management software and electronic signature software can keep your organization's approval and signing processes moving during the COVID crisis. You can keep collaboration and electronic signing procedures running smoothly with the help of:
rapid signing.
simple one-off signatures.
rules-based electronic signing.
and more.
To learn about CobbleStone Software's electronic signature software tool - IntelliSign® - watch the video below.
Successfully Tackle Remote Work with CobbleStone Software
You must be equipped with a software solution that will help you to maintain effectual source-to-contract processes while working remotely. That solution is CobbleStone Software.
CobbleStone Software's Contract Insight has a variety of user-friendly features that embolden organizations to manage contracts with more efficiency, unite and secure contracts and documents, successfully oversee compliance, easily track costs, quickly receive notifications and alerts, sign quickly with electronic signatures, and remedy squandered productivity and high costs that stem from out-of-date remote contract management practices.
CobbleStone's celebrated platform is trusted by thousands of professionals from a myriad of industries worldwide. Request a free demo of CobbleStone's acclaimed contract management, procurement, and sourcing platform today!