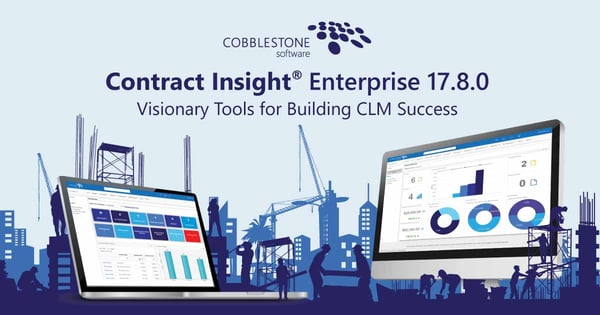 CobbleStone Software's latest release – Contract Insight® Enterprise Version 17.8.0 – has arrived, delivering visionary features and enhancements to supercharge your contract management software suite!
In order to help your organization successfully meet and exceed contract management, vendor management, eProcurement, and eSourcing goals, future-minded features and enhancements have been added to Contract Insight for an impressively low-friction, scalable, and user-friendly software experience. Such valuable assets include:
Get started today by utilizing powerful innovations to our acclaimed contract lifecycle management software solution! Here's what you need to know about our industry-leading, must-see features.
Oversight of Contract Data With Automated Duplicate Data Entry Checks
Contract Insight 17.8.0 users can configure record data fields to be marked as unique. This means that users are afforded greater control with notifications when a data field marked as unique is entered on more than one record - or, in other words, is duplicated. This feature is available for the main core areas for record creation:
Contracts
Requests
Solicitations
Purchase Orders
Employees
and Companies.
For demonstrational purposes, we will mark the record data field "Contract Title" as unique in our field manager, so that we are notified when a Contract Title is entered that is already located within the system.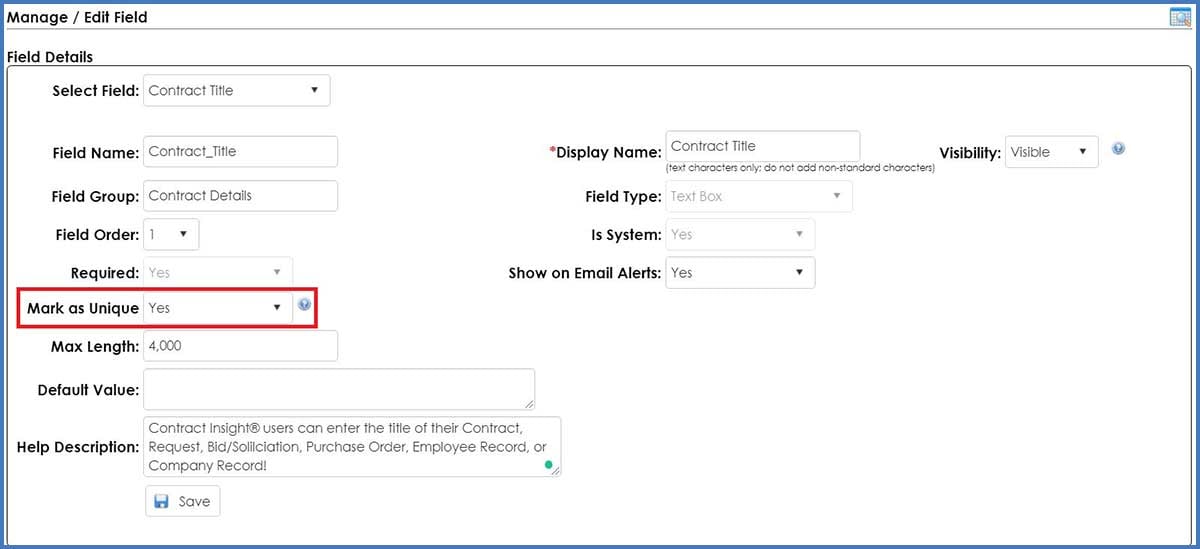 Once the above field configuration setting is saved, your helpful and user-friendly contract management software system will alert you of a duplicate data entry if the Contract Title you choose already exists.
To demonstrate, we will attempt to enter "XYZ Consulting Agreement" (a Contract Title that we know already exists within the system).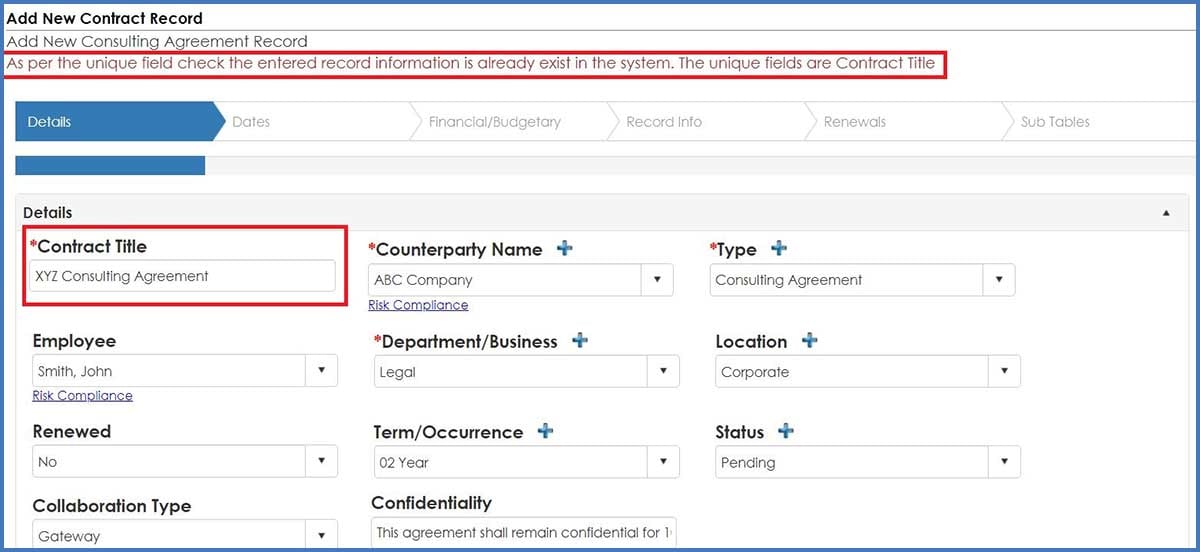 As we can see, our duplicate Contract Title - XYZ Consulting Agreement - has been prominently flagged as a duplicate, giving us powerful oversight over our contract management software process and the ability to avoid re-entering data that is already within the system (potentially causing disastrous confusion).
Users can also set multiple fields at a time as unique for a given record type in the Manage Fields By Type section of the system - making the process even more swift!
VISDOM AI Speed & Text Extraction Improvements
Enjoy CobbleStone Software's proprietary contract artificial intelligence engine - VISDOM AI - like never before!
With the release of Contract Insight 17.8.0, VISDOM AI OCR (optimal character recognition) and automated task extraction have been significantly enhanced in a myriad of user-friendly ways!
VISDOM achieves future-minded advancement in text extraction speed - with OCR processes transpiring at a rate of up to three to ten pages at a time rather than one at a time.
CobbleStone's acclaimed contract intelligence engine offers several key options for text extraction, including:
the option to "OCR NOW," which commences the VISDOM AI text extraction process.
the option to "OCR and Notify," which puts the VISDOM text extraction task in a queue and notifies the user when finished so that, meanwhile, they can focus on other tasks within the system.
the option to "Use Embedded Text," or bypass the OCR process and use text that may be embedded in the document.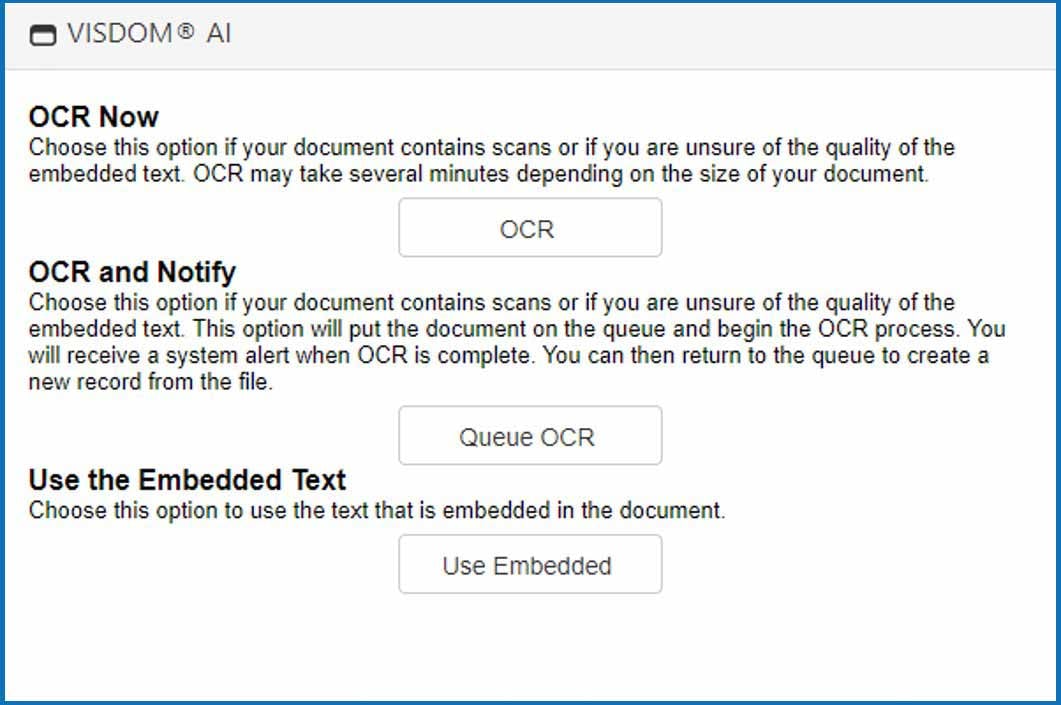 Users can also leverage VISDOM to update an existing record with the inclusion of a document that has undergone text extraction. From there, they can elect to use extracted fields or keep the current ones on a field-by-field basis - making the intelligent contract creation and text extraction processes convenient and highly configurable.
Easily Upload Documents With Enhanced Document Library
With Contract Insight 17.8.0, the document library offers user-friendly "drag and drop" functionality similar to the feature introduced for Contracts, Requests, Purchase Orders, Vendor and Customer Records, Employee Records, and E-Sourcing Records in Contract Insight 17.5.0.
Users can drag and drop a contract document into the "Drop Files Here" section shown above to swiftly and easily upload documents without having to needlessly browse every time. From there, users can:
manage and edit document information (such as the contract title, the collaboration type, whether or not the contract is active, a helping description, and more).
upload additional new document versions for optimal document management version control.
easily determine the published version of a given document attachment.
preview attached documents.
and more!

Enhanced Contract Authoring With Improved Contract & Template Merging
During the configuration of intelligent contract writing with the merging of contracts and templates from an organization's pre-approved clause library, advancements have been added with Contract Insight 17.8.0 to prevent users from encountering uncertain hurdles during the process.
In order to configure state-of-the-art rules and conditions for contract authoring within CobbleStone's Contract Insight, users can first configure fields to merge between contracts and templates. If a user fails to do this - Contract Insight has them covered.
If a user navigates to create rules and conditions without first establishing mergeable fields for intelligent clause merging, a warning message appears with a link for the user to promptly configure said mergeable fields - streamlining contract authoring and helping users to always stay on task with a centralized and unified process.
Improved Contract Insight Quick Search Experience
Contract Insight 17.8.0 expands CobbleStone's leading quick search functionality by displaying surrounding text around a search term found within a contract document. This helpful functionality can help users determine if a file is relevant to a search query by providing context to the search term. Users can streamline contract search processes without needing to preview or download entire documents to see if quick search text is relevant. Users can see:
how many instances of the quick search term were found.
the file name containing the quick search term.
the file page number on which the quick search term is found.
a preview of the context of the search term.

Seamless Integration Between Contracts & Requests
With the release of Contract Insight 17.8.0, CobbleStone users can seamlessly integrate key data between Requests and corresponding Contracts - with heightened control.
When using the Contract Insight Field Mapper (located in Account Maintenance), users have governance to pick and choose which data line items will be mapped from a Request to its subsequent, relevant Contract Record.
Contract Insight users have configuration oversight as to whether or not they would like sub table data fields to map automatically between Contracts and Requests or if they would prefer to choose sub table data fields to map manually. This feature gives users increased control over the configuration of data field mapping between Contracts and Requests.

Improved Vendor Management With Robust Vendor Ratings & Reviews
Experience powerful, centralized, and less biased vendor ratings and reviews with CobbleStone Vendor Management Software!
Contract Insight 17.8.0 users can enjoy permissions-based ratings and comments for each section of a completed vendor survey. Reviewers cannot see other reviews until they have submitted their own and, once submitted, their review cannot subsequently be altered after the fact. This helps reduce bias that can arise from seeing other reviews prior to leaving one's own.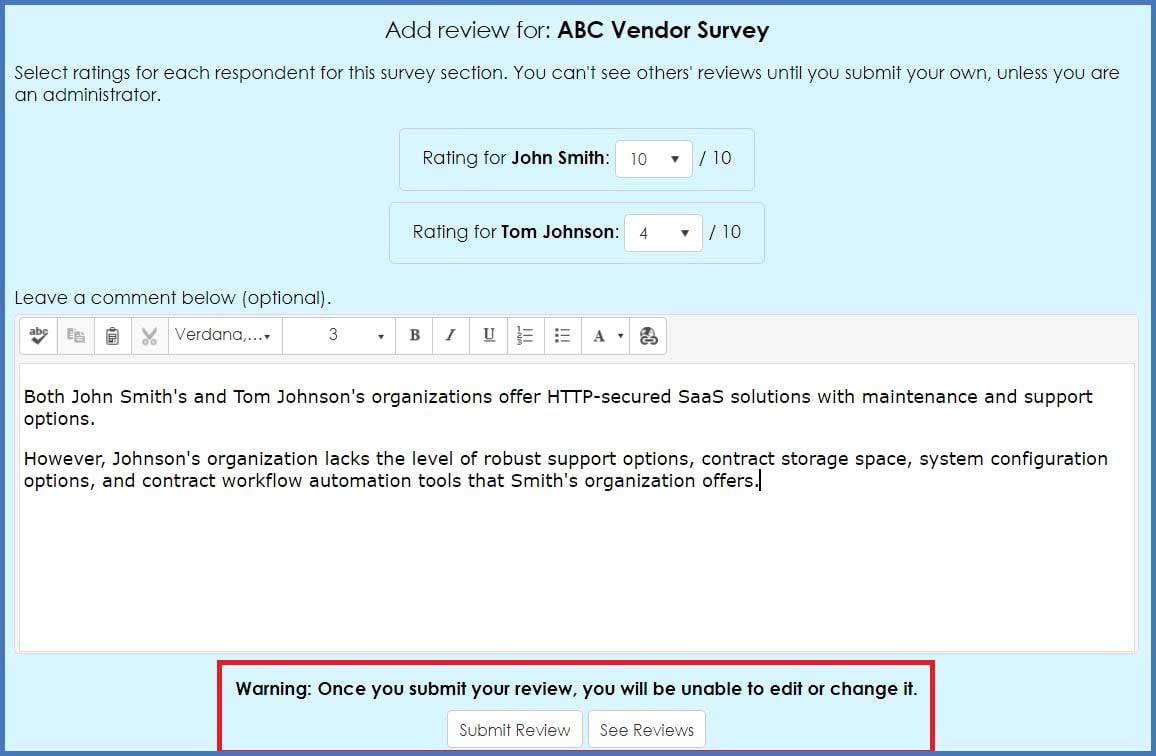 Once vendor survey reviews are submitted, they can be viewed by other reviewers to gain holistic insights into various organizations' evaluations of vendors.
Diversify Vendor Rating & Scoring Options With Export Feature
Contract Insight 17.8.0 allows for users to easily export vendor rating and scoring details from an eSourcing record page within the system into an MS Excel spreadsheet format.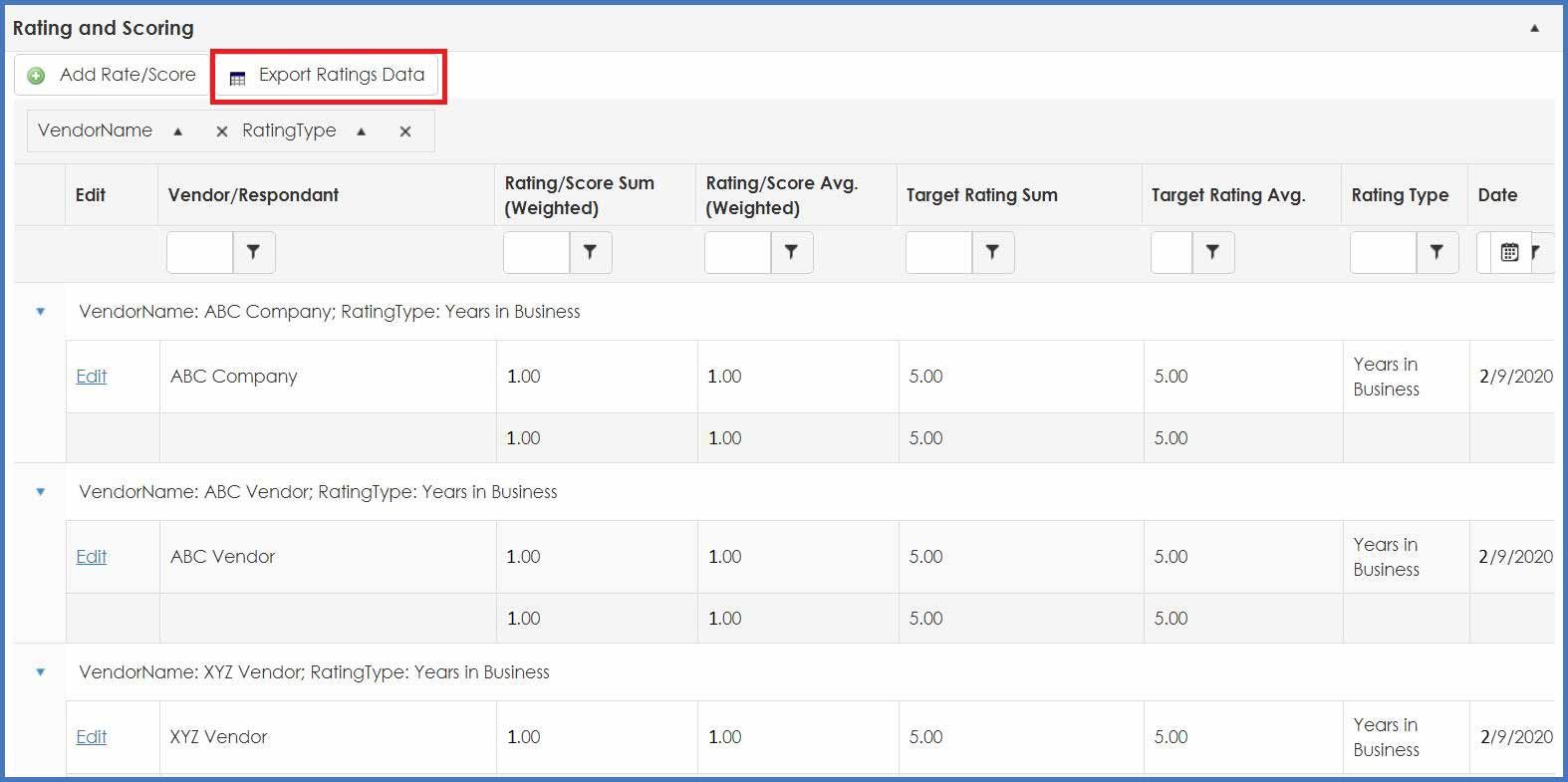 Once exported, information displays on the spreadsheet in an organized fashion for easy viewing, sharing, and storage of critical information!

Wizard-Based Vendor Gateway Registration
Contract Insight system admins can configure streamlined vendor gateway registration with an intuitive wizard in Contract Insight 17.8.0.
System admins can build each section and group for registration using Contract Insight's wizard. The fields of each group can easily be configured by admins in a user-friendly and streamlined manner!
For reassurance and seeing their plan in action, system admins can view a preview of the vendor gateway registration process that they configured - from the registering vendor's perspective! For readability and context, we at CobbleStone filled in the vendor registration fields in the preview below: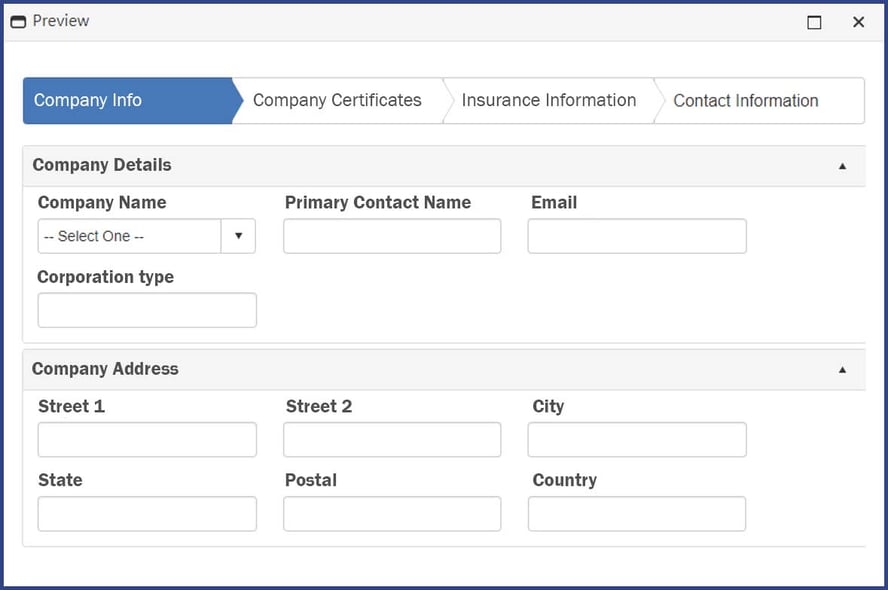 A Secure Vendor Gateway With Multi-Factor Authentication
Contract Insight 17.8.0 system administrators can tighten the security of the Vendor Gateway by enforcing multi-factor authentication.
System administrators can:
enable multi-factor authentication.
specify the method (email code only, SMS code only, email and SMS code, choice between email or SMS code)*.
choose the code style (caps only, alpha only, numeric only, a mixture of the three).
choose code length (in characters).
and configure the email message that is sent.
Below is an example of an emailed Contract Insight Vendor Gateway multi-factor authentication message, with the code and user obscured to avoid confusion and maintain confidentiality: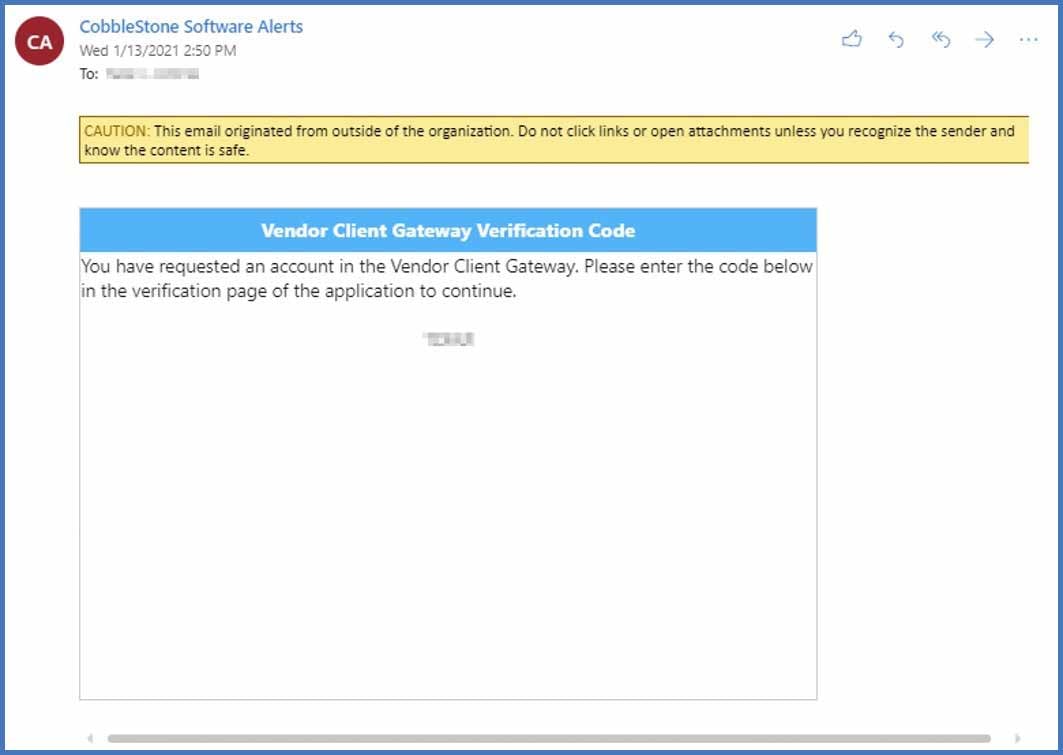 *Additional fees may apply for SMS alerts. Contact your CobbleStone Account Rep for more details.
Enrichments to CobbleStone PC Helper Applications
CobbleStone's PC Helper App for MS Word and PC Helper App for MS Outlook have been improved for an even more powerful, seamless, and user-friendly integrated Contract Insight and desktop MS Office experience!
PC Helper App Password Save Option
With Contract Insight 17.8.0, users of the MS Word PC Helper App are afforded diversified login options. There is an option to save one's password to bypass a continuous login prompt.
Once the option to save one's password is chosen, the CobbleStone PC Helper App provides a confirmation message.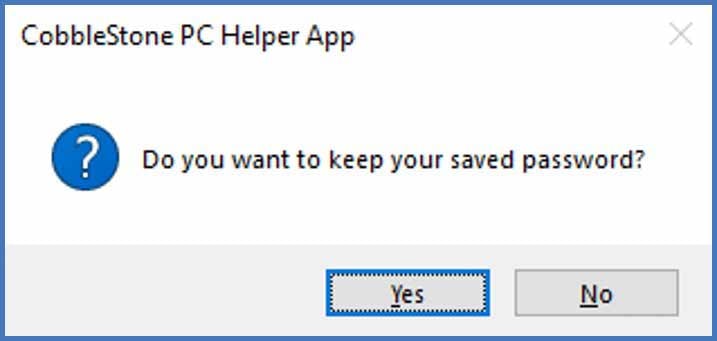 Combine Documents for Robust, Cross-Platform Contract Management
The CobbleStone PC Helper App for MS Word introduces the ability to "Combine Documents" on Contract Insight 17.8.0 for next-level cross-platform contract management software integration!

Once the "Combine Documents" button is selected within the "CobbleStone" Ribbon of MS Word, users are afforded the option to either combine local documents or to combine Contract Insight documents. From there, there are several helpful options, including:
combine system documents with the current document.
combine documents found within a Contract Insight system record.
and even combine documents across Contract Insight system records!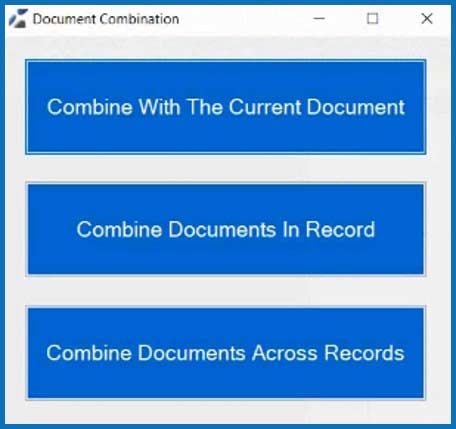 Once one of the above options is selected, users are afforded choices for saving the recent document combinations, including as: a PDF with tracked changes, an MS Word document with tracked changes, a PDF with changes hidden, and an MS word document with changes made accepted.
Better CLM Workflow Task Awareness With Robust Alerts & Notifications
Enjoy advanced configuration of a vast array of contract lifecycle management alerts and notifications for unified task management and employee accountability!
With Contract Insight 17.8.0, Contract Insight's Alerts and Notifications interface allows system users (with permission) to configure automated email notifications and alerts based off of their organization's needs - personalizing Contract Insight workflow automation!
This user-friendly, application-level configuration can be leveraged for rules-based notifications for critical and success-driving tasks pertaining to Contracts, Bids/Solicitations, Vendors and Customers, and Purchase Orders.
Enjoy innovative and advanced task oversight with a superior contract lifecycle management workflow notifications and alerts process!
Get Started with Contract Insight 17.8.0!
Contract management, vendor management, procurement, legal, sourcing, and a wide array of other industry-leading professionals need to be equipped with the tools to prosper in the management of contracts, requests, purchase orders, vendor records, and other key facets of source-to-contract management. Get started with Contract Insight 17.8.0 to take advantage of exciting new features and enhancements that CobbleStone Software offers for source-to-contract management success! Contact your Account Rep today to learn about Contract Insight 17.8.0 new functionality and to review licensing options.
To stay up-to-date with insightful and visually engaging video content, subscribe to CobbleStone's YouTube channel! To stay abreast of CobbleStone Software features, industry news, best practices, and more, subscribe to CobbleStone's Contract Insights blog!
Are you looking to evaluate leading contract management software solutions for the future of contract management? Read our blog – 6 Critical Contract Management Tools for 2021 – to discover best-in-class contemporary tools for future-minded, automated, low-friction, and user-friendly contract management.