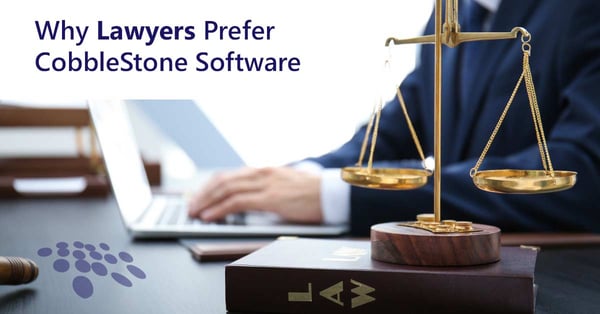 As a lawyer, you manage a variety of contracts that involve ranging stakeholders and processes. Yes, you may have help from paralegals and legal assistants to coordinate the contract groundwork. However, when it gets down to the nitty-gritty of negotiations, approvals, signatures, and post-award contract management processes, you need a trusted and streamlined system in place to grant you optimal control over your contact management process. Read on to learn how you and your legal team can significantly improve legal contract management software procedures.
Relying on antiquated contract management processes – including email, postal mail, wet-signatures, filing cabinets, and shared drives – can cause you and your team to waste precious time and resources on fixing miscommunication issues, waiting for stakeholders to complete tasks without trackable oversight, finding misplaced contracts, and dealing with other avoidable contract mismanagement pitfalls. Fortunately, CobbleStone Software's contract management software suite can help you and your legal team maximize your contract lifecycle management process from initial requests to renewals with unparalleled oversight and optimal control. Learn why lawyers and their teams count on CobbleStone for virtually all their contract management needs.
Automated Pre-Award Contract Management
Yes, the pre-award contract management process can take its sweet time, especially when relying on disparate processes - such as email, paper-based redlining and negotiations, and wet signatures. However, the right contract lifecycle management software system can speed up processes while maintaining optimal integrity.
Speedy Contract Requests
Rather than be delayed by lengthy response times and missing information in contract requests, you can create a new contract request to collect all necessary information from your counterparty with CobbleStone's pre-configured intake form and integrated request wizard that offers a dynamic questionnaire. Contract requests and their follow-through can be simply automated, giving you more time to focus on your contracts' content.
Automated Contract Authoring
Upon the approval of an automated request, you can seamlessly create a new contract record and begin drafting contracts with the help of a pre-approved library of templates and clauses. CobbleStone makes contract writing simple with the help of its legal document assembly solution.
You can also create your own legal workflow with approval routing based on your own user permissions. For instance, rather than waste time on viewing a contract you traditionally do not handle, that contract can be preconfigured to automatically route to the proper associate without you needing to worry about it.
Centralized Contract Negotiations & Contract Approvals
Contract negotiations can be a royal pain, especially when dealing with extended back-and-forth communication and redlining with paper-based and other manual processes. Luckily, CobbleStone Software proffers contract negotiation automation by intelligently logging document iterations and tracking versions. You can also assign clause ownership to route the approval of a clause change to its exclusive owner rather than notifying the entire legal team – saving involved stakeholders time.
Moreover, CobbleStone's contract collaboration portal centralizes the negotiation process by allowing third party stakeholders to apply changes and collaborate in the approval process without access to other confidential, irrelevant, or otherwise unnecessary contract records and areas of the system. Say goodbye to strung-out approval methods by embracing this centralized process that unifies people, process, and technology.
Easy Electronic Signatures
Wet signatures can take far too long to gather and waste precious resources – such as postage and office supplies. Once all necessary stakeholders approve a contract, you can gather electronic signatures and digital signatures with CobbleStone's IntelliSign® from virtually anywhere and anytime with suitable WiFi. All stakeholders can sign a contract within virtually seconds and propel the contract into its post-award lifecycle. To learn more about CobbleStone's electronic signature software, watch the video below.
Value-Driven Post-Award Contract Management
The post-award contract process can be challenging. Tracking and upholding accountability with antiquated methods such as manually calibrating calendar alerts and combing through contract contents periodically can prove difficult. Fortunately, you can leverage CobbleStone's legal contract management tools to maximize your post-award contract process.
Optimized Contract Obligations & Contract Compliance
Ensuring that contracts heed obligations and maintain compliance can be a time-consuming and error-prone task without the proper system in place. Fortunately, CobbleStone let's you maximize these processes with an automated contract obligations workflow that includes approval routing, task escalation, notifications, and automated alerts.
As a lawyer, you can focus more on your contract strategy to realize opportunities with real-time data analytics. CobbleStone can transform basic contract management to contract performance management. With robust, user-friendly reporting metrics - including renewals and key dates – legal compliance standards can be easily maintained - especially with CobbleStone's visually engaging executive graphical dashboards. You can create ad hoc reports with any field. Those reports can be exported as ranging file types and emailed to necessary stakeholders on an automatic schedule or individually. CobbleStone also offers integrated OFAC search to compare employee, company, and vendor data against OFAC's (The Office of Foreign Assets Control) sanctions lists – offering critical risk analysis data at a glance.
Automated Contract Renewals
You can miss contract renewal opportunities without the right contract renewal system in place. Contract renewals can help improve legal protection, ensure obligations are met, reduce costs, increase revenue, and more.
CobbleStone's contract renewal automation can help you review contract renewals quickly and proactively – allowing you ample time to maximize negotiations and reduce risk. You can send alerts to stakeholders to expedite decision-making, identify renewal opportunities, and generate a new contract based on a pre-existing contract.
Integrated Contract Intelligence
The entire contract lifecycle can be arduous, especially with all the moving parts involved with technology, people, and process – as aforementioned. Contract management AI helps streamline and automate the contract management process to help you and your legal teams manage your contract lifecycle more effectively with reduced friction. No, contract intelligence will not replace you or your legal team, but it can securely automate contract management software processes wherever possible – allowing for more time to focus on your contract content and contract performance.
CobbleStone's AI-powered contract management software can maximize data-driven decisions, automate data extraction for document generation, monitor contract tasks, increase contract workflow visibility with analytics and reporting, increase stakeholder accountability, mitigate risk, and more.
Watch the video below to learn more about VISDOM® AI.
Lawyers Love Contract Insight®
Streamline your legal contract management process with a leading-edge legal contract management platform. End-to-end legal contract lifecycle management begins with CobbleStone Software's Contract Insight.
CobbleStone's trusted, award-winning, fully integrated legal contract management software streamlines the contracting process with optimal governance, reduced friction, and high flexibility from contract requests to contract renewals. CobbleStone, as a software provider, holds SOC 1 and SOC 2 compliance attestation to virtually ensure utmost security.
CobbleStone Software has been a forerunner in contract management software since 1995. CobbleStone's user-friendly, robust, and scalable solution seamlessly integrates with mission-critical applications for unified and seamless legal contract management
Discover why thousands of contract managers trust CobbleStone Software with their contract management needs. To learn more about CobbleStone's unparalleled legal contract management software, book a free demo with a Contract Insight expert today!
To stay up to date on best practices, industry news, and CobbleStone Software updates, be sure to subscribe to our blog and YouTube Channel.