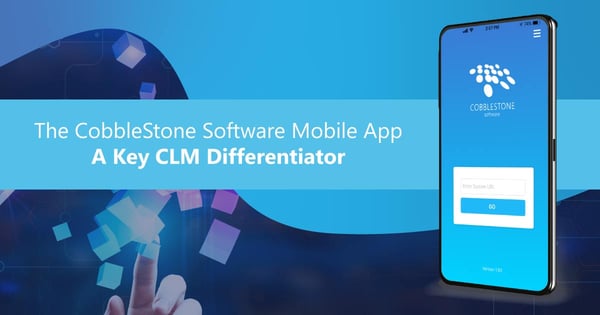 Managing contracts can prove challenging - especially when working on the go, remotely, or from home. Without a mobile-friendly contract management software solution that can seamlessly adapt to your work agility, you can incur unwarranted contract workflow inefficiencies. When dealing with an influx of contract management processes - in both the pre-award and post-award contract stages - the lack of CLM software mobile integration can slow contract processes. Read on to learn how the CobbleStone Software mobile app can offer you the flexibility and robust contract lifecycle management oversight you need for end-to-end CLM efficiency.
The CobbleStone Software Mobile App Experience
The CobbleStone Software mobile app* offers unparalleled contract lifecycle management efficiency by offering CobbleStone's web-enabled functionalities right in the palm of your hand. The CobbleStone Software mobile app, available on Apple iOs and Android devices, enables you to fulfill web-enabled CLM tasks. The user-friendly mobile interface offers CobbleStone's robust contract lifecycle management features at the touch of a finger.
The feature-rich mobile app offers themes and color schemes that resemble the CobbleStone Software desktop experience with mobile-friendly responsiveness. Mobile app users can quickly access their core CLM features with ease – all within a sleek and future-minded interface that helps contract managers:
In Forrester Research Inc.'s report - The Forrester Wave™: Contract Lifecycle Management For All Contracts, Q1 2021 - CobbleStone scored the highest score possible for mobile support.
Download The CobbleStone Software App To Increase CLM Workflow Agility
As contract management processes continue to evolve, the CobbleStone Software mobile app provides a robust and user-friendly contract lifecycle management mobile interface that continues to morph with contract managers' ever-changing needs – particularly by introducing new features, products, and tools. Join the many CobbleStone Software mobile app users by downloading it today!
Download from the Google Play Store for Android devices.
Download from the Apple App Store for iOS devices.
CobbleStone Contract Insight, a CLM software Leader according to Forrester, can equip you with the necessary tools you need to drive contract management success. CobbleStone's trusted, award-winning, fully integrated contract management software streamlines the contract management process with optimal governance, reduced friction, and high flexibility from contract requests to renewals. CobbleStone Software has been a visionary leader in CLM software for over 20 years. CobbleStone's user-friendly, robust, and scalable solution seamlessly integrates with mission-critical applications for unified and seamless contract management. CobbleStone Software, as a software provider, also remains SOC 1 and SOC 2 compliant to encourage paramount security.
Discover why thousands of contract managers trust CobbleStone Software with their contract management needs. To learn more about CobbleStone's unparalleled contract management software, book a free demo with a Contract Insight expert today!
To stay up to date on best practices, industry news, and CobbleStone Software updates, be sure to subscribe to our blog and YouTube Channel.
Are you interested in future-minded contract management software tools? In our blog - 6 Critical Contract Management Tools for 2021 – learn how to leverage industry-leading CLM software tools for streamlined, user-friendly, and low-friction contract lifecycle management success!
*The CobbleStone Software App requires a CobbleStone Software user account and is not a standalone product.