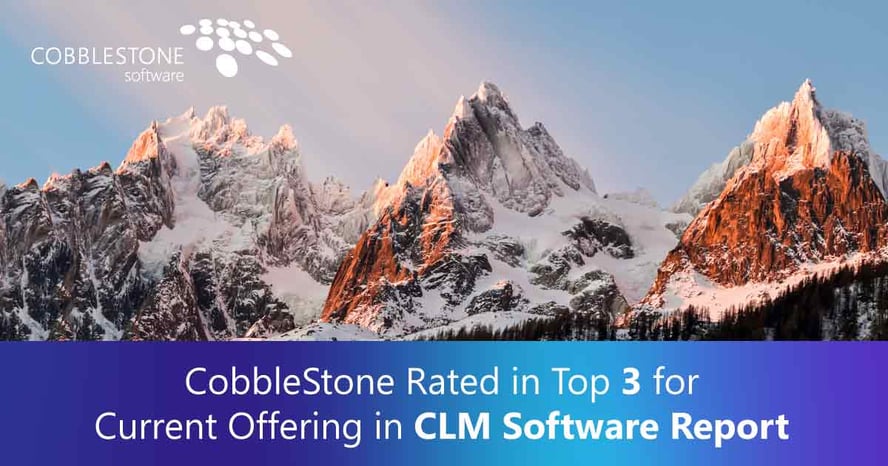 Choosing a contract lifecycle management (CLM) software provider can be challenging, especially if you've never worked with CLM software and do not have anything to compare it to. Fortunately, industry-leading contract management software analysts, including those from Forrester Research Inc., can communicate and showcase their findings - offering you expert advice. Forrester recognizes CobbleStone® Software as a Leader in their report titled, "The Forrester WaveTM: Contract Lifecycle Management For All Contracts, Q1 2021." CobbleStone Contract Insight® received a ranking among the top three CLM software providers in the Current Offering category within Forrester's evaluation. Read on to learn why CobbleStone was named a leader, according to Forrester's expert analysts.
Finding the right contract lifecycle management software can be challenging, but evaluating your options side-by-side with industry-leading analysts' evaluations can help you make the right choice for your organization.
Forrester states the following:
"In our 32-criterion evaluation of contract lifecycle management (CLM) software providers, we identified the 11 most significant ones [including CobbleStone Software] and researched, analyzed, and scored them. This report shows how each provider measures up and helps CIOs, general counsels, chief sales officers (CSOs), chief procurement officers (CPOs), and CFOs select the right one for their needs."
CobbleStone Contract Insight received the highest possible scores in the following criteria.
Contract Approval
Contract Negotiation With External Parties
Contract Process Analysis
Existing & Third-Party Contract Support
Scalability & Security
Mobile Support
Integration
Updates To Terms & Conditions Library
Vendor Support
Buy-Side Contracts
Partner Ecosystem
Performance & Financial Position
Commercial Model
CobbleStone Contract Insight Innovative Features
The Forrester report recognizes CobbleStone Contract Insight for "…its support of contract creation and contract optimization…" We believe that we rank among the top providers in contract creation, optimization, repository, analytics, types, management, execution, and technology aspects because of the following robust CobbleStone Contract Insight features, to name a few.
VISDOM: CobbleStone Contract Insight's Advanced AI Engine
Forrester recognizes AI as a "key differentiator" in their report. We feel that CLM software that leverages robust contract intelligence with machine learning is a must for organizations looking to lead the pack in contract lifecycle management.
With CobbleStone Contract Insight's proprietary contract management artificial intelligence – VISDOM AI – contract processes can be automated and expedited. Organizations can configure contract analysis processes and transform static documents into dynamic assets for better contract oversight, improved risk mitigation, and proactive opportunity realization. VISDOM can help organizations get the most from contract lifecycle management software.
Intelligent clause identification and clause extraction can foster continued machine learning. CobbleStone Contract Insight's VISDOM AI enables users to find standard clauses within a document when added into a CLM software system. Users can add found clause text to their organization's training data for ongoing machine learning – exponentially enhancing future clause recognition and text extraction!
According to a configured, rules-based sentiment, VISDOM can also detect potentially sensitive data, perform statistical data analysis, and provide helpful risk mitigation recommendations based upon real-time data. To learn more about VISDOM AI, watch the video below.
We feel that in the realm of artificial intelligence – Forrester's "key differentiator" – we excel, with the abovementioned various options for automating contract management from start to finish with VISDOM AI.
CobbleStone Contract Insight's Endearing Factor: Great Client Support
CobbleStone Contract Insight received the highest score possible in the Vendor Support criterion. We also assume that CobbleStone Contract Insight's scoring among the second highest in the client experience and references criterion can be attributed to the following unparalleled offerings.
It's No Wonder Why CobbleStone Contract Insight Is Named a CLM Leader
CobbleStone's trusted, award-winning, fully integrated CLM software streamlines the contract process with optimal governance, reduced friction, and high flexibility from contract requests to renewals. CobbleStone Contract Insight has been a visionary leader in CLM software since the mid-1990s. Our user-friendly, robust, and scalable solution seamlessly integrates with mission-critical applications for unified and seamless source-to-contract management. CobbleStone Software, as a software provider, also remains SOC 1 and SOC 2 compliant to encourage paramount security.
Discover why thousands of contract managers trust CobbleStone Software with their contract management needs.
To learn more about CobbleStone's unparalleled contract software, book a free demo with a CobbleStone Contract Insight expert today!
To stay up to date on best practices, industry news, and CobbleStone Software updates, be sure to subscribe to our blog and YouTube Channel.