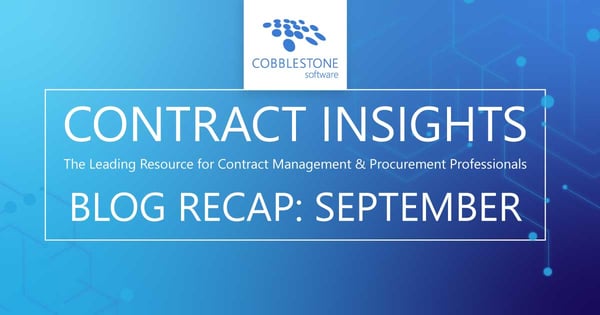 Did you miss any of our blog posts from September? Don't worry; we have outlined each of them for you. Stay up-to-date with industry topics, real-world case studies, and contract management and procurement best practices by reading CobbleStone's latest content.
Systematically tracking and reporting contract financials is a crucial strategy for healthy contract lifecycle management. This blog will demonstrate how leading source-to-contract management software can help organizations to manage contract financials carefully and proactively in one centralized solution to maximize spend and increase ROI.


The manual management of contracts, vendors, purchase orders, and bids can prove challenging and ineffective. Processes that involve paying per solicitation can grow expensive. Don't waste time, resources, and opportunities with a decentralized and inefficient procurement process. Leverage leading eProcurement software for procurement management success "from cradle to grave."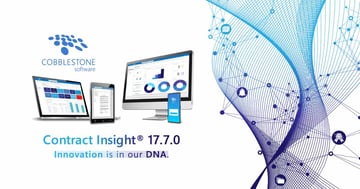 CobbleStone Software's latest release – Contract Insight Enterprise Version 17.7.0 – is here, bringing with it many new features and enhancements to enrich your contract management software platform! Get started today by utilizing powerful improvements to our acclaimed contract lifecycle management software suite!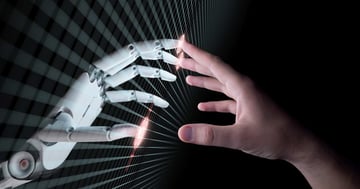 Developments in AI are proving incredibly valuable as they apply to contract management software systems. Contract management AI can transform static documents into dynamic assets for better contract lifecycle management. Here's how to step into the future of contract management with powerful contract intelligence.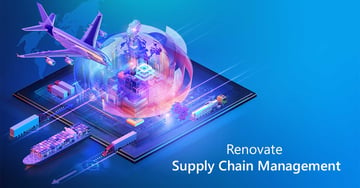 Now more than ever, antiquated supply chain contract management procedures can prevent efficiency and growth, decrease ROI, and damage organizational reputation in the face of unforeseen and vulnerable circumstances like COVID-19. Discover new ways to establish an ironclad contract management process for supply chain success.

Due to the COVID-19 pandemic, and in consideration of the health of CobbleStone clients, partners, and employees, CobbleStone's user conference will transition to a virtual two-day event. CobbleStone's user conference is attended by contract management, legal, and procurement professionals from a vast array of industries. The virtual event will include breakout sessions, keynote speakers, CobbleStone exclusive product updates, and more.
Now that you are caught up with our September 2020 articles, be sure to keep an eye out for our October content. Never miss a blog post again, and let us notify you when new articles are published, by subscribing to our blog! No time to read? Then check out CobbleStone's YouTube channel for exciting video content. Be sure to like and subscribe!