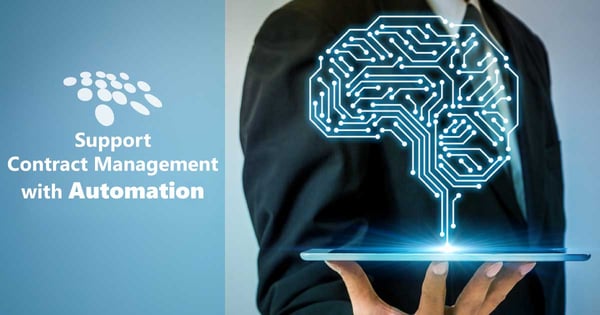 There is a significant need for automation in contract management software processes. When collaborating within the contract management community, we often find that most organizations do not currently leverage meaningful automation for better contract management. Yet, most organizations have developed or plan to develop strategies to implement contract automation. It is clear to see that the industry is evolving in favor of contract automation. Don't get left behind. Get ahead with robust and user-friendly contract management software. Here's how.
Intelligent Automated Contract Workflow
Contract management software that supports contract workflow automation reduces contract lifecycle bottlenecks by keeping the right people engaged at the right time with virtually unlimited contract notifications, automated alerts, and task reminders. Organizations can configure a process with user-defined fields, data extraction and data mapping, contract process management, audit trails, reporting and analytics, and much more.
Contract writing, collaboration, negotiation, and approvals can be managed with an intelligent workflow process that helps organizations track all stages of the contract lifecycle. Automated alerts assist contract management personnel in meeting key dates and milestones, up to and including contract renewals. Furthermore, audit trail history provides an easily accessible, up-to-date record of contract changes. Reports provide valuable contract information at a glance for relevant stakeholders on a scheduled basis.
Reduce contract approval cycle times by overcoming delays and increasing accountability with intelligent, automated contract workflow.
Workflow-Initiated Contract Writing
Leading contract management software can automate and streamline contract writing.
A centralized, well-organized process involves intelligent contract writing with the automation of the dynamic merging of field data with clauses from a pre-approved clause language library. The dynamic clause library includes specific document templates such as those used for FAR, DFAR, and GSA contracts. Also supported is CLIN (contract line item number) management for the easy addition of line-items into contract document templates. With robust contract management software solutions, the input of new contract, request, solicitation, purchase order, vendor, and employee records can trigger a merge of that data with a pre-approved document template for intelligent contract writing! Contract documents can easily be written and then exported as standard file formats such as MS Word and PDFs.
Read our contract writing article to learn more about how to improve contract writing processes with automation.
Better Contract Negotiations
An effective procedure for collaboration with vendors, internal users, and external stakeholders that is afforded by leading contract management software solutions leverages automation to expedite the contract negotiation process.
Document collaboration and version control are simplified, organized, and efficient with numbered version tracking and a detailed log of changes. Retain control by allowing collaborating parties to easily upload and download up-to-date document versions.
Clause ownership offers contract content control. An organization's contract management software can be configured so that changes made to a clause or section may use automation to trigger a notification to the "clause owner" or subject matter expert. If the clause in question is assigned to a contract or agreement and a stakeholder attempts to edit that clause, the clause owner will be added to that contract or agreement's approval process and will receive prompts to approve or reject those changes. This process helps to ensure that relevant parties are added to contract approval processes.
Contract management software administrators can set up a rules-based process for pertinent stakeholders that need to engage with a contract.
Stakeholders can be set to receive a notification that takes them to a contract negotiation portal – a place where relevant documents can be accessed for review. This portal allows necessary parties to be involved in a negotiation process without needing to be granted access to other software features. Essential documents can be isolated for relevant parties to access and make changes if necessary, straight from a negotiation portal.
Transform contract negotiations with contract management software that offers a user-friendly, centralized, and efficient contract negotiation process.
Electronic Signatures
Electronic signatures are a must-have for contract management automation in an evolving technological landscape. An e-signature is an electronic depiction of a written or "wet" signature that enables relevant stakeholders to sign documents online without the need for a physical copy of a document. Signature delays can trigger bottlenecks in the meeting of obligations, adherence to compliance standards, and contract execution. Organizations can transform the signing process with electronic signature software by significantly reducing such issues and cutting send-to-sign time by as much as 20%.
Organizations that are wasting time managing signatures manually and relying on email to do so can implement an efficient signing process with electronic signature software that allows them to:
Save time: Rules-based workflow automation speeds up the process and can keep stakeholders connected and on track so less time will be wasted focusing on administrative expenses involved with sending, storing, tracking, and following up on documents that have been sent out for signatures.
Experience greater security: Processing errors and confidentiality breaches can be reduced with legally binding signatures that include audit trails.
Improve visibility and business relationships: The signing process is faster and made more easily accessible both in and out of the office.
Take control of signature processes by leveraging automation to shift from an obsolete, inefficient process to a swift, efficient, and compliant process that leaves wasted time, breached compliance, lost money, and tedium in the past.
Vendor, Customer, & Employee OFAC Search
Contract management software that integrates with data from OFAC (the Office of Foreign Assets Control) for risk compliance management and risk mitigation allows organizations to run scheduled checks on employees and vendors against OFAC Sanctions Lists.
Contract management software administrators can use ongoing scheduled checks for OFAC search automation for assessments and integrate the search results with record pages for centralized employee, vendor, and company risk mitigation and risk analysis. Organizations can determine whether they want to include AKA (also known as) entries in a search against OFAC's database, to check for potential aliases and alternate names for persons or organizations in question. Additionally, organizations can set a minimum percentage matched for what is classified as a data match between OFAC and their system.
Experience thorough national sanction compliance checks and risk mitigation details at a glance with OFAC search integration with leading contract management software! CobbleStone Software introduced OFAC Search as an optional, licensed add-on feature with the release of Contract Insight® 17.6.0., offering users an easy way to check employee, customer, and vendor records against the national sanctions database.
Get Ahead of the Rest with CobbleStone Software
The contract management software landscape is changing in favor of contract automation. Don't fall behind with an antiquated contract management process that requires your organization to put in hours of tedious work that risks errors, oversights, wasted time, and squandered revenue. Opt, instead, for contract management automation with CobbleStone Software.
CobbleStone's Contract Insight offers user-friendly features that equip organizations with the tools they need to manage contracts more efficiently, unite and secure contracts, collaborate, oversee compliance, track costs, receive alerts and notifications, efficiently sign with electronic signature software, increase productivity, and reduce expenses.
CobbleStone's long-acclaimed contract management software has been trusted for over 20 years by organizations from around the world. Request a free demo of CobbleStone Software's award-winning contract management, procurement, and sourcing suite today!