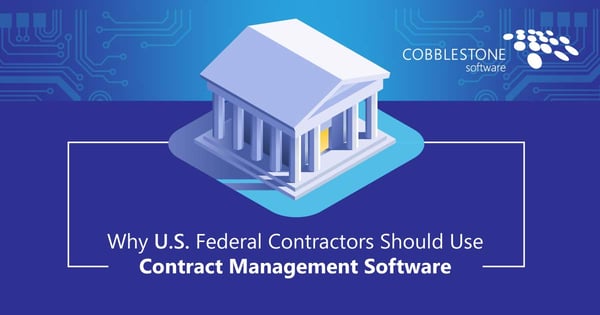 U.S. Federal Contractors - no matter which government agency or department they are contractually involved with - can face several challenges throughout the contract lifecycle. With many different tasks to perform, there is a lot of room for errors or missteps that may lead to contract lifecycle bottlenecks, compliance challenges, regulatory violations, wasted time, and lost revenue. Luckily, government contract management software can help. Here's how.
Dynamically Write Contracts & Easily Manage Line Items
With contract management software, federal contractors can leverage a pre-approved clause library for a dynamic contract writing process. Government regulation templates and clauses, such as those used for FAR, DFAR, and GSA contracts, can easily be used to write contracts.
Flow down clauses - or those that indicate that established terms and conditions of a contract apply to an introduced third party - are virtually effortlessly managed with a solution that allows federal contractors to tag flow down clauses so they can be included in subcontractor documents.
Contract management software also helps contractors with CLIN (contract line item number) and SLIN (sub-line item number) management. Priced line items and sub-line items can be added to contract templates, and contracts can easily be exported to standard file formats – including PDF and MS Word.
Contractors should expeditiously write contracts and capture information about goods and services that they provide quickly and comprehensively with contract management software.
Track Contract Payments & Deliverables
Leading-edge source-to-contract management software allows U.S. federal contractors to capture nearly unlimited contract deliverables and due dates with automated email alerts and calendar notifications. Based on when delivery should have been performed – per the terms and conditions of a contract –workflow automation can be configured. Warning dates and alerts are triggered for potentially overlooked deliverables, therefore helping to prevent contractors from missing critical dates.
Contract Analytics, Searching, & Reporting
Advanced government contract management software offers a variety of tools for enhanced contract analytics, reporting, searching, and financials tracking.
Complete audit trails can help track software system login attempts, contract viewing, and edits made to contracts and contract metadata. These audit trails include time and date stamps and data on users who have performed those tasks. Audit trails give contractors control over their contract lifecycle, including the performance of employees and subcontractors.
U.S. federal contractors leveraging a comprehensive contract management suite can also take advantage of budget tracking and pricing tools. They can:
track costs, deliverables, and line items.
smoothly run financial reports.
receive advanced budget alerts so that they can remain aware of approaching key dates.
Ad hoc reports provide user-defined status reports, upcoming task reports, financial commitment reports, and more. These reports can easily be exported to standard file formats.
An online report designer allows report layouts to display valuable information in a contractor's desired presentation style. Reports include a multitude of exportation options, including PDF, MS Word, spreadsheets, rich text, CSV, various image formats, and more.
Executive graphical dashboards provide a thorough overview of key dates, activities, and contract performance.
With advanced tracking, searching, and reporting tools, U.S. federal contractors can keep track of payments, spending, and contract data changes so that they are in sync with the government agency with which they are working.
Achieve Government Contract Management KPI Goals
Federal contractors who regularly manage the success of their contracts against specific, established criteria can adjust government contract management strategies accordingly to ensure that objectives promote positive organizational impact.
Contractors must establish contract management KPIs that are:
Specific
Measurable
Attainable
Relevant
Timely
Contractors engaged in a government contract will have unique KPIs according to their industry and situation. Contractors should review their contract lifecycle and develop dynamic success metrics. Results must be measured regularly; thus, KPIs should be comprised of qualitative and quantitative data analysis.
Adhere to Regulations & Compliance
Advanced compliance reporting and auditing gives U.S. federal contractors visibility into contractual relationships across government agencies and departments. Department-specific, SAM, Service Contract Act, Safety Standards Act, and other federal contracting regulations can be easily maintained with a scalable government contracting system that includes user-friendly key dates, reporting metrics, and renewal requirements.
Leading-edge government contract management software for U.S. federal contractors also offer OFAC search data integration. This compliance utility checks company, vendor, and employee data against search data entries within OFAC's (Office of Foreign Assets Control) national sanctions list. These OFAC checks can provide critical risk analysis snapshots at a glance.
Support GSA Compliance
When selling goods and services through a General Services Administration (GSA) approved contract, vendors must adhere to advanced compliance and reporting standards. Utilizing a leading contract management software solution, federal vendors and suppliers are able to easily provide the details needed for formal U.S. GSA audits and compliance requirements. Searching, advanced reporting, line item tracking, contract hierarchies, prime and sub contract tracking, and other advanced CLM features can turn a painstaking audit to a stress-free experience.
With more time – and potentially more revenue saved – contractors taking advantage of government contract management software can focus on more value-driven tasks.
It's Time to Utilize Contract Management Software
Now that you know how U.S. federal contractors of many types and sizes can benefit from government contract management software, it's time to make the switch to a solution that offers you contract management, eProcurement, and eSourcing – all in one platform. That solution is CobbleStone Software.
CobbleStone Software's Contract Insight® features a myriad of user-friendly tools that enable federal contractors to manage contracts effectively, dynamically write contracts from a pre-approved and regulation-meeting clause library, capture and oversee deliverables, manage CLIN and SLIN, search and report, track financials, achieve goals of reaching KPIs, maintaining compliance, and much more.
CobbleStone's acclaimed source-to-contract management software, Contract Insight, has been trusted by thousands of federal contractors, government organizations, and government agencies for pre-award and post-award contract management. Contract Insight is conveniently available for purchase on the GSA Schedule 70.
Request a free demo of Contract Insight today!