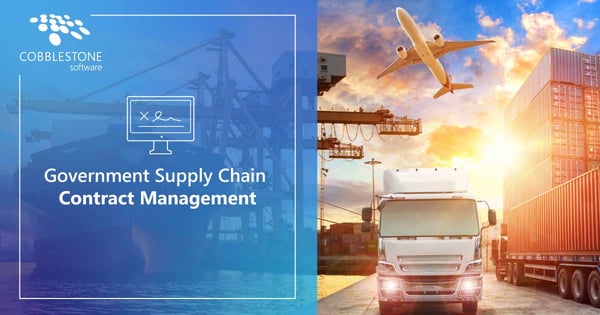 Insufficient, disorganized supply chain management makes it difficult for federal, state, and local government agencies to navigate the supply chain contract lifecycle smoothly. Without an adequate supply chain contract management process, organizations can face various challenges and risks. This article will discuss seven tools from Contract Insight® that can help.
Government supply chain contract management comes with many risks and challenges such as:
the lack of unified contract management, procurement, and sourcing processes.
a compromised reputation due to poor supplier selection.
poor visibility and the subsequent loss or misplacement of agreements, contracts, and purchase order documents.
inadequate tracking of deliverables and receivables, which results in duplicate orders, failure to place orders, and forgotten payments for services or goods.
missed key dates and milestones.
lack of collaboration.
compliance violations.
and much more.
In the interest of avoiding the issues mentioned above, government agencies need to enlist the help of a source-to-contract solution that provides them with an integrated contract management, procurement, and acquisition process.
Public organizations need to uphold their reputation, save time, and increase revenue with a solution that allows them to analyze their supplier selections, manage items and orders, and accurately track and manage financials. They must have full visibility over contracts and other documents in the interest of avoiding contract lifecycle bottlenecks and the loss of mislaid, crucial documents. They need a platform that helps them to author documents, write contracts, stay on top of key dates, collaborate, and remain compliant.
There is a solution that can help with all of the needs listed above. That solution is CobbleStone Software.
#1 - An Integrated Source-to-Contract Software Solution
Leading contract management software supports the integration of contract management, contract writing, procurement, and sourcing processes, offering a one-stop-shop for government organizations to fulfill their supply chain agreements and source-to-contract needs. Agencies can integrate supplier management and contract management, rules-based approvals, purchase requisitions, eSourcing, supplier tracking, automated bid advertising, item management, electronic signatures, inventory and fulfillment tracking, searching, reporting, and more for a centralized government supply chain contract management process.
#2 - Supplier Rating and Scorecards
Supplier response ratings and scorecards can help agencies to award the most appropriate suppliers for their needs. With bid rating weight control, organizations can configure the weight of specific response criteria to take precedence over other criteria when scoring supplier bids – promoting a process that ensures the selection of adequate suppliers, reduces compliance issues, and helps organizations leverage their budgets effectively.
Organizations can create and manage document templates and versions with pre-approved clause merging and request record data fields. As such, they can quickly generate request documents and conveniently export them into standard file formats. Once a request document is generated, organizations can quickly advertise bids publicly or by invite-only, streamlining the process of finding a supplier.
#3 - A Secure Contract Repository
Organizations need to promote awareness and collaboration across their organization so that various departments and employee groups or roles who need to be involved in the supply chain contract workflow are alerted, notified, and receive relevant contract management reports if authorized.
Easy-to-use contract management software with a secure contract repository allows teams to store, organize, and track supply chain documents and contracts, maintain document version control, expeditiously find important legacy contracts, keep track of approval statuses, collaborate internally and externally, and much more.
#4 - Key Dates & Milestones Tracking
Timing and punctuality regarding important dates are crucial when it comes to the sourcing, purchasing, and delivery of goods and services. For most public organizations, adherence to strict timelines is vital for the preservation of healthy supply chain management. Even minor delays and bottlenecks can have tremendous consequences, so staying aware of key dates and milestones while demanding timely government contractor performance is essential.
An easy way to manage supply chain key dates and milestones is with the help of automated alerts. Leading contract management software allows organizations to configure email reminders and control who receives those reminders so that relevant tasks are completed.
Additionally, task escalation makes it so that bottlenecks in workflow tasks are avoided even if an employee fails to perform their task on time, with multiple fail-safes in place to ensure that a task is completed. When organizations leverage a powerful contract lifecycle management software solution to promote a culture of key date awareness, timely task completion, and accountability, they shorten supply chain contract lifecycles and optimize supply chain contract management processes from requests to renewals.
#5 - Supplier Item Oversight
Reliable contract management software allows government contract management teams to select products from leading suppliers with the help of vendor web catalogs. Powerful source-to-contract solutions enable users to easily create purchase orders and requests based on items chosen from catalogs with a user-friendly interface. With simple item catalog creation, the seamless transfer of selected line items from contracts into catalogs reduces the need for tedious data entry. Some advanced solutions even allow users to peruse catalogs with visually engaging images of items as they browse!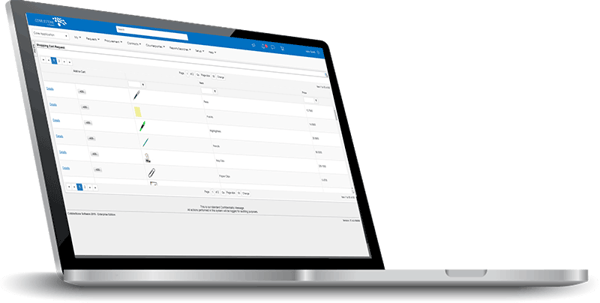 #6 - Supply Chain Contract Financials Tracking
Robust contract management software helps organizations to sync contract budget records with corresponding purchase order records. This integration unifies the supply chain purchasing process and promotes transparency of financial data for improved financial tracking and reporting. As software users add line items to purchase order records, total purchase order amounts will consequently change.
After that, scalable source-to-contract software provides organizations with the percentages of their total supplier contract budgets that a specific purchase order represents. With this useful tool, organizations can easily compare purchases performed to the terms defined in their contracts. As such, budget changes and user activity are tracked.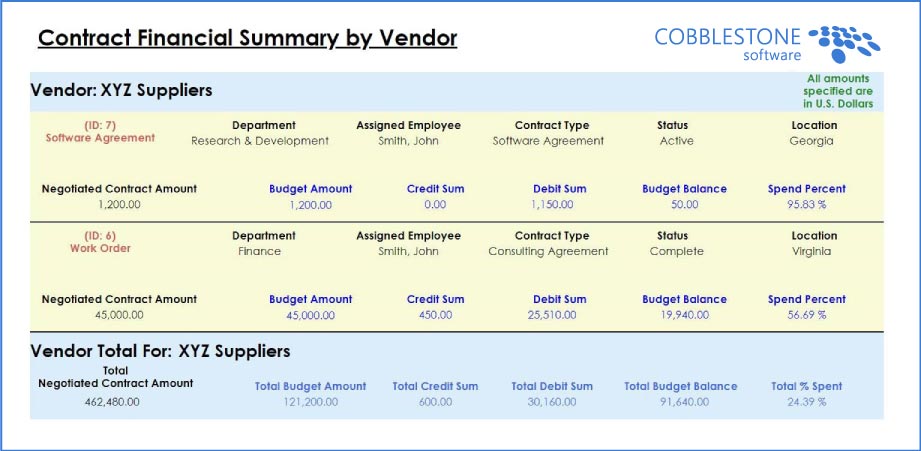 Contract management software system administrators can establish spending thresholds for requesters and approvers. With this helpful feature, administrators can easily determine what percentage of a contract's total budget their employees have used, as well as what they've spent the budget amount on. Administrators managing supply chain contract financials can have governance over the spending permissions of employees within their system. Once an employee user reaches their given budget limit, they become unable to add or approve purchase orders. Thus, organizations can decrease unnecessary supply chain spending.
#7 - Supply Chain Compliance with Comprehensive Reports
Maintaining compliance is paramount in upholding a positive reputation. Advanced contract management software provides organizations with a diverse array of tools for supply chain compliance. Transparent reporting gives government agencies visibility of contractual relationships with the help of full audit trails that detail all changes made to a contract.
Supply chain contract compliance standards such as regulatory, code of conduct, and anti-corruption compliance can be maintained with advanced reporting metrics and notifications of key date, milestone, and renewal requirements. An online report designer provided by contract management software helps users customize the way they take in important information.
Government agencies can sustain their reputations and feel confident that they are consistently adhering to laws and standards with the help of government supply chain contract management software.
Enhance Government Supply Chain Contract Management with CobbleStone Software
Now that you know how CobbleStone Software's Contract Insight can transform the way you manage supply chain contracts, it's time to employ the leading source-to-contract suite for your organization!
CobbleStone Software's Contract Insight is a secure, award-winning, cloud-based, source-to-contract software solution that transforms contract lifecycle management, supply chain contract management, procurement, purchase requisition, and eSourcing. Since 1995, CobbleStone Software has been trusted and acclaimed by public organizations as the leader in contract management solutions.
CobbleStone Software's acclaimed contract management platform, Contract Insight, is located in the
GSA schedule 70
, and has proven to be a winning solution for many government agencies. Learn more about Contract Insight's enterprise contract management, eProcurement, and eSourcing solution.
Book a free demo today!