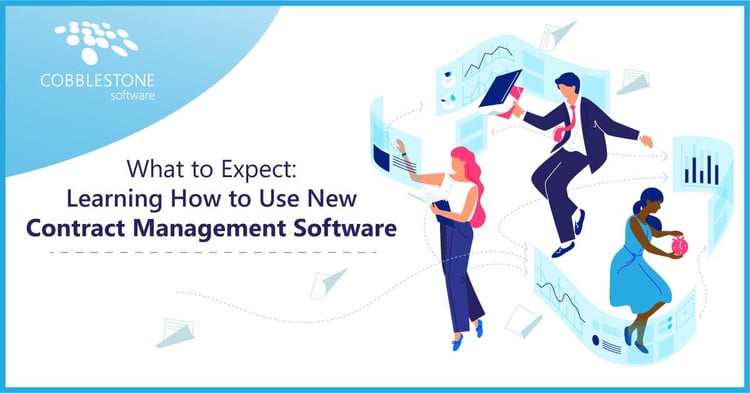 Congratulations! [Hypothetically] you've just enlisted the aid of a new contract management software solution to improve your processes! Now that you have a shiny new contract lifecycle management software system at your disposal, what's next? Learning how to use it, of course! We, at CobbleStone Software, recommend having a system administrator from your organization go through formal training - such as CobbleStone's FREE Contract Insight® online group training - administered by a training specialist from your new software provider's training department. How should your organization prepare? Which resources should you allocate? What might this training process entail? Read on to find out how to maximize contract management software training for seamless user adoption and increased ROI.
Who should you assign to be contract management software system admin(s)?
Your organization should always ensure that the right people are learning about your contract software platform. System administrators attending training should be anyone who will be configuring the software system according to your organization's unique needs. This person/these people should know your organization's CLM software process and be able to make informed, key business decisions for configuration.
What do you need to bring to contract management software training?
In addition to an understanding of your organization's contract lifecycle management processes, bring an open mind. Just because things have been done one way in the past does not mean they need to be done that way forever. Furthermore, as both contract management software technology and your organization's needs evolve, your team will need future-minded contract management tools that help you to seamlessly navigate whichever changes you might encounter.
Cherish the opportunity to learn how to fully reap the most value from your contract management software application. At the same time, though, try not to get pulled toward the tantalizing glow of new features if you don't need them. If a contract management software feature or functionality is not relevant to your organization's needs, don't decide to use it just because it is available. CobbleStone Software's source-to-contract management software suite - Contract Insight - for example, is highly configurable and may offer features you don't need (at least not yet). It's OK. They'll be there when you decide to use them later!
Additionally, come ready to learn about a system that may initially seem elaborate. Don't be scared though; it's actually built from the ground up for contract management professionals. The system may be different from what you are used to, but it is straightforward and user-friendly.
*We, at the CobbleStone Software training team, structure our training sessions from simple to more advanced in a manner that can help you adopt the application as your own.*
Finally, bring with you an eagerness to learn. While training specialists do offer an overview of key CLM features, they know that learning takes place best with a hands-on approach. With a trainer's guidance, you'll be working in your contract administration system starting with the first training session!
What does contract management software training entail?
As abovementioned, some of your contract management software training is lecture and overview. Once features have been discussed on a high-level, you'll go hands-on with the software under your trainer's guidance. Together, your organization and your contract management software training expert will take the theoretical and turn it into something more tangible. Think of the process like school. You start with the lesson and then move into classwork.
At CobbleStone Software, our training experts start with already relatable concepts and then move into areas more specific to CobbleStone's Contract Insight. Your trainer is there to help you learn and grasp key concepts and configuration processes. They are also there to answer your questions (regarding functionality) and to help you adopt the system as your own - readying you to move through work sessions and configuration.
You'll walk away with access to training materials as well as experiences in the contract lifecycle software application. Once you have made it through training, you'll be ready for homework and tests: configuring the application with your implementation specialist and doing some configuration on your own. When done with training, you'll be armed with the information you need to jump into configuration, the answers to some questions before they are asked, and some of the questions about possibilities for configuration as you take the exciting step into better contract management with an amazing CLM system.
Training takes time - but all good things do. It is worth your while to master contract management software functionality and apply this functionality to your own configuration process so you can ensure your CLM application is ready for what you and your team throw at it!
Experience Free CobbleStone Software Online Group Training!
CobbleStone Software clients can experience free online group training led by CobbleStone Software experts. Those in attendance can learn how to utilize Contract Insight new features and updates, learn contract management software best practices, improve efficiency and productivity, decrease the need for technical and administrative support, and discover new ways to get the most ROI out of their contract management system.
New and experienced Contract Insight users can benefit from free online courses, including:
Introduction to Employee & User Permissions
Counterparty Records Management
Contract Record Management
Bids & eSourcing Management
Ad Hoc Reporting & Dashboards
Workflow Configuration & Task Approvals
Purchase Order Record Management
Field Management
Risk Management Introduction
Introduction to Contract Artificial Intelligence
Document Authoring with Templates
Current CobbleStone Software client users are encouraged to register for free online group training and save their spot, as limited space is available!
*Online group training sessions are for authorized Contract Insight users and are subject to change or cancellation without notice.
**Please note that CobbleStone services are based on services purchased.
Not a CobbleStone Software User? Get Started Today!
Now that you know the refreshing and process-transforming value of contract management software training, it's time to get started with a contract management software solution that is at your disposal for state-of-the-art training, implementation, support, and advanced configuration. That solution is CobbleStone Software's Contract Insight.
CobbleStone's celebrated, award-winning, fully integrated contract management software solution streamlines the contract lifecycle with reduced friction, increased governance, and heighted flexibility from contract requests to contract renewals. CobbleStone has been a visionary leader in CLM software since the mid-1990s. CobbleStone's robust, user-friendly, and scalable solution seamlessly integrates with a number of mission-critical applications for centralized and seamless contract management.
Discover why thousands of contract managers trust CobbleStone Software with their contract management needs. To learn more about CobbleStone's unparalleled contract management software suite, book a free demo with a Contract Insight expert today!
To stay up to date on best practices, industry news, and CobbleStone Software updates, be sure to subscribe to our blog and YouTube Channel.
Are you interested in future-minded contract management software tools? In our blog - 6 Critical Contract Management Tools for 2021 – learn how to leverage industry-leading CLM software tools for streamlined, user-friendly, and low-friction contract lifecycle management success!