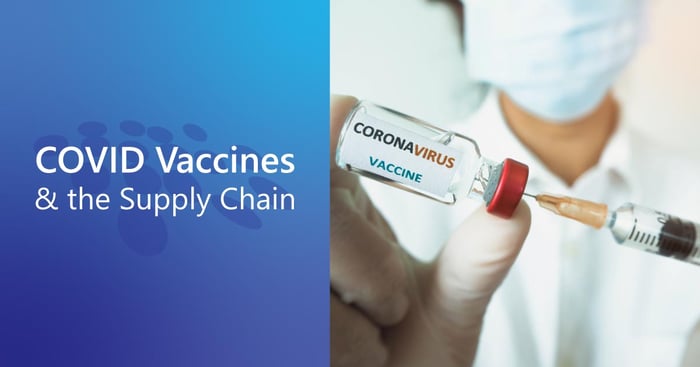 As the US begins to successfully mitigate the effects of the ongoing COVID 19 pandemic, it would be nearly impossible to overstate how vital it has been for manufacturers to consistently improve and optimize the COVID vaccine supply chain and for the US government to enlist the aid of the best possible suppliers. As the current rate of daily doses continues to grow - and we celebrate how successful supply chain management has begun to save the day - let's look at some tips to maintain future-minded supply chain management processes moving forward.
Under Pressure: Meeting the Demands of the Supply Chain
During vaccine distribution, drug manufacturers and US government have had to navigate many risks and challenges pertaining to supply chain management by embracing supply chain transformation and rejecting obsolete supply chain management practices.
Outdated methods can lead to:
the lack of integrated requisition, contract management, procurement, and sourcing processes.
limited visibility - resulting in lost or misplaced purchase orders, contracts, and agreements.
lackluster tracking of deliverables and receivables, which can lead to duplicate orders, lost or misplaced orders, and failure to process payments for goods and services.
insufficient collaboration.
overlooked key dates and milestones.
violation of compliance and regulations.
a compromised reputation stemming from improper supplier selection.
and, unfortunately, much more.
To avoid the damaging issues listed above and stay prepared for uncertain conditions, organizations should enlist the help of a trusted source-to-contract management solution that provides them with visionary technology that integrates supply chain management, contract management, procurement, and acquisition processes.
Organizations need to save time, uphold their reputations, and take control of costs with a one-stop platform that allows them to evaluate supplier selections, comprehensively track financials, and oversee items and orders. They need to be equipped with full visibility of contracts and other relevant documents to evade contract lifecycle bottlenecks and the misplacement of critical documents. They ought to have a solution that helps with contract writing, RFx management, contract collaboration, key date awareness, supplier award management, contract closeouts, and compliance management.
Thankfully, leading-edge supply chain contract management solutions can help with the abovementioned needs – assisting through various situations and global conditions.
Streamlining RFx Management & Bid Advertisement
Manual request document initiation and bid advertisement performed without the assistance of reliable supply chain management software may leave organizations with delayed bids. The US government did not have time for delayed bids - and neither do leading organizations managing the supply chain for important tasks.
With cutting-edge supply chain solutions, organizations can create and manage request templates and versions with the aid of a pre-approved organizational clause library that provides easy merging of request templates and request data fields. Teams can rapidly generate documents for requests and export them to file formats such as PDF and MS Word. After a request record is finished, organizations can decide to advertise bids publicly or advertise bids by invite-only, expediting the process of choosing a supplier. The simple steps mentioned above are executed electronically and, thus, are virtually pandemic-proof.
Choosing Criteria for Supplier Analysis
It can be difficult to award sufficient suppliers for an organization's supply chain needs. With an error-prone process for clarifying supplier criteria, assigning weight certain supplier criteria over others, and scoring and rating potential suppliers, organizations suffer from inadequate and disorganized supplier selection. These avoidable issues would be especially disastrous if they were faced by the US government when they need to be selecting the best suppliers quickly for COVID vaccine rollout.
Luckily, supplier scorecards and response ratings can assist organizations in awarding the best supplier - most aligned with their needs. Bid rating weight control lets organizations assign higher value to specific response criteria over others when rating and scoring supplier bids. As a result, organizations are equipped with a process that decreases regulation and compliance issues, helps organizations satisfactorily manage budgets, and virtually guarantees the selection a proper supplier in spite of world events.
Centralizing Supply Chain Contract Storage
Supply chain contract oversight, process awareness, and advanced collaboration are musts for proper supply chain contract lifecycle management. When contracts are stored within various scattered file paths, physical filing cabinets, and email servers, organizations can be left with increased risk of losing contracts and document versions and missing notifications, alerts, and more. Processes that rely upon the storage of key assets within local systems and physical locations can be extremely damaging in the face of global phenomena such as COVID-19 vaccine dissemination.
The remedy for these antiquated practices is a unified contract repository with scalable supply chain contract management software. Organizations can can store, keep track of, and organize supply chain contracts and other documents, swiftly find legacy contracts, uphold version control, track approvals, internally and externally collaborate, and more. Additionally, authorized users can receive supply chain contract management reports for even more robust contract analytics.
Written reminders of crucial dates and tasks can be left in the past, thanks to full supply chain CLM software. Workflow delays and bottlenecks can be avoided with the assistance of powerful task escalation. In situations where necessary parties do not perform tasks in a timely manner, multiple fail-safes can be configured to virtually ensure task completion in one way or another.
Optimizing Supply Chain Financials Tracking
User-friendly and highly visible tracking and analytics of financial data are vitally important for a stable budget, the evaluation of purchases completed according to contractual terms and conditions, and the elimination of needless surplus supply chain spending. A set of procedures for financials tracking that forces teams to set thresholds manually, rely on spreadsheets for tracking budget changes, and keep financial documents stored in various locations can cause:
critical data leakage.
a lack of financial centralization between contracts.
errors related to financial tracking.
needless spending.
and much more.
These issues would be disastrous and time-wasting for something as crucial as the US government's supply chain management - and leading organizations from a variety of industries should certainly want to avoid them.
Fortunately, visionary supply chain contract management software allows ranging organizations to synchronize contract budget records with corresponding purchase order records. This powerful integration amalgamates purchasing with supply chain, and promotes data visibility for better financials tracking and reporting.
As line items are gradually added to purchase order records, purchase order amounts will consequently increase. Low-friction supply chain transformation software provides percentages of total budgets that a specific purchase order represents. The helpful feature allows organizations to compare purchases to contract terms with ease. Thus, user activity and budget are comprehensively recorded.
Software admins can configure thresholds for spending performed by requestors and approvers. The feature allows admins to verify budget percentages leveraged by employees, as well as the usage situation. Administrators overseeing financials are given increased governance and oversight of employee spend permissions. Once an employee user reaches their established budget limit, they become unable to add or approve subsequent purchase orders. Thus, organizations can swiftly decrease unauthorized and superfluous supply chain spending at the employee user level.
Securing and Strengthening Compliance Management
Steadfast supply chain compliance management is gravely important. Overseeing a myriad of compliance and regulatory requirements without the assistance of reporting metrics, a sensible way to meet key dates, and insight into the relationships between stakeholders can needlessly increase reputational, legal, financial, and contractual risk.
The US government and the manufacturers they have worked with certainly have had to compressively and swiftly overcome compliance barriers, and other leading organizations from the public and private sectors need to do the same - especially given the existence of an adverse global pandemic.
Future-minded supply chain contract management software delivers a diverse array of tools for supply chain compliance management. Reporting transparency equips organizations with a vital understanding of contractual relationships with full audit trails that catalog edits made to contracts.
Sector-specific compliance and regulations - such as pharmaceutical controls, maintenance, testing, and equipment - can be overseen with key date alerts, milestone notifications, and renewal opportunity notices. Software users can establish the ways they imbibe crucial information with an easy-to-use online report designer.
Supply chain management software helps organizations to feel confident in the observance of laws and standards.
Embracing the Future With Visionary Supply Chain Management Software
Now that you know the vital importance of proper supply chain management processes that have you covered through stable and unstable ties, it's time to invest in an award-winning supply chain contract management software solution for your organization's needs! The trusted solution you and your teams need is CobbleStone Software's Contract Insight®!
Contract Insight is a secure, web-enabled, low-friction, user-friendly, and scalable contract management software solution that provides industry-leading supply chain contract management tools, full contract lifecycle management, optimized procurement management, better eSourcing, and maximized purchase requisition. Since the mid-1990s, CobbleStone Software has been widely acclaimed by public sector and private sector organizations as a leader in source-to-contract software solutions.
Discover why thousands of contract managers trust CobbleStone Software with their contract management needs. To learn more about CobbleStone's unparalleled supply chain management and contract management software suite, book a free demo with a Contract Insight expert today!
To stay up to date on best practices, industry news, and CobbleStone Software updates, be sure to subscribe to our blog and YouTube Channel.
Are you interested in future-minded contract management software tools? In our blog - 6 Critical Contract Management Tools for 2021 – learn how to leverage industry-leading CLM software tools for streamlined, user-friendly, and low-friction contract lifecycle management success!