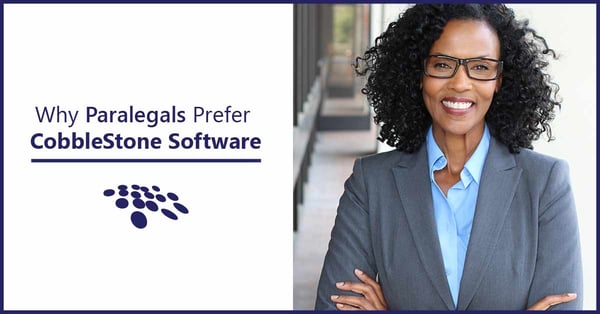 As a paralegal, working in a fast-paced environment with tight deadlines without the proper contract management software system can leave you stressed, disorganized, and overworked. Manually assisting lawyers with contracts – including tasks such as coordinating communications with stakeholders, gathering wet signatures, managing disparate compliance materials, and manually tracking key dates and milestones – can present time-consuming and error-prone challenges. Fortunately, CobbleStone Software can help unify people, process, and technology – streamlining contract lifecycle management. Read on to learn how CobbleStone's legal contract management software – Contract Insight® – can help paralegals achieve contract management success.
Executive Summary
While paralegals prefer CobbleStone Software for many reasons, learn how the following key CLM software areas of Contract Insight can maximize paralegal contract management success.
Centralized Contract Lifecycle Management

Automated Contract Management Workflow

Optimal Compliance & Timely Renewals
Centralized Contract Lifecycle Management
The contract lifecycle management process from contract requests to contract renewals can be challenging when relying on disparate and manual processes - such as shared drives, filing cabinets, wet-signatures, postal mail, and email. Without a centralized, electronic repository for your contracts with organized contract records, you can waste time and money scrambling for information across ranging locations.
Luckily, paralegals can leverage CobbleStone Software to centralize the entire contract lifecycle management process. By easily creating a new contract record and submitting a tailored request to all necessary stakeholders with the help of CobbleStone's automated request wizard, you can leverage process automation to track stakeholders' tasks from the get-go – without needing to keep track of various emails. After that, your software suite can continue to unify stakeholders for centralized contract authoring, negotiations, approvals, signatures, obligations, compliance, and renewals with the help of configurable user-permissions and rules-based approval routing – virtually eliminating miscommunication and unclear expectations.
Automated Contract Management Workflow
Coordinating ranging contracts – often handled by differing lawyers and legal team members – can be challenging without the right contract management software system. You can incidentally lose emails, bother lawyers with contracts outside of their specializations, and incur other contract mismanagement pitfalls that can create an unnecessarily tiresome and erroneous contract management workflow.
Fortunately, CobbleStone's automated contract lifecycle management workflow solution with leading-edge contract intelligence can help paralegals streamline the contract management process. No, contract automation does not replace paralegals. Rather, it redefines your role as a paralegal - from contract micro-manager to success-driving contract manager.
For instance - rather than waste time gathering wet signatures, you can leverage CobbleStone's IntelliSign® electronic signature platform to automate and hasten the signing process by gathering eSignatures from virtually anywhere at anytime from stakeholders with suitable WiFi.
To learn more about IntelliSign, watch the video below.
Moreover - while your responsibilities may remain the same, contract automation with CobbleStone's VISDOM® AI can take care of the heavy lifting by increasing stakeholder accountability, improving contract workflow visibility, monitoring contract tasks, automating data extraction for document generation, and more.
To learn more about how CobbleStone's contract automation can streamline your processes, read this blog.
Optimal Compliance & Timely Renewals
Ensuring contract compliance and anticipating contract renewals can be a mighty challenge, especially when scouring spreadsheets and manually calibrating calendar notifications. When relying on such disparate and manual post-award contract management processes, it can be difficult to ensure compliance and anticipate contract renewal opportunities.
Thankfully, CobbleStone's post-award contract lifecycle management tools – powered by VISDOM AI – allow you to track obligations, virtually ensure compliance, and anticipate timely renewals. Automated notifications, task escalation, approval routing, and intuitive notifications can help you anticipate key post-award contract management dates and alerts. You can access key contract metrics, create ad hoc reports with virtually any field, and export data into ranging file types.
With CobbleStone's OFAC search, you can test a contract's data against the national sanctions lists provided by OFAC (the US Treasury's Office of Foreign Assets Control) – aiding in risk mitigation and risk analysis. Additionally, CobbleStone Software's executive graphical dashboards can help you synthesize data more comprehensively to engage in more analytical conversations with your stakeholders. Your role as a paralegal can transform from legal assistant to contract administration consultant – empowering you with the right data to do your best work.
Paralegals Love Contract Insight
Now that you know why paralegals choose CobbleStone Software time and time again, it is time to streamline your contract management process with a leading-edge contract management platform. End-to-end legal contract lifecycle management begins with CobbleStone's Contract Insight.
CobbleStone's trusted, award-winning, fully integrated legal contract management software suite streamlines the contracting process with optimal governance, reduced friction, and high flexibility from contract requests to renewals. CobbleStone, as a software provider, holds SOC 1 and SOC 2 compliance attestations to virtually ensure utmost security.
CobbleStone Software has been a visionary in contract management software since the mid-1990s. CobbleStone's user-friendly, robust, and scalable solution seamlessly integrates with mission-critical applications for unified and seamless legal contract management.
Discover why thousands of contract managers trust CobbleStone Software with their contract management needs. To learn more about CobbleStone's unparalleled legal contract management software, book a free demo with a Contract Insight expert today!
To stay up to date on contract management best practices, industry news, and CobbleStone Software updates, be sure to subscribe to our blog and YouTube Channel.