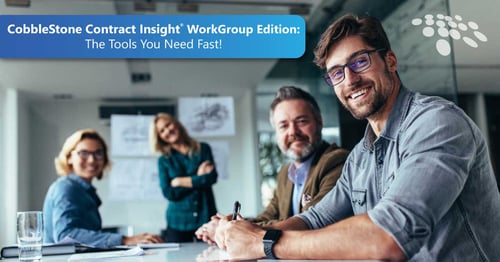 Are you looking to get started with a contract management software solution, but are not necessarily sure where to start? Maybe your organization has yet to come to a consensus on which full-bodied contract lifecycle management software features are needed for your unique process. Do you want a web-based contract software solution but prefer to host the data on your organization's server? Luckily, your team does not need to immerse itself in a full, enterprise contract lifecycle management software system right off the bat. Rather, you can start with basic contract management and contract tracking tools without being overwhelmed, and subsequently add the features and functionalities that your organization needs at the time that is best for your organization. To that end, your team can get started with CobbleStone Contract Insight® WorkGroup Edition to maximize the features you need today!
A Secure, Web-Enabled Contract Repository
CobbleStone Contract Insight WorkGroup Edition is an on-premise (deployed) solution with rapid implementation and various web-enabled contract lifecycle management tools to help your organization centralize and streamline contract management. One of those web-based contract management tools is a secure contract repository.
Your organization can leverage a centralized repository for all of your contracts and agreements. Gone are the days of searching for disparate contract documents in various locations - as your CobbleStone Contract Insight users can store an unlimited number of contracts on one platform! For enhanced contract oversight, your organization can seamlessly link related contracts, contract terms and renewals, sub-contracts, and more. Searching in CobbleStone Contract Insight is a breeze with the ability to easily search, sort, and filter throughout your contract repository. Your organization can also utilize permissions-based security access configuration to maximize user permissions oversight and promote accountability and the protection of key data. Users can be assigned access by a security group on a user-friendly configuration interface for system admins.
CobbleStone Contract Insight WorkGroup users can create custom contract data fields to virtually ensure that the information relevant to your contract management needs is gathered easily. Data fields can be configured uniquely for various contract types for streamlined data management of different contracts. Important data fields can easily be classified and tracked. Key dates, milestones, checklists, contract financials, contract tasks, deliverables, receivables, and more can be overseen on one user-friendly platform!
Better Contract Management
CobbleStone Contract Insight WorkGroup Edition can equip your organization with easy-to-use, swiftly adopted tools for enhancing contract lifecycle management.
Learn how to build your contract lifecycle management system in this video.
CobbleStone Contract Insight WorkGroup Edition can equip your organization with easy-to-use, swiftly adopted tools for enhancing contract lifecycle management.
Contract requests are expedited and simplified with the ability to create user-friendly yet comprehensive request intake forms. Your users can easily submit requests for contracts, and your system admins can assign users to groups to receive requests for contracts for enhanced employee permissions oversight. Members of your team's review groups can easily and quickly accept, reject, or cancel pending requests within the system. Furthermore, contract management bottlenecks can be avoided with the ability to create new contracts right from request records!
For enhanced contract authoring, CobbleStone offers a user-friendly interface for managing contract templates and versions. Users can create and manage contract documents using an easy-to-use editing tool. With MS Word and PDF export capabilities, your organization can experience document oversight like never before. Your team can merge templates and clauses with materials from your organization's pre-approved clause library - merging fields for MS Word or HTML documents based on your organization's needs.
Your organization can optimize contract negotiation and contract collaboration with CobbleStone Contract Insight WorkGroup Edition. Word-for-word (online red line) comparison of merged template versions can give your team the organization and oversight you have always sought for your contract negotiations processes. One-off task and email alerts can help ensure that everyone is on the same page with responsibilities and process flow. Your team can centralize the storage of approved legal language for myriad use cases and quickly copy language into templates and/or versions. Version tracking for changes made to a document - as well as the ability to configure secure and permissible access to document versions - can promote security and accountability across your organization.
Though contract approvals and electronic signatures are significantly enhanced and streamlined with the full CobbleStone Contract Insight Enterprise Edition, your WorkGroup Edition users still have a number of user-friendly tools to leverage. Scheduled email alerts for tasks and task escalation can promote process unity and organization-wide accountability. Task status can be specified in the system to prevent unnecessary and potentially confusing task emails for those which have already been performed. Virtually unlimited users can be assigned to tasks if needed. Task timeframes can be defined so that your team's process is timely and tidy, and visually engaging task alert icons can be configured for impending task due dates.
Task escalation tools and task escalation alert dates are available as well - ensuring that your team always has backup plans. Visual user calendars can display contracts and tasks on user's calendar due dates to keep things orderly, with quick in-system links to said tasks and contracts.
Your WorkGroup users can manage federal, state, and regulatory contracts and obligations with data flexibility and centralization provided by CobbleStone. Robust document searching tools can help your team to compare extracted clauses, text, field data, and more - and send compliance management alerts based on rules. Future-minded reporting metrics can help your organization to maintain compliance. Your organization can also rely on CobbleStone's full system audit trail for compliance with Sarbanes Oxley (SOX).
If applicable, your organization can simplify the contract renewal process with the ability to swiftly link contract terms and renewals.
Easy Contract Budgeting, Pricing, Financials, & Spend Management
For the important tasks associated with financials management, your team can rely on CobbleStone Contract insight, and you can get started today with useful tools offered by WorkGroup Edition.
Line item pricing and budgeting can help consolidate your process. Your team can seamlessly create quotes, orders and pricing documents, and keep track of financial transactions. Spend management and cost control functionality can help your organization to stay within budget and maintain your bottom line.
Enhanced Vendor Management Oversight
CobbleStone Vendor Management Software is the best choice for full vendor management and vendor oversight, but your CobbleStone Contract Insight WorkGroup Edition users can still maximize a number of helpful tools for improving vendor management.
Your WorkGroup users can identify all assigned vendors, customers, and other third parties with easy searching and reporting tools and a secure system repository. Vendor contract negotiation tools simplify multi-party collaboration. Vendor and customer data can be auto-extracted and seamlessly mapped to relevant data fields. Your team can track vendor and customer attachments so that mission-critical materials are accounted for and organized. Virtually unlimited contracts can be assigned to each of your vendors, customers, and counterparties. Your team can also review and monitor vendor alerts. You can report and search vendor data for increased data oversight.
Inclusive Contract Management Software Language Support
CobbleStone strives to support your users' needs. As such, CobbleStone Contract Insight WorkGroup Edition offers inclusive language support.
Your organization can enjoy pre-loaded language packs within your core system. Screen translations are included for English, Spanish, German, French, Arabic, and Chinese.
Additional languages are configurable within the application by authorized users.
Get Started With the Basics: Cobblestone Contract Insight Workgroup!
As you can see from the features listed above, CobbleStone Contract Insight WorkGroup Edition offers the out-of-the-box tools your organization needs fast, with rapid on-premise deployment! For even more robust features, CobbleStone offers a seamless migration path for obtaining expanded features and functionality at the time your organization determines is the best! To see what is available with the WorkGroup Edition - as well as the abovementioned seamless migration path when your organization is ready - you can compare CobbleStone Contract Insight editions here. When your organization is ready, you can seamlessly upgrade to CobbleStone Contract Insight Enterprise Edition to take advantage of the comprehensive spectrum of visionary contract management, vendor management, eProcurement, and eSourcing features on one integrated and user-friendly platform!
CobbleStone's long-trusted, award-winning, seamlessly integrated contract management software simplifies the contract lifecycle with increased governance, low friction, and heightened flexibility from contract requests to contract renewals. CobbleStone Software has been a visionary leader in CLM software for over twenty years - and continues to offer future-minded solutions for organizations large and small. CobbleStone's robust, user-friendly, and scalable CLM solution seamlessly integrates with a variety of mission-critical applications for unified and seamless contract lifecycle management.
Discover why thousands of contract managers trust CobbleStone Software with their contract management needs. To learn more about CobbleStone's WorkGroup Edition standard and optional features, book a free demo with a Contract Insight expert today!
To stay up to date on best practices, industry news, and CobbleStone Software updates, be sure to subscribe to our blog and YouTube Channel.
Are you interested in future-minded contract management software tools? In our blog - 6 Critical Contract Management Tools for 2021 - learn how to leverage industry-leading CLM software tools for streamlined, user-friendly, and low-friction contract lifecycle management success!