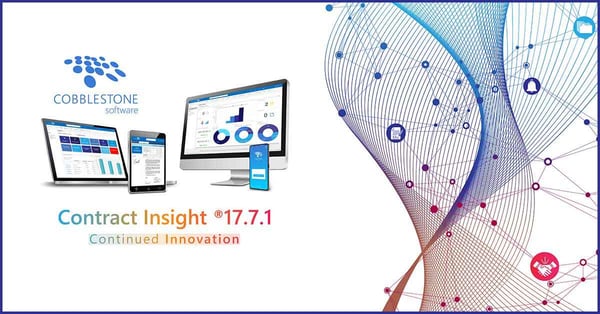 CobbleStone Software's newest release – Contract Insight® Enterprise Version 17.7.1 – has arrived, bringing forth new features and enhancements to improve your contract management software suite!
In the interest of helping your organization meet and exceed contract management, procurement, and vendor management goals, valuable features and enhancements have been added for an impressively scalable and low-friction software experience. Such assets include:
a user-friendly record creation wizard.
simplified file/attachment management.
increased oversight.
streamlined sub table entry.
various enrichments to the Vendor Gateway for improved accountability, contract analytics, request management, and contract management.
an even more unified and transparent electronic signature software
and more!
Get started today by leveraging powerful innovations to our celebrated contract lifecycle management software platform! Here's what you need to know about must-see features.
Intuitive Record Creation Wizard
Quickly generate records with a helpful, step-by-step record creation wizard!
With Contract Insight 17.7.1, users can create records for Contracts, Requests, Vendors, and Bids. A setting that can be easily configured by system administrators provides users with an intuitive, step-by-step, and wizard-based approach for adding records. This record creation wizard makes for a more straightforward, more engaging, more compartmentalized, and potentially more accurate process – guiding users through a smooth and seamless data entry session!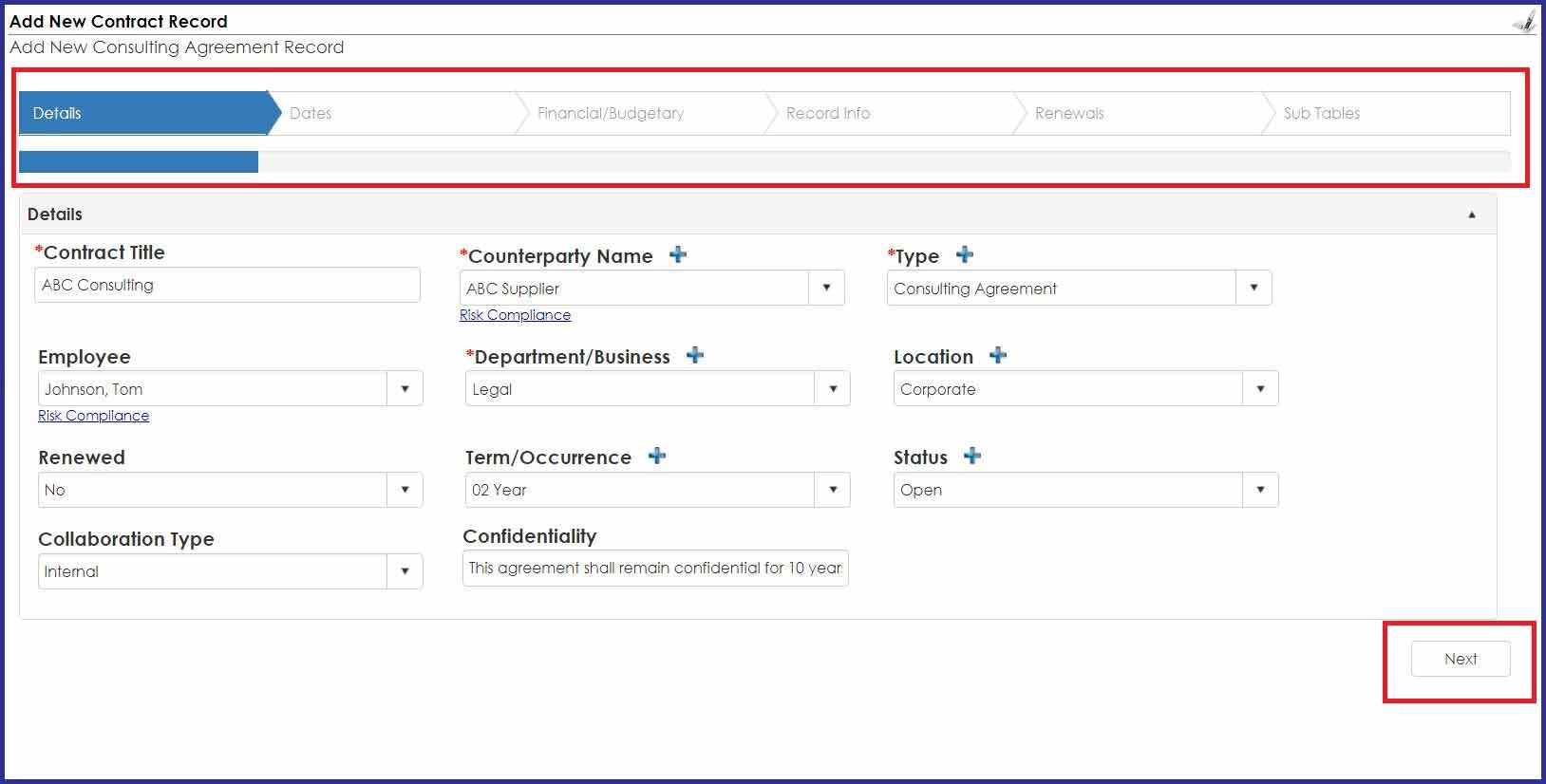 Easier File/Attachment Management
Contract Insight users need not worry about renaming files uploaded to their software systems. They can do this straight from their record details page!
Each file uploaded to Contract Insight is equipped with its very own document toolbox – complete with an assortment of helpful document utilities. The "Manage" utility provides users with various fields to manage their files' or attachments' information.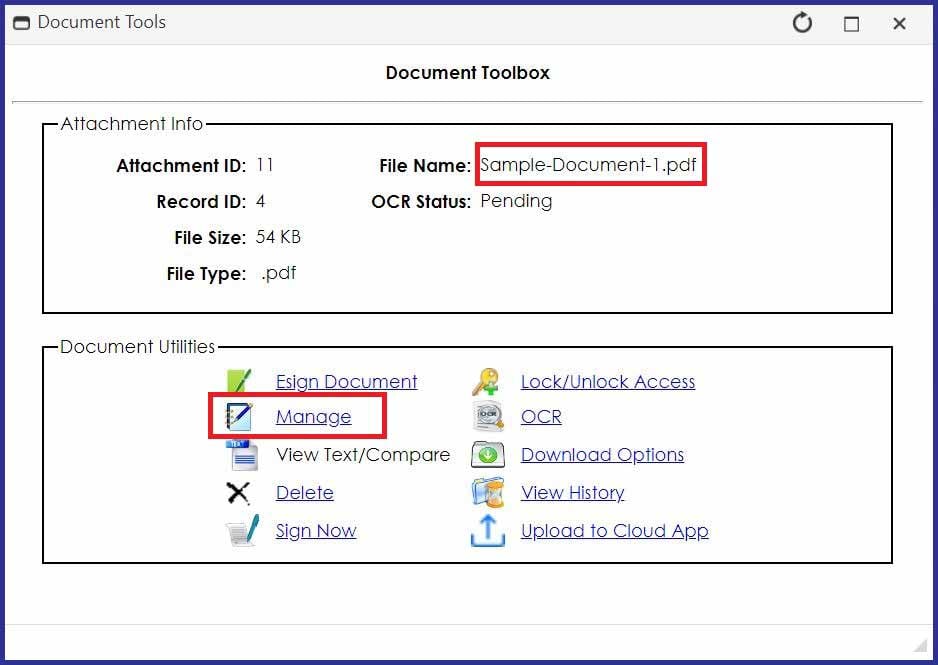 For demonstrational purposes, we will update the name of the file highlighted above to denote that it has been electronically signed. To do this, we will use the "Manage" document utility – also highlighted above.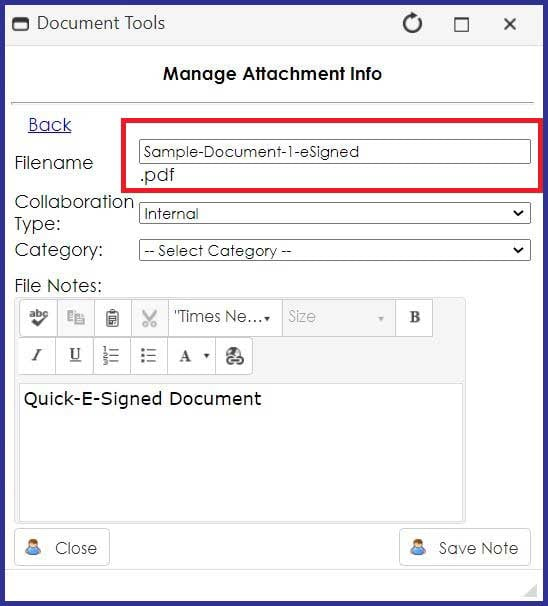 Once the edit is made and saved, the file's name will be officially changed – straight from the record page to which it is attached.
Better Contract Management Reporting Oversight
Increase governance over contract management software reports!
Contract Insight® users can enjoy heightened governance and oversight over the contract management software reports that they manage.
A comprehensive yet easy-to-understand reporting history page logs instances of a report being viewed, as well as when configuration updates have been made to that report. As such, report managers can stay abreast of interactions with and changes made to their reports. As seen below, the history is complete with names, locations, events, event dates, and employee ID.

Streamlined Contract Record Sub Table Entry
Leverage rapid sub table data entry for easy and automated catalog, item, and line-item management!
For the rapid and automated entry of items, item catalogs, and line items, CobbleStone equips users with the ability to easily select sub table items, quantities, types, varieties, and more from a pre-approved dropdown list. In one entry, users can enter the required details of an item or set of items!

A Robust, User-Friendly, & Integrated Vendor Gateway
In the wake of COVID-19 – and as the industry continues to embrace AI-based contract management – enjoy a myriad of integrations between the Contract Insight Core system and the CobbleStone Vendor Gateway for improved web-enabled communication, collaboration, contract management, request management, oversight, accountability, authentication, and contract analytics!
Leverage System Dashboards on the Vendor Gateway
The release of CobbleStone Software's Contract Insight® version 17.3.1 in 2019 marked the arrival of Dashboard Launchpads for an enhanced user experience on core CobbleStone systems. 17.7.1 expands this functionality to the Vendor Gateway to streamline and diversify various tasks for fully digital collaboration, communication, contract management, vendor management, procurement, and eSourcing. Visually engaging and easy-to-use dashboard launchpad buttons can be configured to take vendor/client users to crucial areas of their systems with the click of a button.

Streamline Record Creation on the Vendor Gateway
Vendors users can create request records from existing contracts and requests – straight from the Vendor Gateway. Once configured for each record type, this helpful feature makes for a more centralized and expedited contract creation process and request creation between the core system and the Vendor Gateway.
Expedite Sub Table Management on the Vendor Gateway
Vendor users utilizing the Contract Insight Vendor Gateway can bulk add sub table data for a streamlined process!
Once configured, users can easily add sub table data to record pages on the vendor gateway.

Advanced configuration options also allow CobbleStone Software administrators to determine whether or not to lock specific fields for editing – promoting secure and permissions-based sub table functionality for contract management, vendor management, procurement, sourcing, and more!
Diversified Authentication Methods on the Vendor Gateway
Single Sign-On (SSO) options are available on CobbleStone's Vendor Gateway.
For diversified internet SSO-based communication of identities between organizations, CobbleStone offers SAML 2.0 Authentication with support for multiple active IDP certificates on the Vendor Gateway.
Leverage a more secure and accessible authentication process, and protect your organization's login credentials and sensitive data on the CobbleStone Vendor Gateway!
Unified & Transparent Electronic Signatures
CobbleStone's celebrated electronic signature software - IntelliSign℠ - offers quick and easy access to valuable signature status information. All a user needs to do is view the status report attached to their electronic signature record.
In addition, electronic signature records feature convenient links to relevant contract records, request records, and sourcing records for unified and centralized contract management and electronic signature processes!
Get Started with Contract Insight 17.7.1!
Contract management, legal, sourcing, and procurement professionals need to be stocked with the tools to succeed. Get started with Contract Insight 17.7.1 to utilize exciting new features and enhancements that CobbleStone offers for source-to-contract management prosperity! Book a free demo today to see Contract Insight's 17.7.1 new functionality and to review licensing options. To stay up-to-date with valuable and visually engaging video content, subscribe to CobbleStone's blog and YouTube channel!