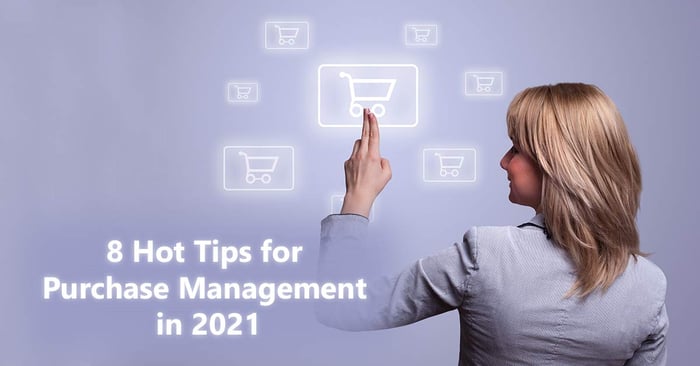 Robust purchase management software can decrease administrative costs, increase accountability, enhance communication and asset management, and assist your organization in operating efficiently and effectively. Trusted purchase order software can assist your organization in making better purchasing decisions with full asset lifecycle management. As you continue on through procurement month, read on to learn eight hot tips for expedited and unified purchase order management in 2021 and beyond.
Tip #1: Establish Your Purchase Workflow
Organizing a system for managing purchase orders is paramount in: functioning within your organization's budget, saving money, and expediting the purchase management process. Therefore, below is a standard purchase order workflow process with leading purchase order software.
Configure spending thresholds:

Your administrators of leading-edge purchase order management software can set spending thresholds for individual purchase managers and other users. They can also review reports that detail the spending habits of purchasing managers and other employees.
Generate a purchase order: Create a new purchase order record in your advanced purchase software system, and then enter relevant purchase order data into highly configurable data fields.
Enter relevant line items: Simply add items from your approved catalog or add one-off line items.
Intelligently author purchase order: Using an approved template and language within your system, easily merge your purchase order document and your organization's letterhead.
Send new PO document: Your newly authored purchase order document can be emailed straight to vendors or posted onto your organization's vendor gateway.
Reconcile purchase order amount: Compare the PO's amount against the budget for your purchase order contract record.
Track receivables: Verify that your purchase order matches the items that have been received.
Tip #2: Streamline Purchase Order Requests
Purchase order requests can be halted by long phone hold times, lengthy email response times, and many manual process bottlenecks and inefficiencies. You cannot afford to waste time, money, and resources with these types of delays - especially given the pressing need to replenish assets under strict deadlines.
Luckily, your purchasing team can utilize purchase order software to centralize and streamline purchase order generation and requests from pre-approved templates, leverage automated order amounts tracking against contract budgets amounts, decrease data entry time, and consolidate purchase orders. Purchasing software fosters interaction with third-party vendors through a user-friendly and configurable vendor collaboration portal that centralizes RFPs, RFIs, RFQs, bid advertisements, bid awards, highly configurable vendor response ratings and scorecards, vendor bid communications with the capability to attach virtually limitless documents, integrated email communications, and much more.
Tip #3: Increase Asset Transparency for Purchase Orders
Collecting asset data from a variety of platforms, including paper-based files and spreadsheet files, can significantly stall the purchase order process. Without amalgamating order details, you can overlook crucial asset information, and anticipated purchase orders can be significantly delayed.
Thankfully, with a centralized purchase order management dashboard, you can experience a holistic view of purchase orders and their locations. Furthermore, you can easily view request details including requestors, vendors, statuses, and line items. Purchase software can also provide you with better risk visualization by allowing you to rate vendors against compliance standards of the Office of Foreign Asset Control's (OFAC) national sanctions list. As a result, your organization can achieve greater risk transparency with initial and recurring (scheduled) OFAC checks.
Tip #4: Modernize Purchase Order Asset Tracking
Tracking purchase order asset levels can be difficult when relying on outdated processes that increase the risk of human error - such as those involving spreadsheet data entry and non-trackable communication methods. Your organization cannot afford to risk ordering surpluses (which consume valuable space) or forget to order assets in need of replenishment.
Fortunately, an electronic purchase order management software solution can help you track assets received, key dates, quantities, locations, and shrinkage. You purchasing team can more efficiently and effectively track assets within your organization and drastically decrease instances of purchase order miscommunication with unparalleled asset oversight to confidently manage inventory and significantly decrease unnecessary purchases.
Tip #5: Maximize Purchase Order Fulfillment Management
Fulfilling purchase orders can be challenging with less than robust visibility. If your organization is not careful, it can place surplus orders – resulting in surplus assets to fill otherwise valuable space. Your purchasing team holds an immense responsibility to fulfill purchase orders that are both sensible and cost-effective while successfully facilitating optimal fulfillment oversight to avoid purchase errors.
Thankfully, a centralized purchase order management software system with assigned user permissions configuration allows for optimal visibility for necessary fulfillment personnel. Your team can receive complete and partial orders. Furthermore, a centralized purchase software platform can permit your users to view assets on purchase orders, last purchase order creation dates, and PO quantities received - markedly streamlining processes. Your purchasing team can rapidly receive POs with tracked names and times.
Tip #6: Embrace Streamlined Purchase Order Approval Routing
With the need to manage purchase order approvals both within and outside of a purchasing team, emails, spreadsheets, and other manual methods can breed confusion and miscommunication. Moreover, your purchase team members can be flustered by being tediously involved in approval processes outside of their permissions levels.
Thankfully, advanced purchasing software can help your organization segment purchase order approvers based on preconfigured, rules-based permissions. For example, if a purchase order amount is greater than $30,000, final approval can be set to be routed to your vice president, and if a purchase order amount is less than $30,000, final approval can be set to be routed to a department director.
Furthermore, top-of-the-line purchase software allows for simpler purchasing and fulfillment by integrating frequented third-party websites through robust vendor punchout software functionality. For example, if an office manager regularly purchases certain office supplies from a third-party website, they can be granted permissions to swiftly order assets, and these purchases can be recorded within a secure purchase order software database. In these instances, the receipt of a purchase order can be easily attached to that purchase order's record, and items can be cataloged with details for future order consistency.
Tip #7: Seamlessly Integrate Purchasing & Contract Management
When contracts from purchase orders are managed separately from the initial purchase order request - with manual methods such as scanned documents via email and mailing paper-based documents with the need for wet signatures - your organization can be bombarded by order delays and harmful vendor miscommunication.
Luckily, purchase software can help eliminate these issues by allowing for contract generation directly from a purchase order request, which can streamlined and centralize the contract management software process. Unified purchase order software can expedite the contract management processes by allowing the submission of a contract request, review of approvals, collaboration, contract negotiations, rapid signing with eSignatures, and maintenance of compliance until a contract is ready for renewal – all in one centralized dashboard.
With integrated contract management and purchase order management, your team can virtually ensure that vendors and assets comply with your budget and pre-approved expectations until a purchase order contract is up for renewal - in which case the purchase software can notify your team and advanced reporting can be leveraged to identify areas of contract performance against contract management KPIs to maximize ROI.

Tip #8: Experience World-Class Purchasing with Contract Insight®
Now that you know how to streamline, centralize, and automate the purchasing process with a leading end-to-end purchase order management software platform, it's time to choose the best solution for your purchasing needs. Powerful purchasing with comprehensive, integrated purchasing and contract lifecycle management oversight begins with CobbleStone Software's Contract Insight. View the video below to learn more about Contract Insight.
CobbleStone's visionary, award-winning, fully integrated purchase order management software solution revolutionizes the purchasing process with advanced governance, reduced friction, high scalability, and high flexibility from purchase requisition to post-award contract management - and everything in-between. CobbleStone Software has been a pioneer and innovator in purchase order and contract management software since the mid-1990s.
Discover why thousands of purchase order managers and contract managers trust CobbleStone Software with their purchasing needs. To learn more about CobbleStone's unparalleled purchase order management software, book a free demo with a Contract Insight expert today!
To stay up to date on best practices, industry news, and CobbleStone Software updates, be sure to subscribe to our blog and YouTube Channel.
Are you interested in future-minded contract management software tools? In our blog - 6 Critical Contract Management Tools for 2021 – learn how to leverage industry-leading CLM software tools for streamlined, user-friendly, and low-friction contract lifecycle management success!