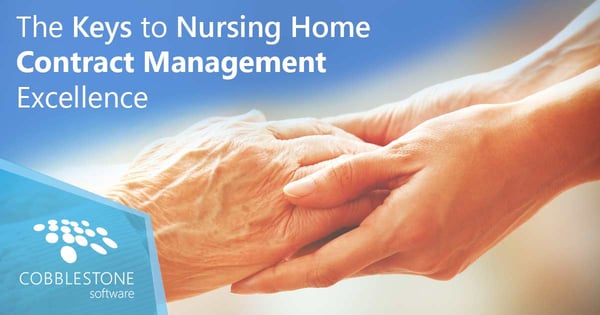 Nursing home networks face a unique set of challenges around healthcare contract management. Since they are subject to strict laws and regulations, nursing homes need to be vigilant when establishing and maintaining contracts - as to avoid litigation costs, witness depositions, and the frantic retrieval of mismanaged contracts. With disorganized or manual processes, nursing homes increase the risk of lawsuits, misplaced documents, data entry errors, contract lifecycle bottlenecks, damaged reputation, wasted time, and revenue loss. Luckily, contract management software can help nursing home networks establish a seamless contract lifecycle, remain compliant, reduce wasted time, unify and secure documents, efficiently and accurately enter data, and manage contracts with varying complexity and volume. Here's how.
Establish a Secure Contract Repository
Nursing homes handle many different types of documents for contracts, vendors, employees, and more. As such, they need a unified contract storage system.
Luckily, contract management software for nursing homes offers a cloud-based repository. This secure repository can help nursing home networks store and organize contracts safely, maintain document version control, easily find contracts, collaborate, track approval statuses, and more.
The storage of contracts isn't just defined by the location in which a nursing home stores its contracts and documents. Contract storage is about an organization's opportunity to make contracts work on their behalf. When organizations take advantage of a secure, consolidated contract repository offered by leading nursing home contract management software solutions, they equip themselves with a tool that can reinvigorate their contract management processes.
Track, Search, and Report
Advanced nursing home contract management software can offer a variety of contract tracking tools for enhanced contract analytics, reporting, and comprehensive financials tracking.
Complete audit trails can help nursing home networks track software login attempts, healthcare contracts viewing history, and contract data changes. These logs include time and date stamps as well as information regarding users who have performed such tasks. These audit trails give healthcare contract managers control and oversight over the contract lifecycle, including employee task performance. Watch the video below for a quick overview of the functionality of cutting-edge contract management software.
Manage Contract Financials
For comprehensive spend management, contract management software users can take advantage of contract pricing and budget tracking tools. Nursing homes and networks can track and monitor vendor-related costs and line items (such as food, medical equipment, therapy services, medications, laboratory items, and more) and quickly run comprehensive financial reports. Organizations can receive advanced budget alerts to stay on top of key dates using vendor management tools.
Contract Management Reports
Ad hoc reports provide organizations with user-defined status reports, reports on upcoming tasks, reports on financial commitments, and more. These reports can be easily exported as MS Word documents, PDFs, or spreadsheets.
An online report designer allows nursing homes using contract management software to configure report layouts to display critical information. Online report designers can include many exportation options, including MS Word, PDF, spreadsheet, CSV, rich text, various image formats, and more!
Executive graphical dashboards can provide a detailed overview of activities, key dates, and contract performance.
With advanced tracking of financials and searching and reporting tools, nursing home networks can keep track of spending, payments, and contract data changes.
Improve Compliance Management
Advanced compliance auditing and reporting tools give nursing home networks visibility into contractual relationships across businesses and entities. Legal, regulatory, HIPPA, and other compliance standards related to nursing homes can be easily maintained with robust, user-friendly reporting metrics, key dates, and renewal requirements.
Leading-edge nursing home contract management software also offers integration with OFAC search data. This compliance tool checks vendor, employee, and company data against search entries found in OFAC's (The Office of Foreign Assets Control) national sanctions lists – providing critical risk analysis snapshots at a glance for vendors, companies, and employees.
Integrate Workflow Automation
Nursing homes should replace manual, error-prone, and time-consuming contract management methods with intelligent workflow automation.
With nearly unlimited contract notifications, automated alerts, and task reminders, workflow automation can decrease contract lifecycle bottlenecks by keeping the right people alerted at the right time. Intelligent workflow can transform nursing home contract management processes in the office or on the go with robust features such as contract process management, the aforementioned full audit trails, user-defined fields, reporting and contract analytics tools, and much more.
Automated workflow that helps nursing homes track every stage of the contract lifecycle can improve negotiations and approval oversight. Meet key dates and milestones - through and including contract renewals – with the help of automated alerts.
With a workflow-backed nursing home contract management software solution designed to be supportive and intuitive, organizations can quickly transition to an organized process that improves vendor management, employee accountability, and drives more value from contracts.
Manage the Entire Contract Lifecycle
Comprehensive healthcare contract lifecycle management software can automate and centralize the management of nursing home networks' contracts, agreements, committals, obligations, and vendors from requests up to and including renewals. Contract data field tracking, key date alerts and notifications, risk management tools, intelligent contract writing, contract review, and contract tracking are all part of a contract lifecycle process that provides nursing homes with a holistic view of contracts so that essential facets are not overlooked. A user-friendly user interface and seamless integration with mission-critical applications result in high user adoption rates and rapid time-to-value.
Leading contract lifecycle management software allows nursing homes to leverage an AI-based process for full contract and vendor management for lifecycles, including tools such as:
intelligent contract writing with pre-approved templates and an organization's pre-approved, dynamic clause library.
an online portal for contract negotiations.
streamlined approvals with online approval collaboration.
a user-friendly electronic signature process for simple document collaboration and shorter send-to-sign times.
comprehensive post-execution contract management for obligations, compliance, and renewals.
Nursing home networks should enlist the help of a comprehensive source-to-contract management software solution that reduces delays, saves time, and saves money.
Transform Nursing Home Contract Management
It's time to let go of a contract management process that increases risk, decreases revenue, wastes time, suffers delays, and fails to keep teams organized. It's time to leverage a new approach for nursing homes and nursing home networks. That approach should be the implementation of CobbleStone Software's source-to-contract management suite – Contract Insight®.
Since 1995, CobbleStone has provided industry-leading contract management software for a variety of industries – including healthcare. Contract Insight is a web-based, flexible solution that helps thousands of users in small and large organizations throughout the public and private sectors. Request a free demo to learn more!