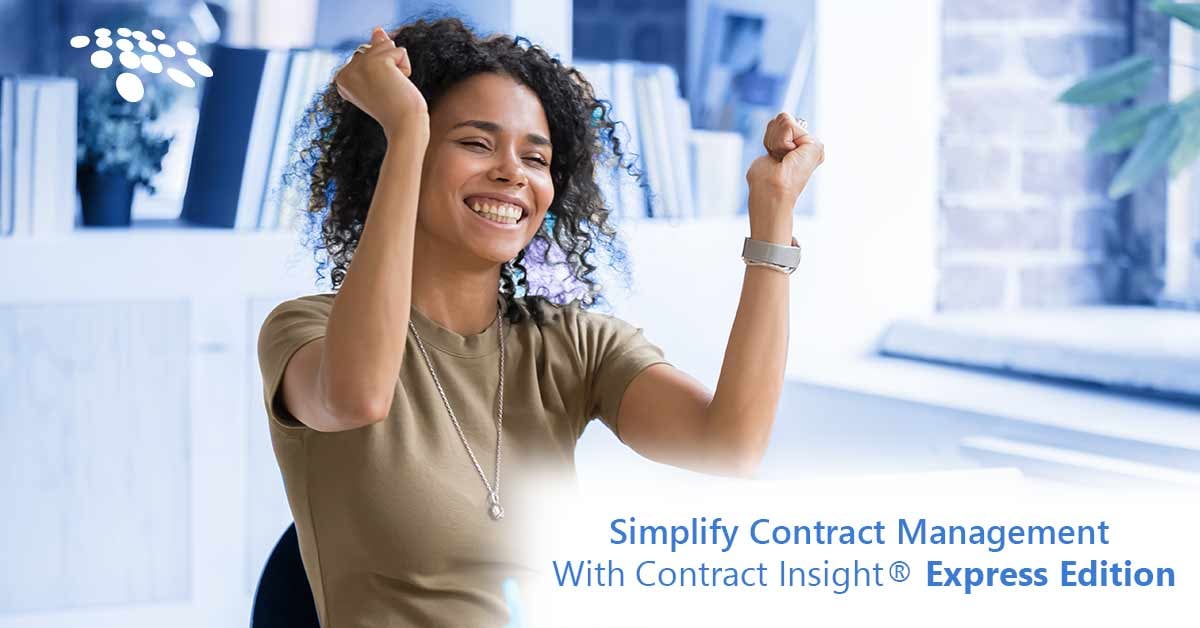 Do you manage contracts in a small to mid-size organization? Or, do you manage a large amount of contracts and need a basic yet streamlined contract management solution for optimal control and oversight? Regardless of the position or size of the organization you are a part of, contracts are integral to your organizational processes. From client contracts to employee contracts - among many others - your organization's contract management KPIs can be hindered by contract non-compliance, disorganized pre-award contract processes, missed contract renewal opportunities, and more without the proper contract management system in place. Read on to to learn how CobbleStone's Contract Insight Express Edition can streamline your contract administration processes with a user-friendly and highly-configurable interface.
The Problem with Manual Contract Management
Say - for instance - you need to keep track of multiple contracts within your department without the help of a dedicated resource. How do you manage your contracts when dealing with competing responsibilities? How do you remain abreast of varying milestones without checking your contracts daily or manually setting reminders? If you are a self-employed consultant, how do you keep track of your myriad consulting agreements and their ranging time-sensitive obligations? If you manage a newer law firm, how can you manage your contracts - especially in the post-award lifecycle - when simultaneously dealing with your clients' demands?
To streamline your contract management process, you need a cost-effective and easy-to-use contract software system that can offer complete control and oversight over your pre-award and post-award contract management needs.
Seamless Pre-Award Contract Management
The pre-award contract process from contract requests to signatures can be slowed by methods relying upon email, postal mail, paper-based drafts, manual redlining, wet signatures, and more. You can be consumed by more pertinent tasks within your organization and find it difficult to allot time for such manual, pre-award contract processes.
Rather than waste time and resources going back and forth with stakeholders manually, you should leverage a web-enabled (SaaS / cloud) contract management software solution with robust contract artificial intelligence that can electronically centralize the pre-award contract management process - enabling you to:
Digitally submit contract requests.

Author new contracts

with pre-approved templates and clauses.

Store supporting contract documents within contract records.

Implement full text searching and indexing.

Create a virtually unlimited number of user-defined fields.

Configure flexible user permissions.

And more!
Value-Driven Post-Award Contract Management
You also need to store your contracts securely, ensure compliance, track obligations, and anticipate contract renewals. Utilizing paper-based contracts stored in filing cabinets, manually calibrating reminders in spreadsheets or computer calendars, subjectively assessing areas of improvement for contract renewals with limited information, and other antiquated processes can waste precious time and resources that could be redirected to equally or more important responsibilities.
Fortunately, you can leverage CobbleStone's Contract Insight Express Edition to virtually ensure follow-through of contract obligations with the help of:
Email alerts.

Calendar reminders.

Task notifications.

And more!
Furthermore, you can maintain compliance with advanced audit trails and metrics reporting - increasing financial and cost control. You can maximize renewal opportunities with the help of timely notifications and opportunity assessments backed by proprietary contract intelligence and machine learning. You can learn more about VISDOM® artificial intelligence in the video below:
A Centralized SaaS Contract Management Software System
Disparate contract management processes can make it challenging to organize and track your contracts. These processes can also increase the risk of security breaches, especially with non-secure email servers and unlocked filing cabinets.
Luckily - you can leverage a web-enabled, SaaS contract management suite to digitally manage contracts from virtually anywhere with suitable WiFi. As a contract manager, you can be confident that your contracts are secure when working with a CLM software provider that is trusted by thousands of industry-leading contract managers. A centralized contract management solution with location-based flexibility and paramount security can make managing contracts a breeze – allowing you more time to focus on your organization's growth and success.
Easy Contract Management Begins & Ends With Contract Insight® Express
Now that you know the ins and outs of leveraging a winning solution for better contract management, it is time to enlist the valuable aid of CobbleStone Software's Contract Insight Express Edition.
CobbleStone's Contract Insight Express Edition offers contract managers a centralized and user-friendly contract management software solution that can evolve your organization's needs. Rather than purchase a deployed software, traditionally only available to large organizations, CobbleStone's web-enabled software solution can be configured to your current organization's needs and seamlessly evolve by including add-on features – including
Contract Insight Express Edition, offered exclusively as a web-enabled solution, can be implemented quickly and efficiently – increasing cost-effectiveness and ROI. You can compare Contract Insight editions here. When you're ready, you can seamlessly upgrade to Contract Insight Enterprise Edition to take advantage of the full spectrum of visionary contract lifecycle management features.
CobbleStone's trusted, award-winning, and highly configurable source-to-contract management software solutions streamline the contract lifecycle management (CLM) process with optimal governance, reduced friction, and high flexibility from contract requests to contract renewals. CobbleStone Software has been a visionary in contract management software since the mid-1990s. CobbleStone's user-friendly, robust, and scalable solution seamlessly integrates with mission-critical applications for unified and seamless contract management. It's no wonder why Forrester names CobbleStone a Leader in CLM software!
Discover why thousands of contract managers trust CobbleStone Software with their contract management needs. To learn more about CobbleStone's unparalleled contract management software, book a free demo with a Contract Insight expert today!
To stay up to date on best practices, industry news, and CobbleStone Software updates, be sure to subscribe to our Contract Insights blog and YouTube Channel.
Are you interested in future-minded contract management software tools? In our blog - 6 Critical Contract Management Tools for 2021 – learn how to leverage industry-leading CLM software tools for streamlined, user-friendly, and low-friction contract lifecycle management success!