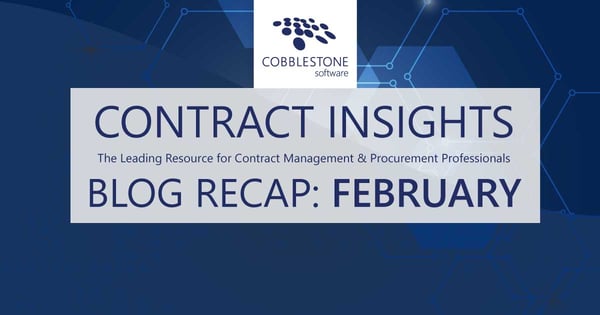 Did you miss any of our blog posts from February? Don't worry; we have outlined each of them for you. Stay up-to-date with industry topics, real-world case studies, and contract management and procurement best practices by reading CobbleStone's latest content.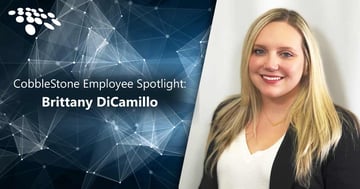 Brittany DiCamillo - a Senior Account Manager at CobbleStone Software - has recently won the award of "2020 Account Manager of the Year" – and she doesn't plan on pumping the brakes in 2021. Brittany has been a member of the CobbleStone Software team since 2010, and has been instrumental in the company's evolution into the global contract management software key player that it is today. We caught up with Brittany on the heels of her win to talk about her experience at CobbleStone Software, as well as how she has become a Contract Insight® expert over the past 10+ years.

Procurement managers and procurement teams may have their work cut out for them without the right procurement tools. Ineffectual procurement and acquisition strategies can lead to unnecessary risk, dark purchasing, harmful data inaccuracies, detrimental supplier issues, and an overall longer purchasing cycle. Procurement teams need to avoid wasted time, squandered opportunities, and wasted resources that stem from ununified and inefficient procurement. Instead, they should embrace a future-minded process with six tips for improved eProcurement and acquisition.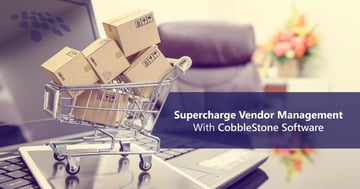 Managing vendors with manual and disparate processes such as spreadsheets, phone calls, emails, and paper-based filing systems can prove challenging. Without a centralized electronic process, vendor management workflow bottlenecks can significantly undermine productivity. Fortunately, leading-edge vendor management software can enhance your processes by expediting end-to-end vendor management workflow with optimal oversight. Read on to learn how to supercharge your vendor management processes with CobbleStone Vendor Management Software.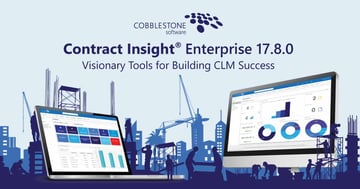 CobbleStone Software's latest release – Contract Insight® Enterprise Version 17.8.0 – has arrived, delivering visionary features and enhancements to supercharge your contract management software suite! In order to help your organization successfully meet and exceed contract management, vendor management, eProcurement, and eSourcing goals, future-minded features and enhancements have been added to Contract Insight for an impressively low-friction, scalable, and user-friendly software experience.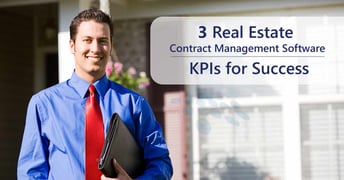 Managing various real estate contracts can be challenging, especially when relying on disparate methods such as wet-signatures, paper contracts, shared drives, filing cabinets, and paper-based negotiations. Whether you're a real estate broker, real estate agent, property manager, or other real estate contract management professional, a centralized contract management software platform with specific, value-driven KPIs can significantly streamline your contract lifecycle management processes – reducing contract mismanagement and saving you valuable time. Read on to learn about three real estate contract management software KPIs for success.

Contract managers are under increased pressure to deliver value with reduced contract risks, reduced costs, and improved performance. Contract managers who regularly measure the success of their contracts against contract management KPIs can proactively readjust their contract strategy to ensure goal alignment drives critical and positive organizational impact.
Manual and disparate vendor management methods - such as those involving phone calls, emails, paper-based filing systems, and spreadsheets can prove challenging and error-prone. Without the aid of a centralized, web-enabled process, vendor management workflow delays can stall productivity. Thankfully, future-minded vendor management software can positively transform your process with end-to-end vendor oversight. Read on to discover user-friendly, comprehensive, and unified vendor oversight from start to finish with CobbleStone Vendor Management Software.
Robust contract data management, contract analytics, and contract data security provide the necessary insights and protection for organizations to cut contract lifecycle times with enhanced control, governance, security, and visibility. Organizations can transform contracts into powerful, data-driven sources of business intelligence that support contract strategy, contract management KPIs, and goals with the help of leading contract management software.
Now that you are caught up with our February articles, be sure to keep an eye out for our March content. Never miss a blog post again, and let us notify you when new articles are published, by subscribing to our blog! No time to read? Then check out CobbleStone's YouTube channel for exciting video content. Be sure to like and subscribe!
Are you looking to evaluate leading contract management software solutions for the future of contract management? Read our blog – 6 Critical Contract Management Tools for 2021 – to discover the best contemporary tools for future-minded, automated, low-friction, and user-friendly contract management.
Discover why thousands of contract management professionals trust CobbleStone Software with their contract management, sourcing, and procurement needs. Book a free demo with a Contract Insight expert to learn more about CobbleStone's acclaimed contract management, eProcurement, and eSourcing software!