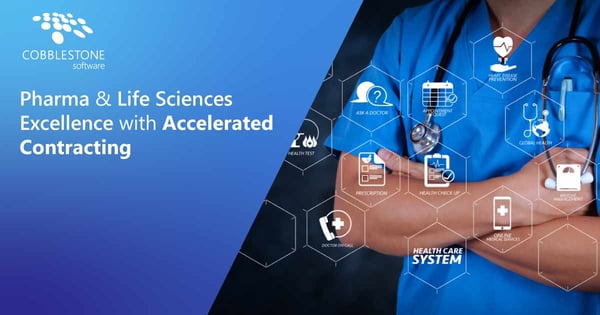 This blog post was updated on March 3, 2021.
Pharmaceutical and life sciences organizations have a lot on their plate. Unfortunately, many organizations lack an efficient process to handle a myriad of contracts, clinical trials, promotions, supplies/goods, regulations, and compliance standards. Consequently, these organizations may leave themselves unprotected from potential increased risk, delays, compliance violations, wasted time, and squandered revenue. Here's how to improve life sciences and pharmaceutical contract management with accelerated contracting and compliance management.
Accelerate Contracting & Cut Cycle Times
Advanced pharma and life sciences contract management software can empower organizations with improved management of a high volume of contracts, greater control over contract lifecycle management, and reduced cycle times with a more efficient process.
With a one-stop solution, organizations can manage increased contract volume and contract complexity for many different contract types, including legal agreements, confidentiality agreements, MSA, SOW, research collaboration contracts, clinical trial contracts, consulting agreements, real estate contract management transactions, IT agreements, and more. This way, contracts pertaining to many different facets of the industry are managed in one secure contract repository.
The pharma and life sciences contract lifecycle can be streamlined with contract management automation for intelligent workflow. Automation helps reduce contract lifecycle bottlenecks by engaging the right people at the right time with nearly unlimited automated alerts, notifications, and task reminders. Organizations can establish a process for data extraction and data mapping, user-defined fields, audit trails, contract process management, advanced reporting, contract analytics, and more.
Pharmaceutical and life sciences teams can manage contract writing, negotiation, collaboration, and electronic approvals with an intelligent workflow process that aids in tracking all stages of the lifecycle. Automated alerts and notifications help teams keep up with key dates and milestones – up to and including contract renewal opportunities. Audit trail history offers an easy-to-access, up-to-date record of contract changes. Reports provide relevant stakeholders and parties with transparency and visibility into essential contract data and performance metrics at a glance.
Cut contract lifecycle times and overcome bottlenecks with intelligent, accelerated contract lifecycle management.
Effectively Manage Programs, Supply Chains, & Trials
Pharma and life sciences organizations can utilize a comprehensive source-to-contract management solution for essential opportunities in their industry.
Drug trial processes, for example, are made up of a lot of moving parts. Leading contract management software can help pharma organizations manage highly-regulated pharmaceutical programs with a time-efficient, accurate, and revenue-saving process from the discovery/pre-clinical phase through FDA approval. Organizations can manage marketing budget and spend, key dates, and subsequent resulting contracts.
With an integrated contract management software and eSourcing software suite, organizations can effectively handle complex global supply chains. A full solicitation management process allows for the creation, management, tracking, and monitoring of supply chain bids. Intelligent workflow automation can be established for the control and management of supply chain lifecycles. Stakeholders can attach virtually unlimited documents, files, and images that are relevant to a bid in one centralized location.
Once easy bid advertising is underwent, pharma and life sciences organizations can quickly analyze vendors. With supplier response ratings and scorecards, organizations can work towards finding suppliers to meet their needs.
Once a supplier is selected, organizations can easily award that supplier, inform participants of the award, and commence a standard contract lifecycle process.
With the tools to effectually manage trials, promotions, and supply chain, pharma and life sciences organizations can capitalize on various beneficial opportunities for growth and revenue gains.
Easily Track & Report for the Sunshine Act
The Physician Payments Sunshine Act of 2010 requires life sciences and pharmaceutical organizations to track and report payments and transfers of value to U.S.-based physicians, healthcare providers (HCP), and instructional hospitals. Under the Sunshine Act, the Federal Government monitors financial relationships, identifies and questions outlying data, reviews industry complaints, and imposes penalties for reporting inaccuracies.
The Act applies to all organizations whose products are reimbursable by Medicare or Medicaid.
To remain compliant under the Sunshine Act, organizations should leverage comprehensive spend management afforded by contract management software.

Contract pricing and budget tools allow organizations to track and monitor physician-related, HCP, and instructional costs as well as line items (such as research funding, travel, lodging, meals, and medical devices/products). From there, they can quickly run detailed reports, track commitments, and receive advanced budget alerts to stay on top of key dates relating to payment. Executive graphical dashboards provide a visually engaging overview of financial data changes, key dates, and milestones.
Life Sciences and pharmaceutical organizations can evade damaging and easily avoidable penalties with precise payment tracking and reporting that preserves financial transparency.
Enhance Compliance Management
Advanced compliance auditing tools provide visibility across physicians, hospitals, instructional institutions, and other entities. Stark, HIPAA, and other relevant regulatory compliance standards can be easily maintained and adhered to, thanks to robust, scalable, and user-friendly reporting metrics, key dates, and renewals.
Leading-edge pharma and life sciences contract management software offers integration with OFAC search information. This helpful compliance tool scans vendor, company, and employee data against search data entries found in OFAC's (the Office of Foreign Assets Control) various national sanctions lists - delivering critical risk analysis snapshots for vendors, employees, and companies.
It's Time to Transform Life Sciences & Pharma with Contract Management Software!
Now you understand how source-to-contract management software can benefit business end-users and scientists, support law departments and strategic sourcing teams, and improve operational efficiency so that organizations can focus on more critical duties in the realm of business and scientific projects. Therefore, it's time to enlist the help of a software solution that accelerates contracting, decreases risk, reduces delays, helps with compliance, saves time, and saves money. That solution is CobbleStone Software's Contract Insight®.
Since 1995, CobbleStone has proffered industry-leading contract management, vendor management, eSourcing, and eProcurement software for a host of different industries – including pharmaceutical organizations and life sciences companies. Contract Insight is a flexible, scalable, web-based solution that has helped thousands of organizations – small and large – throughout the public and private sectors. Request a free demo to learn more about Contract Insight today!
To stay up to date on best practices, industry news, and CobbleStone Software updates, be sure to subscribe to our blog and YouTube Channel.
Are you interested in future-minded contract management software tools? In our blog - 6 Critical Contract Management Tools for 2021 – learn how to leverage industry-leading CLM software tools for streamlined, user-friendly, and low-friction contract lifecycle management success!