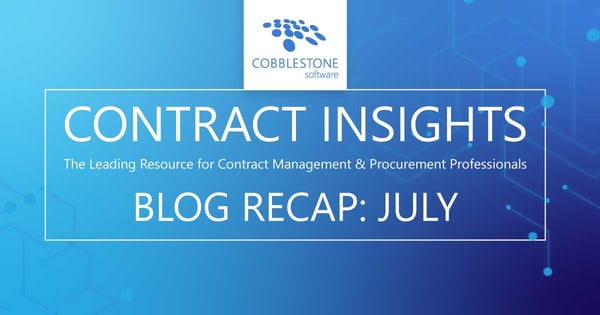 Did you miss any of our blog posts from July? Don't worry; we have outlined each of them for you. Stay up-to-date with industry topics, real-world case studies, and contract management and procurement best practices by reading CobbleStone's latest content.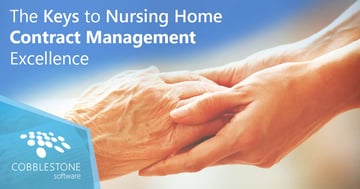 Nursing home networks face a unique set of challenges around healthcare contract management. Disorganized processes can increase the risk of lawsuits, data entry errors, contract lifecycle bottlenecks, wasted time, and revenue loss. Luckily, contract management software can help nursing homes maintain compliance, save time, secure documents, efficiently and accurately enter data, and manage contracts with varying complexity and volume. Here's how.

Legal departments face pressure to deliver contract value and streamline legal ops with shorter contract lifecycle times and improved contract performance. Legal departments that regularly measure the efficacy of their contracts against KPIs can proactively calibrate their legal contract management process to improve organizational impact through goal alignment and goal attainment. Discover four crucial legal department KPIs in this article.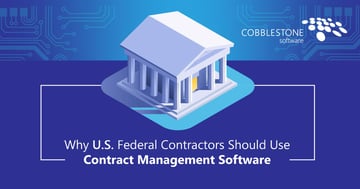 U.S. Federal Contractors - no matter which government agency or department they are contractually involved with - can face several challenges throughout the contract lifecycle. With many different tasks to perform, there is a lot of room for errors or missteps that may lead to contract lifecycle bottlenecks, compliance challenges, regulatory violations, wasted time, and lost revenue. Luckily, government contract management software can help. Here's how.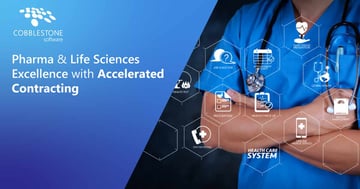 Pharmaceutical and life sciences organizations have a lot on their plate. Unfortunately, many organizations lack an efficient process to handle a myriad of contracts, clinical trials, promotions, supplies/goods, regulations, and compliance. Consequently, they may be unprotected from potential increased risk, delays, compliance violations, wasted time, and squandered revenue. Here's how to improve life sciences and pharmaceutical contract management with accelerated contracting.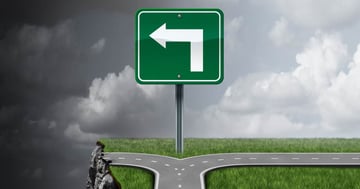 As technology evolves, business process changes should increase productivity rather than hamper it. Contract managers relying on manual methods may face contract management difficulties. Contract mismanagement can decrease productivity, hinder communication regarding task responsibility, and increase avoidable inefficiencies. Organizations can attain greater control over their contract management processes by avoiding the following pitfalls of contract mismanagement.

CobbleStone Software, a trusted leader in contract management and eProcurement software solutions, exhibited at NCMA's Virtual World Congress July 27-29, 2020. The annual event is one of the largest industry gatherings for contract management, procurement, and sourcing professionals. Learn more about World Congress and CobbleStone's virtual exhibition!
CobbleStone Software presented Contract Insight®, our award-winning contract management software, at the 2020 ACC Solutions Expo on July 29th, 12:00 pm – 1:00 pm ET. This one-hour session included a demo followed by a Q&A networking session. The Association of Corporate Counsel's Solutions Expo provides legal professionals with the chance to engage, network, and participate in legal solution presentations to better aid their organizations' efficiency and effectiveness.
In contract lifecycle management, efficient collaboration is a must. Contract requests, renewals, and almost everything in between involve many moving parts – with potential inefficiency if adequate measures are not introduced. To avoid contract lifecycle bottlenecks, organizations should leverage robust contract collaboration tools offered by leading contract management software. Here are four steps to foster healthy and productive collaboration and expedite the contract lifecycle.
Now that you are caught up with our blog, be sure to keep an eye out for our August content. Never miss a blog post again, and let us notify you when new content posts, by subscribing to our blog!