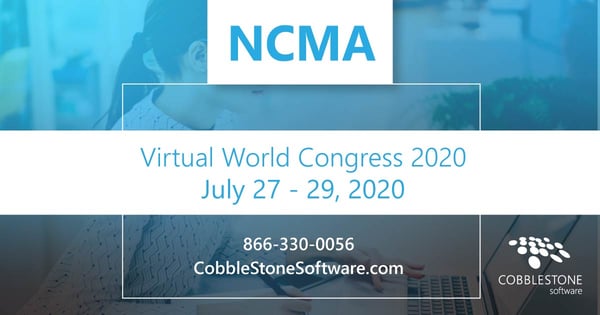 CobbleStone Software, a trusted leader in contract management and eProcurement software solutions, is exhibiting at NCMA's Virtual World Congress July 27-29, 2020. The annual event is one of the largest industry gatherings for contract management, procurement, and sourcing professionals. Learn more about World Congress and CobbleStone's virtual exhibition!
A Valuable Contract Management Learning Experience
New and experienced contract management professionals can find value in the three day professional development event - dedicated to extensive training, CPE and CLP credit-earning opportunities, and a new virtual opportunity with networking sessions, an exhibit hall, breakout sessions, a career fair and much more!
NCMA Virtual World Congress 2020 offers relevant sessions for attendees - whether they hold entry-level roles, executive career roles, or positions in between! Session topics may include:
contract management processes and best practices.
industry innovations.
legislative and policy changes.
purchase order and requisition management.
supply chain management.
risk management.
project management.
& much more!
NCMA Virtual World Congress 2020 details are subject to change. CobbleStone Software does not guarantee conference dates, locations, agendas, etc. This article is not an NCMA endorsement.
Explore CobbleStone Software's Virtual Booth
World Congress attendees should visit CobbleStone Software's virtual booth to learn more about leading contract management solutions that can help support contract management, procurement, and sourcing professionals working in both the private and public sectors. Don't miss our giveaway! Stop by our virtual booth to learn how you can win a tech-savvy CobbleStone backpack.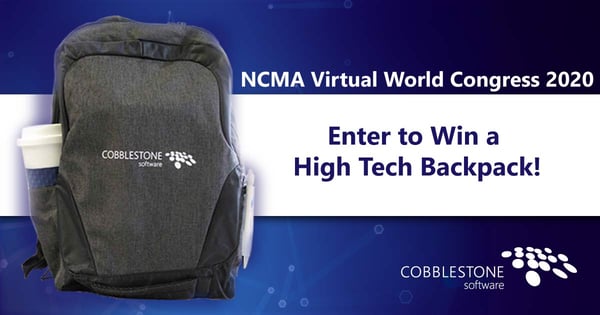 During World Congress, CobbleStone will be offering 30-minute live demonstrations of Contract Insight at 10 AM ET on July 28th and July 29th. Space is limited, so be sure to save your seat now.
An Integrated Source-to-Contract Management Solution
CobbleStone's Contract Insight® aligns with Virtual World Congress' mission of 'supporting contract management excellence in unusual times' by offering a leading edge end-to-end source-to-contract management solution for centralizing and automating contracts, committals, agreements, vendors, and obligations with:
One solution to simplify the management of government contracts at the federal, state, city, local, and other levels.
Key date notifications, full vendor management, vendor rating and scoring, and contract closeouts.
Automated and streamlined contract lifecycle management.
User-friendly, robust, and scalable features.
Requisitions, approvals, and budget alerts, awards, and post-award contract management.
Integrated bid/solicitation management.
Simplified audit trail history, compliance management, and vendor diversity reporting.
OFAC search data integration for improved vendor, customer, and employee, compliance.
Enhanced contract analytics with executive graphical dashboards and advanced reporting.
MS Outlook plug-in for easy contract management straight from the PC desktop application.
AI-based contract management with VISDOM® - our proprietary artificial intelligence tool.
Contract Insight is conveniently available on GSA Schedule 70 (for eligible organizations). A PO is all that is needed to get started, removing the need for tedious paperwork and negotiations! Watch the Contract Insight overview video below.
Learn More Through CobbleStone's Thought Leadership
CobbleStone Software is proud to provide valuable content for contract management, procurement, and sourcing professionals. Those looking to drive more value from contracts and integrate contract management best practices should leverage CobbleStone as a trusted resource to help support such initiatives.
Read our most popular blog posts, listed below. Additionally, be sure to subscribe to our blog to stay up to date with contract management and procurement news, innovations, and best practices. We hope to see you soon at Virtual World Congress 2020!
The 3 Contract Management KPIs for Success
6 Career Advancement Tools for CobbleStone Software Administrators
Why Purchase Contract Management Software Through GSA?
3 Ways to Improve Government Supply Chain RFPs
5 Must-Have Contract Management Tools for Effective Remote Work
Transform Your Procurement Workflow with Contract Insight
5 Essential Contract Management Tools for 2020
How Contract Management & Contract Lifecycle Management Differ