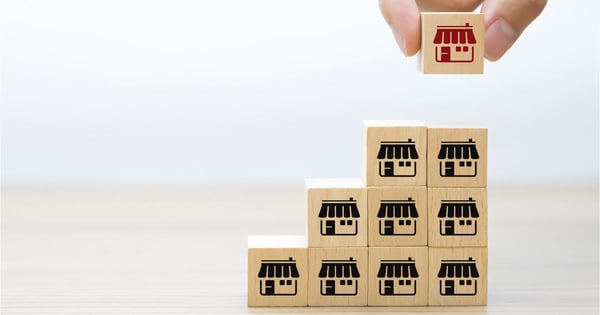 Retail property management organizations often need to handle many different types of requests and contracts – including construction contracts, leases, rental agreements, retail management contracts, vendor contracts, maintenance agreements, property management contracts, and more. With the need to handle numerous of contracts per year and support updated lease accounting standards, manual contract management processes may prove insufficient – potentially leading to contract lifecycle delays, missed key dates, lost revenue, unsatisfactory lease accounting, and wasted time. These organizations need to leverage integrated contract management software for enhanced retail property contract management. Here's how.
Establish a Secure Contract Repository
With the need to manage a high volume of different contracts, retail property management organizations utilizing approaches to storing contracts involving filing cabinets, emails, and disorganized digital storage have a reduced chance of keeping contracts secure, adhering to key dates, maintaining version control, staying on top of milestones, and establishing and enforcing contract archiving and retention rules.
Luckily, those organizations involved in regional malls, lifestyle centers, community centers, and other retail property projects no longer need to miss out on a key strategy that can reduce risk, promote contract control, and increase contract performance. Now, these organizations can use a source-to-contract management contract repository that allows them to make contracts work on their behalf, increase savings and revenue, and succeed in meeting contract management KPIs.
Retail property contract management software administrators can control user access to PII (personally identifiable information) and other sensitive data by establishing a permissions standard that restricts specific pieces of critical data to particular people. Thus, they can prevent security issues and detrimental instances of sensitive data entering the hands of unauthorized personnel.
Overall, the use of a unified, online contract repository benefits organizations by:
optimizing and safeguarding the location, organization, protection, searching, and sharing of contracts.
centralizing contract, document, and data control.
improving productivity.
increasing accountability.
and simplifying contract management.
Arm yourself with the consolidated contract repository system your organization needs with a leading contract management software solution.
Automate Contract Workflow
Contract management software that offers contract workflow automation cuts contract lifecycle delays by keeping the right entities informed and engaged at the right time with automated alerts, virtually unlimited notifications, and helpful task reminders. Managers of a variety of retail properties can configure a contract management process that employs user-defined fields, data mapping and data extraction, audit trails and reports, contract process management, and much more.
Contract writing, contract collaboration, negotiation, signatures, and approvals can be more efficiently managed with an intelligent workflow process that aids organizations in keeping track of all stages of the contract lifecycle. Automated alerts help organizations meet key dates and milestones – all the way through contract renewals. Additionally, audit trail history offers an up-to-date, easy-to-access record of contract changes. Reports provide valuable information about contracts at a glance, sent to assigned employees on a scheduled basis.
Cut contract approval times by conquering delays and promoting accountability with intelligent, automated contract workflow.
Enrich Workflow-Initiated Contract Writing
An organization handling thousands of retail property management contracts per year needs a streamlined contract writing process with secure, simple collaboration and clause management. Luckily, leading contract management software can expedite and automate the contract writing process.
A unified, organized process leverages intelligent contract writing with automated, dynamic field data merging with clauses from a pre-approved clause library. This dynamic library should include specific document templates for repeated use and easy updating. With trusted contract management software solutions, the input of new contract, vendor, request, solicitation, employee, or purchase order records can easily be written and exported as standard file formats such as PDFs and MS Word documents.
Read our contract writing article to more comprehensively discover how to improve contract writing with automation.
Transform Contract Negotiations
No longer do retail property management organizations and stakeholders need to rely on manual redlining and back-and-forth contract negotiations.
With automated contract negotiation provided by robust contract management software, document collaboration and version control are automated and simplified with a detailed log of changes and numbered version tracking. Collaborating parties can maintain document control with the ability to upload and download updated document versions easily.
Clause ownership functionality allows organizations to assign clause owners. If a negotiating party tries to edit an assigned clause, contract management software will add the clause owner to the approval process. Therefore, only necessary parties are included in the negotiation process, per rules-based clause ownership.
Contract negotiation between external parties, internal parties, and employee non-users of contract management software is more efficient when organizations can configure a rules-based process for stakeholders. A pre-configured workflow allows stakeholders to receive an alert that will take them to a contract collaboration portal. Once there, they can access relevant documents for review. This way, employees without access and external parties can view and edit contracts assigned to them, but not extraneous and unnecessary core system features or contracts. Necessary documents are isolated so that stakeholders can make changes directly from the portal. Additionally, parties can collaborate on the approval process in a central location and receive notifications regarding who must approve, in the interest of avoiding bottlenecks.
With a contract negotiation portal, the collaboration between retail property management parties is easy and efficient.
Streamline eSignature Collaboration
Retail property organizations managing a plethora of retail property management contracts, property management agreements, vendor contracts, construction contracts, maintenance agreements, leasing agreements, and other contracts with a signature process that requires them to chase down signatories and manually track key dates can leave them behind on signatures and approvals – severely damaging their reputation, wasting revenue, and sacrificing time. However, an intelligent electronic signature tool can help organizations quickly navigate from the aforementioned negotiation process to signing.
A fast signing process for digitized signature collaboration and electronic approvals can cut send-to-sign time by as much as twenty percent. Organizations can send documents for signature after the contract negotiation process is complete. The unified contract repository detailed earlier assists with end-to-end management of partially or wholly executed signatures.
Organizations can send thousands of documents in bulk out for signatures. Contracts and documents are easy to send, and signatories can sign from virtually anywhere at virtually any time. They also receive an email that quickly takes them to the relevant signing portal without the need for them to download any software!
With the correct source-to-contract management software platform, signature collaboration is rapid, centralized, and efficient.
Successfully Manage Retail Properties Today!
Now that you are knowledgeable of how contract management software can positively transform contract automation for retail property management, it's time to choose a solution that has your contract management needs covered. That solution is CobbleStone's Contract Insight®.
Contract Insight provides comprehensive contract lifecycle management. The software's surplus of helpful features allows retail property managers and the like to store contracts securely, optimize contract workflow, easily collaborate on contract writing and contract negotiation, and enjoy post-approval contract management success. User-friendly and straightforward collaboration keeps stakeholders engaged throughout the contract lifecycle.
CobbleStone is trusted by a variety of industries within the public and private sectors. See why - book a free demo today!