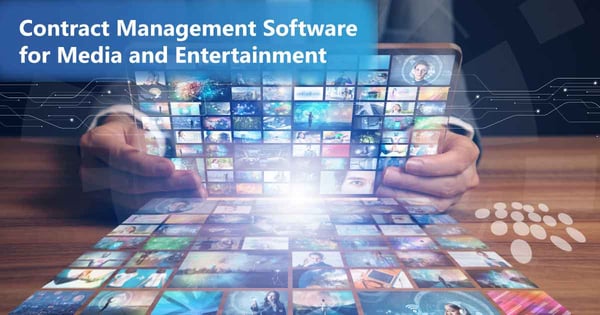 Managing various types of media and entertainment contracts from varying locations with multiple departments and roles can be an arduous process - especially when relying on disparate methods such as emails, wet signatures, shared network drives, and cloud-based spreadsheets. Dealing with and tracking a high volume of contracts – from intellectual property contracts to talent agreements, among many others - can be tremendously challenging without a leading contract management software that centralizes your contract lifecycle management processes. Read on to learn how a centralized CLM software suite can help you achieve pre-award to post-award entertainment and media contract management success.
How Do You Manage Contracts Effectively?
To manage contracts effectively, you will need a centralized contract lifecycle management (CLM) system that unifies people, processes, and technology. CLM software can centralize stakeholder communications, integrate with third-party accounting programs, measure contracts against budgets, provide rules-based user permissions, and offer highly configurable workflow features that adapt to the ever-changing media and entertainment landscape.
Centralized Contract Management Communications
Communicating with varying internal and external stakeholders within the media and entertainment industry can prove challenging, considering the fast-paced nature of changing projects that demand differing requirements. Without centralizing contract management and vendor management communications, pertinent information can fall through the cracks.
Fortunately, contract management software users can communicate with internal and external stakeholders by submitting requests via a centralized CLM system that can notify stakeholders via email. Moreover, to centralize internal communications, software users can communicate with a configurable table that assigns personalized tasks with the option of attaching pertinent documents – yielding a visually engaging task management system with full oversight. With the help of rules-based user permissions, CLM software users can access the right information when they need it.
Effective Contract Budget Management
Managing media and entertainment interdepartmental budgets and maintaining budgetary compliance for organization-wide compliance can prove challenging. Budgets require constant oversight. Without a robust system that tracks contract value against allocated budgets, your media and entertainment organization can run the risk of overspending. Fortunately, leading CLM software allows contract managers to input budget line items - containing ancillary documentation, such as contracts - with the following labeled fields, including:
Budget Item Date.

Budget Item Description.

Budget Item Monetary Amount.

Budget Item Category.

Budget Item Subcategory.

Budget Item Comments.

And More.
Along with the abovementioned fields, the necessary stakeholder can be labeled in the Approved By field to retain interdepartmental accountability. The Budget Item Category description can attribute the expense to the proper department within the organization. The Budget Item Subcategory can attribute the expense to the specific project. The Budget Item Monetary Amount description can then subtract the contract's monetary amount from the overall budget.
Moreover, with the help of internal request features, you can submit interdepartmental budget requests to secure funding for project-based objectives. For instance - if you need marketing materials for your upcoming film's release, you can submit an internal budget request to the marketing department for approval.
Integrated Vendor Management Software
Managing multiple vendors and purchase orders can be cumbersome and overwhelming if you are managing vendors from differing locations with disparate documentation channels. As a media and entertainment contract manager, you often need to attribute vendors and purchase orders to multiple contracts and departments. Rather than emailing multiple departments with duplicate records, leading contract software offers highly dynamic paring and linkage of vendor records and POs to multiple departments and projects – virtually ensuring budgetary compliance with unparalleled oversight.
With the help of seamless integrations with third-party web-enabled accounting software, contract managers can import trackable expenses into their CLM system - including their respective PO numbers - and compare them against an agreed-upon contract's budget. An integrated vendor collaboration portal can help stakeholders collaborate with prospective vendors in a centralized location that bars third-party prospective vendors from accessing in-house information - further streamlining your vendor management processes. Such oversight allows for contract managers and financial stakeholders to track expenditures and vendors effectively with trackable oversight.
Contract Lifecycle Workflow Automation
Managing media and entertainment contracts from requests to renewals while balancing budgetary spend can prove challenging with disjointed tools such as email and web-enabled spreadsheets. Considering the dynamic nature of media and entertainment, you cannot rely on static and disjointed processes if you want to achieve contract management workflow efficiency and efficacy.
From the diverse demands of ranging media and entertainment projects to the consistent procedures of daily legal operations, leading CLM software supports full contract lifecycle management with highly configurable workflow automation tools to adapt to your media and entertainment organization's needs. Leading CLM software can help automate contract and vendor workflows from requests to renewals by:
Discover more about VISDOM® artificial intelligence in the video below:
Remote Contract Management

Success
While media contract managers face challenges domestically, challenges can increase when contract management extends internationally – especially when needing to ensure contracts comply with international laws. Talent agencies, media companies, and entertainment organizations often need to internationally transfer artists and their artistic content. Without the help of internationally agile contract management software, media and entertainment contract management professionals can find themselves scrambling to request approvals, gather signatures, and ensure compliance across ranging time zones.
Fortunately, a web-enabled contract management suite grants all necessary contract stakeholders quick access from anywhere in the world with internet access. As aforementioned, media and entertainment contract managers can retain optimal oversight of their pre-award and post-award contract management processes with trackable contract status changes – including approvals, contract negotiations, eSignatures, and international compliance – with global time-zone flexibility.
Learn about IntelliSign®, CobbleStone's proprietary eSignature tool, in the video below.
Your CLM Software Solution For Media & Entertainment Contract Management Success
Streamline your media and entertainment contract management and vendor management processes with a leading contract lifecycle management software platform. End-to-end media and entertainment contract lifecycle management begins and ends with CobbleStone Contract Insight®.
CobbleStone Contract Insight can equip you with the necessary tools you need to drive media and entertainment contract management success. CobbleStone's trusted, award-winning, fully integrated CLM software streamlines the contract lifecycle management process with optimal governance, reduced friction, and high flexibility from contract requests to renewals. CobbleStone Software has been a visionary leader in CLM software for over 20 years. CobbleStone's user-friendly, robust, and scalable solution seamlessly integrates with mission-critical applications for unified and seamless contract management. CobbleStone Software, as a software provider, also remains SOC 1 and SOC 2 compliant to encourage paramount security.
Discover why thousands of contract managers trust CobbleStone Software with their contract management needs. To learn more about CobbleStone's unparalleled contract management software, book a free demo with a Contract Insight expert today!
To stay up to date on best practices, industry news, and CobbleStone Software updates, be sure to subscribe to our blog and YouTube Channel.
Are you interested in future-minded contract management software tools? In our blog - 6 Critical Contract Management Tools for 2021– learn how to leverage industry-leading CLM software tools for streamlined, user-friendly, and low-friction contract lifecycle management success!