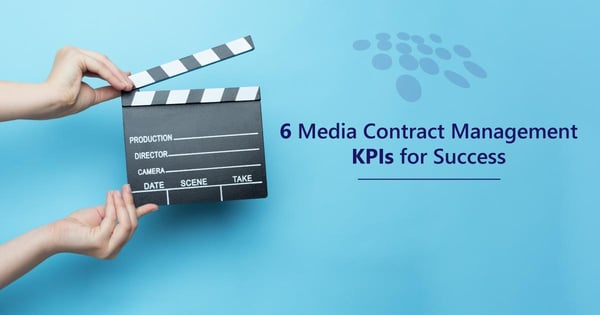 Managing various types of entertainment and media contracts from varying locations, often internationally, with multiple departments and roles can be an arduous process - especially when relying on disparate methods such as postal mail, wet-signatures, filing cabinets, emails, shared network drives, and lengthy paper-based negotiations. Dealing with and tracking a high volume of contracts – from intellectual property contracts to option agreements, among many others - can be tremendously challenging without the right contract management system in place.
Fortunately, a centralized contract management software suite can assist entertainment and media contract management professionals from pre-award to post-award contract management – particularly with post-award processes of efficient storage, confidentiality maintenance, international compliance, terminations and renewals, and tracking contractual key performance indicators.
Executive Summary
From cable television to media streaming platforms and everything in between, approved contracts play a vital role in ensuring all stakeholders involved, from talent to media distributors, comply with the contractual expectations of an ever-evolving media and entertainment landscape - especially with the increasing challenges posed by COVID-19 and its subjective location-based laws thereof. This article highlights six media contract management KPIs that entertainment and media contract management professionals can leverage to their advantage.
#1 A Centralized Electronic Contract Repository
Entertainment and media organizations who have traditionally relied on disparate storage methods - such as filing cabinets, flash drives, and emails – can find it difficult to efficiently organize and access their contracts. Media contract managers can also run the risk of losing certain contracts, which can lead to embarrassingly needing to request counterparties for extra copies.
Luckily, a leading contract management platform can electronically centralize contracts with the integration of highly configurable reporting features, graphical dashboards, and milestone notifications - yielding unparalleled visibility from contract requests to renewals. Moreover, a centralized electronic contract lifecycle management platform can seamlessly integrate with MS Outlook and MS Word to help streamline the contract process – particularly in managing third party contracts.
#2 A Streamlined Pre-Award Contract Process
Entertainment and media contract management professionals can face tremendous pre-award contract bottlenecks - including miscommunication in contract requests, contract writing challenges posed by expired or outdated contract templates and clauses, slowed negotiations and approvals caused by paper-based processes and disparate communications, and delayed wet signatures.
Thankfully, a centralized contract management suite can streamline the pre-award contract process electronically by allowing entertainment and media contract managers to request contracts directly from their contract lifecycle management tool, draft new contracts with pre-approved templates and clauses, engage in negotiations and approvals with timestamped changes and tracked statuses, and receive and send highly-secure signatures quickly seconds with the use of eSignatures.
#3 Optimized Post-Award Contract Management
Media contract management can prove challenging when tracking the milestones and key performance indicators of hundreds of contracts with a non-centralized contract repository - including spreadsheets, filing cabinets, and emails. As mentioned above, optimal visibility in the pre-award contract lifecycle saves tremendous time, energy, and resources. When dealing with complex contracts - such as production agreements - with differing milestones and renewal dates, entertainment and media organizations can incur unnecessary inefficiencies with disparate and manual processes - yielding financial loss. Unclear contract lifecycle visibility in the post-award contract lifecycle can cause media contract management professionals to waste resources and miss value-driven opportunities in renewing contracts.
With the vast array of milestones and obligations within the entertainment and media industry, contract management professionals can leverage artificial intelligence to pre-configure metrics and milestones for accurate contract performance assessing and tracking – yielding optimal visibility and alerting contract managers of contract non-compliance. This workflow automation tool can virtually ensure maximum contract compliance and showcase leverageable contract renewal improvements for increased ROI. With such oversight, media contract managers can elevate their contract management to contract performance management.
Learn more about VISDOM® AI, CobbleStone's proprietary artificial intelligence engine, in the video below.
#4 Remote Contract Management
While media contract managers face challenges domestically, challenges can increase when contract management extends internationally – especially when needing to ensure contracts comply with international laws. News agencies, talent agencies, and media companies often need to internationally transfer artists and their artistic content. Without the help of an internationally agile contract management software, media contract management professionals can find themselves scrambling to request approvals, gather signatures, and ensure compliance across ranging time-zones.
Fortunately, a web-enabled contract management suite grants all necessary contract stakeholders quick access from anywhere in the world with suitable WiFi. As aforementioned, media contract managers can retain optimal oversight of their pre-award and post-award contract management processes with trackable contract status changes – including approvals, contract negotiations, eSignatures, and international compliance – with global time-zone agility.
Learn more about CobbleStone's eSignatures in the video below.
#5 Integrated Purchase Order Management
Entertainment and media contract managers carry an immense responsibility to ensure purchase orders remain within contract budgets. Moreover, managing both media project-related and general organizational budgets can be challenging without the proper systems in place. Additionally, gaining purchase order approvals from various departments can be a time-consuming and confusing process - particularly when involving personnel outside of necessary permissions.
Luckily, a contract management software with integrated purchase order management functionalities can streamline the PO process with unparalleled oversight. Media contract management professionals can configure rules-based PO approval routing and related contract management permissions, track PO statuses, compare POs with budgets, track expenses, generate contracts directly from approved POs, and more.
#6 Paramount Confidentiality & Security
Media contracts can only be accessed by the intended parties involved. Manually managing contract surveillance and controlling access can be worrisome and virtually impossible, considering the high risk incurred by email and paper-based methods. Entertainment and media organizations revolve around the talent they work with and their artistic work. Establishing and ensuring trust between media companies and artists proves paramount. For media companies to maintain trusted relationships with their artists, they need to ensure contract confidentiality and contract security.
With the help of a leading-edge contract management software, media contract management professionals can enable user-based permissions to grant the desired level of access to the necessary parties involved. Moreover, a leading contract lifecycle management software provider that is both SOC 1 and SOC 2 compliant ensures that the provider and its system configurations are highly secure. Artists, agents, entertainment organizations, and media companies can confidently know their contracts are in trusted hands.
Maximize Media Contract Management with Contract Insight

®
Streamline your media contract management process with a leading-edge contract management software platform. End-to-end media contract lifecycle management begins with CobbleStone Software's Contract Insight.
CobbleStone's trusted, award-winning, fully integrated media contract management software streamlines the contracting process with optimal governance, reduced friction, integrated purchase order management, and high flexibility from contract requests to renewals. CobbleStone Software has been a forerunner in contract management software since 1995. CobbleStone's user-friendly, robust, and scalable solution seamlessly integrates with mission-critical applications for unified and seamless media contract management, purchase order management, and more.
Discover why thousands of contract managers trust CobbleStone Software with their contract management needs. To learn more about CobbleStone's unparalleled media contract management software, book a free demo with a Contract Insight expert today!
To stay up to date on best practices, industry news, and CobbleStone Software updates, be sure to subscribe to our blog and YouTube Channel.